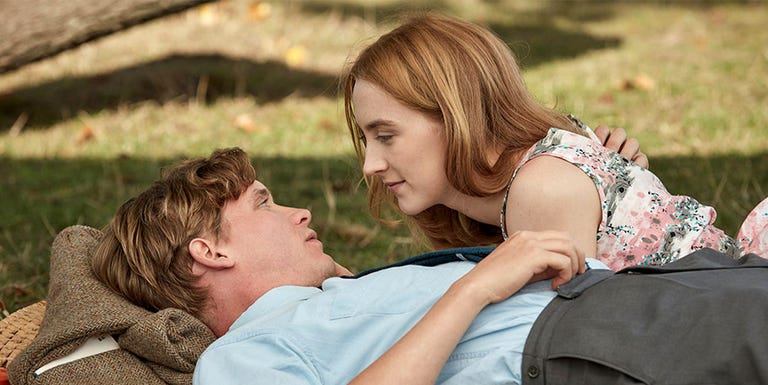 Courtesy of Toronto Film Festival
If you're looking for romance—the kind of romance that's notably absent from your Tinder chats—head to the movie theater. There's no shortage of sigh-inducing, heart-melting love stories coming your way in 2018. Here are ten romantic movies of all kinds (comedies, dramas, tragedies—pick your poison!) that'll make you're heart flutter.
Release date: January 22 (at Sundance—wide release is TBD).
Starring: Daisy Ridley, Naomi Watts, Clive Owen, Tom Felton, George MacKay, and Dominic Mafham.
About: A retelling of Hamlet from Ophelia's point of view. The movie, which stars Daisy Ridley, will focus on the love affair between Ophelia and Hamlet—which, as anyone who did their high school reading knows—ends tragically.
Release date: June 15.
Starring: Saoirse Ronan, Billy Howle, Emily Watson, Anne-Marie Duff, Samuel West, and Adrian Scarborough.
About: A young newlywed couple in 1962 go on their honeymoon, nervous because they both remained virgins until they were married.
Release date: June 29.
Starring: Jessica Rothe, Josh Whitehouse, Chloe Bennet, Ashleigh Murray, Jessie Ennis, Logan Paul, and Mae Whitman.
About: A remake of the 1983 movie of the same name, this romantic comedy is loosely based on Romeo & Juliet (minus all the death). The movie focuses on star-crossed lovers Julie and Randy.
Release date: October 5.
Starring: Bradley Cooper, Lady Gaga, Sam Elliott, Andrew Dice Clay, and Dave Chappelle.
About: Bradley Cooper stars as fading country music star Jackson Maine, who discovers a new talent in Ally (played by Lady Gaga). The two fall in love, but Jack struggles when Ally's fame starts to overshadow his own. We're still waiting on a trailer for this one, but the pictures from set are insanely sexy.