26 Stars Who Appeared On '90s TV Shows Before They Got Famous
You'll never guess what show Milo Ventimiglia was on.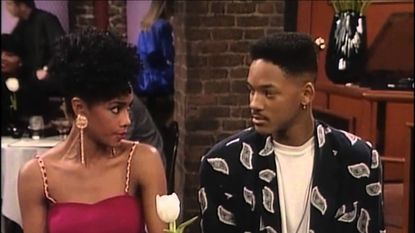 (Image credit: ABC)
Marie Claire Newsletter
Celebrity news, beauty, fashion advice, and fascinating features, delivered straight to your inbox!
Thank you for signing up to Marie Claire. You will receive a verification email shortly.
There was a problem. Please refresh the page and try again.
Listen, the biggest A-listers in Hollywood had to get their start somewhere, right?? And for sooo many of them, that "somewhere" was television. Some of your current faves were trying to make it big for a long time, and can be found in small roles in old '90s TV shows. These shows might have been super popular way back when (and, let's be real, now too), but these celebs weren't, which means you probably totally overlooked one of their first credited roles. And maybe you didn't appreciate them back in the day, but that doesn't mean you can't now!
While many of these stars had roles that were blink-and-you'll-miss-it small, some of them played characters who stuck around for several episodes, or even an entire season. They clearly made an impression, and went on to star in the television shows and movies that made them mega-famous. It's actually kind of adorable to see what they looked like when they were young and unknown, before they were plastered all over magazines and billboards. Here's a look at some of your fave stars who appeared on '90s TV shows before becoming household names.
1/26
Jessica Alba
If you've forgotten about the '90s gem that was The Secret World of Alex Mack, allow me to remind you it existed... you're welcome. Jessica Alba actually made her TV debut as one of the original characters. She played a character named Jessica, the girlfriend of Alex's crush Scott Greene, who was snobby, rude, and always mean to Alex. She appeared in the pilot and two other episodes before moving on.
2/26
Leighton Meester
It's still hard to picture Leighton Meester as anyone besides Blair Waldorf, but years before she snagged that role on Gossip Girl, Leighton appeared in a decidedly different show: 7th Heaven. Leighton played a tutor named Kendall with mean-girl vibes in the two-part finale of the show's eighth season.
3/26
Adam Scott
Nope, that isn't a picture of Adam Scott in 2020—it's a picture of him in 1995 when he appeared in a few Boy Meets World episodes (great genes, Paul Rudd-level genes). Adam played Griffin Hawkins, a band member and so-called tough guy at John Adams High.
4/26
Gabrielle Union
Gabrielle Union is known for her *perfect* performances in huge early-aughts movies like Bring It On and 10 Things I Hate About You, but before all of that, she was on 7th Heaven for a bit. Gabrielle played Mary's friend Keesha Hamilton in season one, and she was in five episodes.
5/26
Milo Ventimiglia
This just might be the most random thing you read today: before nabbing the Gilmore Girls role that made him a famous heartthrob, Milo Ventimiglia had a very small role in The Fresh Prince Of Bel-Air. He played a party guest and had a few short lines.
6/26
Mila Kunis
Mila Kunis was yet another star who had one of their first big-deal acting roles on 7th Heaven. For two episodes, she played Ashley, the bad girl who somehow became friends with Lucy and started some serious drama in the family.
You can also find Mila in Baywatch, another hit '90s show. She appeared in two different episodes playing two different characters. First she was a young student named Annie, and a year later, she played Bonnie, who got lost while hiking.
7/26
Alex Borstein
Pre-The Marvelous Mrs. Maisel, you might remember Alex Borstein from Gilmore Girls, but before that, she made an appearance on Friends. She appeared in one episode, where she plays a one-woman show for Joey's soap opera party.
8/26
Lucy Liu
In a blink and you'll miss it role, Lucy Liu showed up in Beverly Hills, 90210 as a waitress named Courtney. Courtney was a straight-A student who took Brad's place when he quit.
9/26
Craig Robinson
Ignore The Office vibes: this is a screenshot of Craig Robinson's appearance on Friends. Craig had a very small role as a store clerk talking to Phoebe during the final season of the show.
10/26
Keri Russell
Keri Russell got her big break playing Felicity in Felicity (that hair!), but before that, she appeared on Boy Meets World. Russell played Mr. Feeney's niece, who ends up having a tiny fling with Eric. And, yes, her hair looks fantastic.
11/26
Michelle Williams
Michelle Williams got her start on '90s favorite Dawson's Creek, and is now a bonafide A-lister, but before all of that, she showed up on two of your favorite '90s shows. One was Home Improvement, where she played Brad's girlfriend Jessica. The other was Baywatch (which was actually her first TV role), where she played a popular girl who went to school with Hobie.
12/26
Ryan Gosling
Way back in the day, Ryan Gosling was dancing and singing along with Britney Spears and Justin Timberlake on The Mickey Mouse Club. In the '90s, he also appeared on Are You Afraid of The Dark? as Jamie Leary, whose brother is obsessed with death.
Gosling also showed up in Goosebumps, just to keep the spooky theme going, where he played Greg in an episode about a group of friends who find a camera that kills the person who is having their photo taken. Dark.
13/26
Neil Patrick Harris
Keep an eye out for Neil Patrick Harris in the iconic '90s show Blossom. Although NPH was getting pretty big at the time, since he was playing Dr. Doogie Howser, this is still worth pointing out. He appeared in one episode as the über charming Derek Slade. That same episode included appearances by Dick Clarke and Tori Spelling.
14/26
Vivica A. Fox
You can catch Vivica A. Fox on season one of The Fresh Prince of Bel-Air, when she played Jazz's bossy and controlling sister Janet. She initially gets set up with Will, but when he doesn't like her personality, he tries setting her up with Carlton. His loss, TBH.
15/26
Matthew McConaughey
Matthew McConaughey is now a BFD award-winning actor, but his debut role was small: he was in an episode of the original Unsolved Mysteries. He played Larry, an ex-marine and young father who becomes something of a hero... with a really tragic ending. We won't spoil it for you.
16/26
Bradley Cooper
Bradley Cooper's very first credited role was on Sex and The City, where he played a character he's played many times since: a total jerk. He plays Jake, a guy Carrie meets during a night out, who ultimately makes her feel really bad about herself. Not surprisingly, he didn't return.
17/26
Ellen Pompeo
Everyone knows Ellen Pompeo as Meredith Grey on Grey's Anatomy (even those who don't watch the show), but before that, she was in one episode of Friends. She played Ross and Chandler's college crush Missy Goldberg in the final season.
18/26
Hilary Swank
You can actually catch Hilary Swank in a few different '90s TV shows, like Growing Pains and Evening Shade. She got a bigger break when she nabbed a regular role on Beverly Hills 90210, where she played Zach's mom Carly Reynolds. Hilary lasted for 13 episodes before getting fired. Only a few months later, she was in Boys Don't Cry, which got her two Academy Awards, so.... she ended up winning.
19/26
Cole Sprouse
Cole Sprouse didn't get his start on The Disney Channel like you may have thought. He actually played Ross's son Ben in Friends, where he showed up in a few episodes to be extremely adorable.
20/26
Don Cheadle
Before his acting career took off, Don Cheadle appeared in season one of The Fresh Prince of Bel-Air, where he played Will's friend from home, Ice Tray. Actually, there was almost an entire spin-off of the show starring Don's character, but unfortunately, it never got picked up.
21/26
Kat Dennings
Sex and The City stans will remember Kat Dennings in her first TV role: Jenny Brier, a spoiled 13-year-old who hired Samantha to plan her bat mitzvah. And look at Kat now! She's a full-fledged star.
22/26
Leonardo DiCaprio
Since he's such a maaaajor movie star now, it's almost easy to forget that Leonardo DiCaprio was on a bunch of old TV shows back in the day. One worth pointing out was his time on Growing Pains. Leo came in at the final season of the show as Luke Bower, a homeless teen who was taken in by the Seaver family.
23/26
Marla Sokoloff
Queen of le '90s Marla Sokoloff played Gia in several episodes of Full House. Gia was Stephanie's mean-girl/cool-girl friend who managed to push everyone's buttons. It was one of Marla's first notable roles, although she also appeared in shows like Boy Meets World, Step By Step, Home Improvement, and 3rd Rock From The Sun.
24/26
James Marsden
One of James Marsden's first roles was on The Nanny, where he appeared in a few episodes. He played Eddie, Margaret Sheffield's boyfriend. After his appearance on The Nanny, James went on to show up in shows like Saved By The Bell: The New Class and Party of Five.
25/26
Mena Suvari
Before snagging her role in American Beauty, Mena Suvari appeared in Boy Meets World. She was actually in two different episodes as two different people. The range, ppl! First she played Laura in one episode and then Hillary, a girl at a party that Cory goes to without Topanga. *dun dun dunnn*
26/26
Anne Hathaway
Anne Hathaway didn't just appear in the often forgotten about show Get Real—she was one of the stars of it. It only aired for a year, and was about a family living in San Francisco. Anne played one of the older siblings. Also, hi Jesse Eisenberg!
Celebrity news, beauty, fashion advice, and fascinating features, delivered straight to your inbox!
Jessica is a freelance writer from New York who loves kale salads and hanging out with her cats.