Live Blog: Project Runway, Episode 6
Get up-to-the-minute recaps of what's happening on the latest episode of Season 8!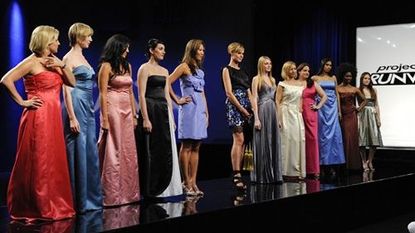 (Image credit: Barbara Nitke/Lifetime Television)
At the end of last week's ep, Tim Gunn called out Gretchen as a manipulator and a bully. Snap! We can only imagine what this means for the remaining 11 designers, but we are certain that it will involve drama, drama, and more drama. So, will they turn against good ol' Gretch, or will everyone's favorite under-the-bus-dweller Michael C. be heading home? Follow along right here as we live blog all 90 minutes of bitchin' stitchin'!
PLUS: Follow us on Twitter at @marieclaire as we live-tweet each episode!
(Tune in to Project Runway on Lifetime at 9 p.m. EST every Thursday.)
9:01 p.m. And we're off! Even after runway carnage, everyone is still hating on Michael C. His response? "Bleep, bleep, bleep, bleep them all."
9:05 p.m. This week's challenge? Bridesmaid makeover! A whole group of real ladies roll out on the runway in their own personal nightmare-slash-bridesmaid-dresses that they were surely told they could "totally wear again." Well, now they each have their very own personal designer making sure that they can. No fair! Though ... by the looks of some of these, we aren't holding our breath for a fashion-forward cocktail dress just yet.
9:08 p.m. We just love that vertical bow Andy picked. And Mondo got a surprise in the back. Yikes.
9:12 p.m. The designers meet with their clients, but Christopher's model up and left. Um, can we take her spot? Now, they are off to Mood. We have a feeling a lot of extra fabric is going to be purchased.
9:18 p.m. Um, are they still talking trash on Michael C? Move on, peeps.
9:22 p.m. After a video chat with her mom (okay, she gets a sympathy vote), Gretchen and Tim meet again. Ever the professional, Tim gives a stellar critique.
9:28 p.m. Tim throws a wrench in the plans. Before the runway judging, there will be a designer showcase where they'll be presenting their design to hundreds of people, who will then vote on their favorite outfit. Those votes will, naturally, factor into the judge's deliberation. So, who's the crowd favorite?
9:35 p.m. Tim's advice to the designers? Seduce them! It's time for the crew to sell themselves.
9:39 p.m. Apparently, Michael C. told people at the designer showcase that Ivy was "the bitch of the show." Oh, boy. Here we go.
9:45 p.m. It's the day of the runway show, and Michael D. is shaving Andy's head into a mohawk. Hawt!
9:53 p.m. Mondo's color-blocked black-and-pink dress won the designer showcase button-off. That'll bode well for him tonight. (And so will his Jersey-born-and-bred model's strut down the catwalk!)
9:57 p.m. Tonight's guest judge is Cynthia Rowley, who just launched a collection of bridesmaid dresses. She's also launching diapers. Bridal diapers, anyone? (Wink, wink.)
10:11 p.m. Michael D. was blasted by the judges, and Michael Kors even said he went from "bridesmaid to bat mitzvah" with the dress. Christopher's got mixed reviews. And Mondo got raves, although Cynthia and company didn't quite get that Snooki-inspired hairdo. Peach and Valerie didn't wow the judges. In fact, Kors dropped another one-liner when he said the hair on Peach's model was "gorgeous, but it's the only thing that's gorgeous." And Nina Garcia couldn't help but notice the oversized, um, chest on Valerie's model.
10:14 p.m. And guess what, people? Michael C. got unanimous approval.
10:23 p.m. He wins! And he has immunity! Holycrapheadsaregoingtoroll.
10:26 p.m. Gretchen says it's frustrating because "craftsmanship isn't as acknowledged as I had hoped it to be so far in the judging." She and the others don't know what show they are on anymore. Pro-ject Run-way.
10:24 p.m. Peach and Michael D. are in the bottom two, both for making their bridesmaids dresses look worse. The ultimate sin.
10:29 p.m. And poor, adorable, 50-year-old, "you-have-more-legs-than-a-bucket-of-chicken" Peach is out. We really wanted to see more of her and April's roommate antics. Boo! 'Til next time!
Tell Marie Claire: What do you think of the ep so far? Share your thoughts in the Comments section below!
Previous Recaps:
For More: