Princess Kate Paid Homage to Princess Diana With Her Earrings at King Charles' Coronation
The then-Prince Charles gifted Diana the pearl and diamond earrings before their wedding in 1981.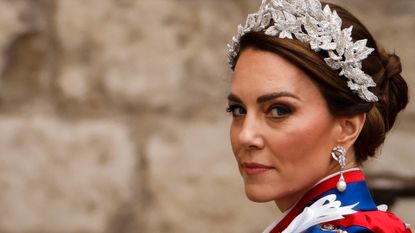 (Image credit: Getty Images)
Kate Middleton has arrived at King Charles' Coronation and is looking as regal as ever. The Princess of Wales (and the future Queen of England) donned a red and blue cape with a white Alexander McQueen dress embroidered with roses, thistles, daffodils, and shamrocks to represent the four countries of the United Kingdom.
Rather than a tiara, Kate opted for a stunning Jess Collett x Alexander McQueen headpiece with crystal and silver leaf embroidery. She also paid homage to Princess Diana with the same pearl and diamond earrings the then Prince Charles gifted to her before their wedding in 1981, per the Daily Mail.
Princess Kate arrived alongside her husband, Prince William (in full military uniform and robes), and two of her three children, Princess Charlotte who is adorably matching with her mom in a floral tiara, and Prince Louis. Meanwhile, Prince George arrived with the other Pages of Honour alongside King Charles and helped to hold the king's heavy robes as he made his way into Westminister Abbey.
In the days leading up to the coronation, many believed Princess Kate might wear something nontraditional instead of a tiara—a floral crown. A floral headpiece would be in line with her father-in-law's focus on environmentalism and had she had her way, Kate would've opted for florals instead of the Cartier Halo Tiara for her wedding in 2011. It seems Kate got the best of both worlds at King Charles' coronation with a jeweled floral headpiece.
If you're currently outside the U.K., you can use a VPN like ExpressVPN—which has a 30-day free trial—to watch the coronation live on the BBC, which aired Queen Elizabeth II's coronation in 1953.
Brooke Knappenberger is the Editorial Fellow at Marie Claire, where she writes across the board from fashion and beauty to books and celebrities. As a pop culture junkie, Brooke obsessively consumes and writes about the latest movie releases, streaming TV shows, and celebrity scandals. She has over three years of experience writing on fashion, beauty, and entertainment and her work has appeared on Looper, NickiSwift, The Sun US, and Vox Magazine of Columbia, Missouri. Brooke obtained her Bachelor's Degree in Journalism from the University of Missouri's School of Journalism with an emphasis on Magazine Editing and has a minor in Textile and Apparel Management.