Selena Gomez is Reportedly "Concerned" that Taylor Swift's Romance with Travis Kelce is "Moving Too Fast"
The frenzy around the couple is, admittedly, a lot for anyone to handle.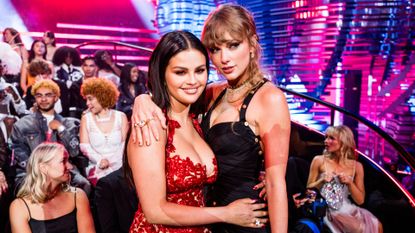 (Image credit: Getty Images)
Taylor Swift has been in relationships before, but perhaps never one quite this in the public eye. Her relationship with Travis Kelce is so out front—especially compared to, say, her last relationship, which was the complete opposite—that it apparently has some friends concerned, Page Six reports.
Swift and Selena Gomez have long been close, and the outlet reports that Gomez is "concerned" that Swift may be "moving too fast" with Kelce. The couple publicly debuted their relationship—or at least some type of connection—when Swift attended her first Kansas City Chiefs game on September 24; it's unclear how long the two had been communicating prior to that.
"Selena thinks Taylor going to games and gallivanting through New York immediately after just meeting Travis is something that is very unlike her," a source told the outlet. "Historically, Taylor's always been super private about everything, and now with this [relationship], she's so open about it that it's just very odd for Selena."
It is, admittedly, quite a right turn from Swift's six-year relationship with actor Joe Alwyn, which ended earlier this year. And apparently, the outlet reports, Gomez has noticed the 180 and has found some aspects "alarming." (In all fairness, we're allowed to shake it up when it comes to patterns from time to time.) Gomez has also reportedly been caught off guard seeing Swift spending time with Kelce's mother, Donna, in a public suite after having just met her, and thought that Swift holding hands with Kelce "in clear view of the paparazzi within less than a month of dating was also strange," Page Six reports.
The outlet also claims Gomez has turned down invitations to a few Chiefs games because she didn't want to be part of the "media frenzy." The two are "not in a fight," the source said (they were just seen at a sushi outing together in West Hollywood earlier this month), but "Selena just doesn't want to be part of the media frenzy because it's really chaotic. It didn't come from a malicious place, and it's not that she doesn't like them together. She's just concerned about the way it's being navigated." (Kelce's brother Jason also shared similar concerns, as Marie Claire reported on recently, and TMZ reports that the entire Kelce family, while supportive of the relationship, thinks the attention is a lot to handle.)
Meanwhile, the couple continue to grow closer: "She is trying to keep it together, but is obviously falling in love with him and he feels the same way," a source said, per Page Six. "Travis is a gentleman and, although it is maybe too soon to say, everyone really feels like she has finally met her match."
Celebrity news, beauty, fashion advice, and fascinating features, delivered straight to your inbox!
Marie Claire is committed to celebrating the richness and scope of women's lives. We're known for our award-winning features, thoughtful essays and op-eds, deep commitment to sustainable fashion, and buzzy interviews and reviews. Reaching millions of women every month, MarieClaire.com is an internationally-recognized destination for celebrity news, fashion trends, beauty recommendations, and renowned investigative packages.