Hillary Clinton Plays the Gender Card—Literally—in New Campaign Ad
Take that, Mitch McConnell.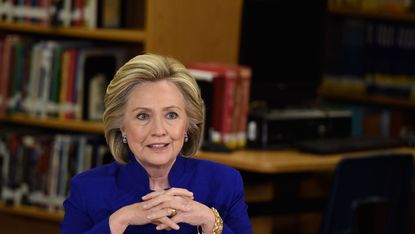 (Image credit: Archives)
Marie Claire newsletter
Celebrity news, beauty, fashion advice, and fascinating features, delivered straight to your inbox!
Thank you for signing up to . You will receive a verification email shortly.
There was a problem. Please refresh the page and try again.
During a Facebook Q&A earlier this week, Hillary Clinton was asked to respond to Sen. Mitch McConnell, who suggested (opens in new tab) that the "gender card" would not secure the election for her.
Clinton responded thusly:
"There is a gender card being played in this campaign," she wrote. "It's played every time Republicans vote against giving women equal pay, deny families access to affordable child care or family leave, refuse to let women make decisions about their health or have access to free contraception. These aren't just women's issues, they are economic issues that drive growth and affect all Americans. Anyone who doesn't get that doesn't understand what our lives are like."
And has since started a #gendercard hashtag to talk about the pressing issues women face that affect all Americans. After all, she famously said (opens in new tab) "human rights are women's rights, and women's rights are human rights."
Sen. McConnell thinks unlocking the potential of half the population is playing the #gendercard. We think it's an economic no-brainer.July 21, 2015
See more
If you think you shouldn't have to choose between taking care of your family and getting a paycheck, you might be playing the #gendercard.July 21, 2015
See more
Think women should be paid equally? You might be playing the #gendercard.July 21, 2015
See more
If Sen. McConnell thinks fighting for women and families is playing the "gender card"—okay. Here's our #gendercard: pic.twitter.com/mtSCvJWqADJuly 21, 2015
See more
If Hillary is playing the so-called #gendercard, what cards are Republicans holding?https://t.co/QoldL2hBowJuly 21, 2015
See more
Now that's a gender card well played.
Megan Friedman is the former managing editor of the Newsroom at Hearst. She's worked at NBC and Time, and is a graduate of Northwestern's Medill School of Journalism.