The Enduring Legacy of Hillary Clinton's Style
Her new Hulu documentary showcases her myriad career accomplishments, but it's also proof she is the undisputed fashion icon of our generation.
As I sat waiting for Hillary Clinton to take the stage to introduce her new documentary, I aimlessly browsed Zara's website. I scrolled past dozens of blazers—plaid, boxy, menswear-inspired silhouettes—styled with turtlenecks and oversized outwear or with headbands and belted pantsuits.
The irony was not lost on me.
In Hillary, a four-part documentary that hit Hulu last Friday, director Nanette Burstein aims to chronicle the polarizing nature of Hillary Clinton. The series showcases the prolific impacts Clinton has had on the world since her entrée to the political sphere: championing health care reform; being at the forefront of the women's rights movement; her historic run as the the first female atop a major-party presidential ticket; her groundbreaking student commencement speech at Wellesley College in 1969.
But in highlighting Clinton's life, Burstein unintentionally brought another hefty part of her legacy to light: definitive style icon of our generation.
It's impossible to ignore how pervasive Clinton's style has become in the years since she lost the election. Documentary clips of Clinton in the '60s, '70s, and '80s could easily be snapshots of present-day street-style stars and Instagram influencers. Designers as recently as last month debuted looks on Paris and New York runways that Clinton was once mercilessly mocked for wearing. Several scenes show Hillary in outfits that the most fashionable stars of the moment—Millie Bobby Brown, Hailey Baldwin, Kaia Gerber—would undoubtedly be seen in while running to and from red carpet events.
My jaw nearly hit the floor during one scene in which a 20-something Clinton appears in a highlighter pink turtleneck I currently have hanging in my closet. I snagged it from a fast-fashion retailer five months ago and have pulled it out countless times since when I need to look "stylish and put together." If only Hillary had posted it to Instagram with a "swipe up" link; she damn well would have earned my affiliate commission.
Clinton may not be in the Oval Office, but an army of fashion-loving women are carrying on her feminist, envelope-pushing agenda through their daily sartorial choices—often times as a form of catharsis from the crushing nature of today's political climate. Take, for instance, the now-iconic moment when a sea of Congresswomen descended on 2019's State of the Union address clad in white pantsuits and dresses that could've been plucked directly from Clinton's closet.
Of course, the beauty and absurdity in seeing Clinton's fashion emulated so purposefully today is that for the entirety of her political career, she was tortured by the public's criticism of her appearance.

Burnstein says that she couldn't help but highlight in her documentary the contentious relationship Clinton had with fashion throughout her career because it was an "organic" beat under many of the politician's biggest moments. There's a clip from Clinton's 2008 presidential campaign of a democratic rival criticizing her pink tweed jacket during a debate; later, at a campaign meet-and-green, a woman shouts at her, "Somebody's gotta tell her how to dress!" During the 2016 election, Clinton's own team questioned the shoes she was planning on wearing during a primary debate. Clinton claps back: "Did anyone ask Bernie [Sanders] about his goddamn shoes? I don't care."
Clinton's blatant disregard for her appearance back then is what makes her so much more of a style icon now. (No matter how much she has tried to deny it.) "It's interesting that someone who has had the least regard of fashion has been a pioneer in some ways," says Burnstein. She was never trying hard; she was just making smart decisions. Even her pantsuits—which have come to define her "look" and birthed an entire "nation"—were simply a pragmatic decision.
"She just wanted to create something simple, almost like a uniform in a way," Burstein explains. "As a result of doing that it created a cultural shift. Yes, she's not the first woman to wear a pantsuit in politics, or any sort of professional setting, but she was the first to really embrace it in a way as 'her uniform.'"
Like any fashion trailblazer, Clinton—once dubbed too smart to be stylish and too severe to be sexy—used her outward appearance as a tool. Mainly to appease public temperaments. If centrists hated her and her husband's health care reform plans, she'd get a haircut. When the public couldn't stop criticizing her for not taking her husband's last name, she got contacts. Because she couldn't get people to listen to her for the right reasons, she's at least get them to stop talking about her for the wrong ones. Now, she's getting the last laugh.
Just imagine what 1993's political pundits would say if they knew, two decades later, Kim Kardashian and Emily Ratajkowski would don pantsuits while campaigning for women's rights and prison reform? And would be taken seriously.
"She's always ahead of her time and never quite of her time," a Clinton friend remarks in the documentary, speaking of her work. She might as well have been talking about any of Hillary's outfits.
A modern lens paints pre-White House Clinton, a wearer of coke-bottle glasses and lover of oversized printed blouses, as a natural trendsetter. "[There's] one picture where she's wearing tinted sunglasses and flowery hippy dress. I think she's talking about the time she first started dating Bill. She looked so über-cool without even trying to," Burstein notes. She permeates fashion culture without even realizing. Case-in-point? Her favorite '90s item: the headband. Clinton was brandishing the hair accessory long before Prada, Chanel, or even Blair Waldorf brought the It item back.
"She loves the headband. It's like her favorite thing," Burstein says. "The other day we were in Germany... and she left and came back...she was wearing a headband. I was like 'Oh my god. She still rocks the headband.' She's like, 'I'm wearing it anyway. I don't care that nobody wears it anymore. It's my tried and true and what I feel most comfortable in.'" Oh, Hillary. What she don't realize is that everybody wears it now. Probably because of her.
As I was getting dressed for work the morning after the documentary's screening, news broke that Elizabeth Warren, the last remaining viable female candidate on the democratic ticket, was dropping out of the presidential race. I spent a few moments pondering what Clinton would say about it.
Then I threw on my highlighter pink turtleneck, a plaid oversized blazer, and got to work.
For more stories like this, including celebrity news, beauty and fashion advice, savvy political commentary, and fascinating features, sign up for the Marie Claire newsletter.
RELATED STORIES
Marie Claire email subscribers get intel on fashion and beauty trends, hot-off-the-press celebrity news, and more. Sign up here.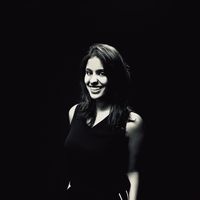 As Marie Claire's Entertainment Director, Neha oversees and executes strategy for all editorial talent bookings and culture coverage across the brand's print and digital entities, including covers, celebrity profiles and features, social takeovers, and video franchises as well as handles talent relations for MC's flagship summit, Power Trip. She's passionate about elevating diverse voices and stories, loves a hot-take, and generally hates reboots. She's worked in media for more than 10 years and her bylines about pop culture, film & tv, and fashion have appeared on Glamour, Vanity Fair, GQ, Allure, Teen Vogue, Brides, and Architectural Digest. She is a graduate of the Columbia School of Journalism.