'Black Panther's Michael B. Jordan Snuck into Screenings on Opening Night
Sneaky...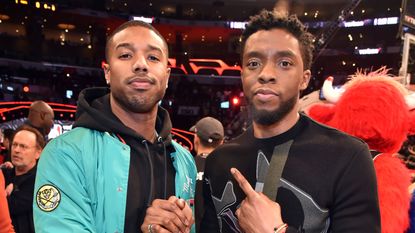 (Image credit: Getty Images)
It's one thing to read all the reviews or watch your film climb up the box office charts, but if you really want to find out what people think of your movie, there's only one way to do it... get in among them.
That's just what Michael B. Jordan did on the opening night of Black Panther, when he wanted to find out what real audiences made of his turn as Erik "Killmonger" Stevens.
And fortunately for Jordan, it sounds like it was a great experience for the fans and for him, too.
"Honestly, everybody was laughing, they were yelling at the screen, you know what I'm saying?" he told Entertainment Tonight.

He continued: "The gasps, the one-liners, everything was working, so it was cool to see it with a normal audience—not at a premiere, not at a press junket. They were really engaged and interacting with the film, so it was good to see."
One thing fans may have been impressed by is just how ripped Jordan got for the role, and he recently told Digital Spy how he managed it.
Jordan explained:
"Erik is like a Swiss Army Knife. He has a lot of different skill sets. He has a very eclectic skill set from weapons training, and firearms, swords, spears, to hand-to-hand combat, martial arts. So, I did a little bit of everything. I had some time to study and really become Erik in this project. It was a lot!"
And that's on top of "regular working out, eating a lot, drinking a lot of water, lifting weights." Easy.
Mayer Nissim is a freelance sub-editor and WWE writer at Digital Spy.