This College Dorm Room Has Gone Viral for Being Insanely Extravagant
#DormRoomGoals.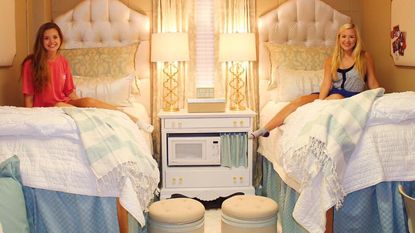 (Image credit: Lindy Goodson)
The average college freshman's dorm room consists of a carpet of unwashed clothing, some empty ramen packets, and a few classic movie posters peeling off the wall. But when incoming freshmen Lindy Goodson and Abby Bozeman decided to share a dorm room at The University of Mississippi, they knew they had to take the decor up several notches.
"Most all dorms [at Ole Miss] are matching and decorated fabulously, so we have been so surprised to see the amount of attention we've gotten over ours!" said Goodson.
The two met on social media back in October and began planning how to decorate it in December. The result was a bedroom fit for a luxury hotel.
Here's the before photo:
And here's the after one:
In spite of appearances, Goodson said that it really didn't cost very much to make their living space oh-so-fabulous. It just took a little imagination and a whole lot of bargain shopping.
"Abby found the dresser at an antique shop and had it repainted and added some crystal knobs (from Home Depot!). The curtain on the dresser is a hand towel my mom found at TJ Maxx and made into a little cafe curtain (it covers paper plates & such). I also found the lamps at Hobby Lobby on clearance and the stools from Home Goods (which I hot glued some velvet ribbon on)," Goodson said.
Their favorite part of the room is the llama and ostrich paintings above their beds.
"These are the first things we bought and we think they are so fun! The best part about them is that they haven't fallen off the wall and onto our heads yet — shout-out to Command Strips!!"
Abby posted a photo of their palace on Instagram (opens in new tab) and Goodson put one on Twitter, and, thanks to a BuzzFeed article (opens in new tab), they quickly went viral, though the reaction to the extravagance was mixed.
And though the media attention has been a little overwhelming, it's also great to have people all over the world appreciate their hard work and creativity. Goodson said, "Most of the media attention has been extremely flattering and we have been so surprised and thankful for the response. We didn't at all expect this, I just figured a few friends from home would see my picture on Twitter, not thousands from all over the country!"
Follow Marie Claire on Facebook (opens in new tab) for the latest celeb news, beauty tips, fascinating reads, livestream video, and more.
My writing has regularly appeared in The New York Times, The Paris Review, Salon, VICE, Guernica, The New York Observer, BuzzFeed, Cosmopolitan, Seventeen, Esquire, Elle, Harper's Bazaar, and many more publications.

I was previously the Senior News Editor at Best Life Online and the Viral Content Editor in the Newsroom of Hearst Digital Media. My portfolio consists of a vast and diverse body of work that includes personal essays, lifestyle articles, breaking news posts, and viral content. My areas of expertise, however, are Russia, sex and relationships, and mental wellness.