Is 'Sex and the City' Coming Back to Television?
"I don't think any of us have said no," says Sarah Jessica Parker.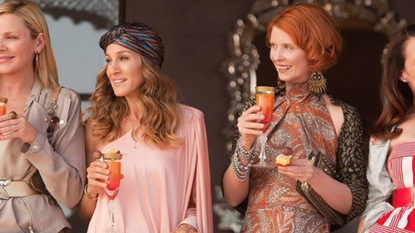 (Image credit: Warner Bros.)
Sex and the City has taught us some valuable life lessons over the years—a round of cosmopolitans can solve everything, dating is exhausting, and if you ever run into your friend's ex, it's essential to curse the day they were born.
Anyway, good news for fans of the four girls as Carrie, Samantha, Miranda, and Charlotte might be making a comeback AGAIN, six years since Sex and the City 2 became another box office success. Some women just aren't meant to be tamed...
Talking to PA, Sarah Jessica Parker said: "I don't think any of us have said no. I don't know whether it's a series or the movie.
"I think that remains an open question and discussion that will continue until it's been resolved. I think that's always a possibility, definitely."
Willie Garson (Stanford himself) previously told Digital Spy that he reckons all four ladies and director Michael Patrick King would never rule out signing up for a new chapter.
"We honestly don't know," he said to us. "I know that Sarah [Jessica Parker] and Michael had at one point had an idea for a story, but we honestly don't know.
"Any time we tease anyone with the possibility, we're just being cheeky!"
When asked if he would like to make a new film, Willie said: "I would make a hundred of them. I'll be in a walker with a broken hip! But I would keep going.
"I don't think any of us would say, 'Absolutely not, I want to leave that part of my life behind me.' I have no idea when or if that were to happen."
On why SATC has remained so popular after 18 years, he added: "Whether they know it or not, the show is about connections between people and about love.
"People don't know while they're watching it, because they're focusing on the fancy clothes, and the jokes, and the crazy situations, but really what it's about is human connection.
"But it makes every single person think, 'Oh, I know someone like that', or, 'That one represents me', and that's universal—male or female, young or old."
Without getting too (ahem) Carried away, what if Sex and the City comes back to our TV screens as an updated version? Will we see Miranda forget about her love for TiVo and discover Netflix and chill instead? While Sam swipes right for all the local talent on Tinder?
Follow Marie Claire on Facebook for the latest celeb news, beauty tips, fascinating reads, livestream video, and more.