Hollywood Scandals: Why Men Crush Them and Women Are Crushed by Them
What separates the Lohans from the Gibsons? Gender.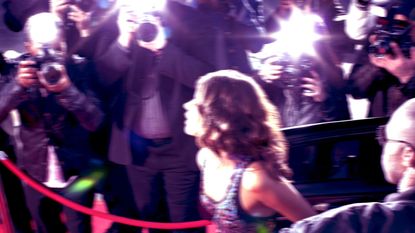 (Image credit: Getty Images)
Marie Claire Newsletter
Celebrity news, beauty, fashion advice, and fascinating features, delivered straight to your inbox!
Thank you for signing up to Marie Claire. You will receive a verification email shortly.
There was a problem. Please refresh the page and try again.
Name any critically acclaimed actor who abused his wife, sent used condoms to a cast member, was caught with a prostitute, or was arrested for drug charges. Now name a popular actress who's maintained her place on the A-List even after a post-adolescent run-in with the law. Which question's harder?
It's an undeniable truth that powerful men—especially straight white men—have a chilling ability to slide through what should be lifelong blacklisting. And as our recent election expertly proved, not even global outrage can get in the way of a man defeating a scandal. It's true in politics, it's true on Wall Street, it's true in sports, and it's especially true in Hollywood.
People have always been obsessed with scandals—the 19th centurypenny presses led the way for celebrity-driven tabloids like Confidential in the mid-1900s. But regardless of the subject's level of fame, the greater purpose of a scandal remains the same: a means of enforcing society's age-old behavioral rulebook through creating a public spectacle. With the help of the media, a single scandal can provide fodder for entrenched stereotypes and drown out someone's voice forever. And that someone is often a woman.
Lindsay Lohan makes the perfect Exhibit A. Throughout her career, the 30-year-old actress has gone from everyone's favorite Parent Trap hero, to cautionary tale, to flounderer. This is partly due to her own making (she's notoriously difficult to work with), and partly due to the lasting impact of her many, many, many scandals. In 2004, a New York Times article predicted that Lohan would become a rival to Kate Hudson and Drew Barrymore. But later that same year, she was called out in another outlet for her "baby-diva behavior," went to the hospital for exhaustion, and had to defend her breasts from rumors about implants. Since then, Lohan's career has remained tangled up with her personal life, the art forever inseparable from the artist.
Lohan has tried multiple forms of a proverbial comeback tour since her early aughts downfall: she's guested on family-friendly shows like Glee, Late Night with Jimmy Fallon, and 2 Broke Girls. She's starred in the micro-budget film The Canyons and in Lifetime's Liz & Dick. She even had her own redemptive documentary series with Oprah Winfrey in 2014. Even so, nothing's worked in Lohan's favor: she was recently criticized for insulting Ariana Grande's makeup, and lambasted formissing the Kettering tree-lighting ceremony. Her attempts at doing something valuable with her life (most recently helping refugees) are typically viewed as desperate and laughable rather than applause-worthy.
It's hard to find a perfect male counterpart to Lohan—although if you combine Macaulay Culkin, and Robert Downey Jr. you might end up with the actor equivalent. Culkin and Lohan were on a similar trajectory, but society seems to have happily moved Culkin into the "ironic indie icon" category. Meanwhile, Robert Downey Jr. had a solid five years of career-sabotaging behavior including stints in rehab and multiple arrests, but still managed to regain his status and become one of thehighest paid actors of 2016.
"Hollywood is so liberal, right? But it's so sexist," says Melissa Silverstein, Founder/Publisher of Women and Hollywood. "The culture is still patriarchal. It's still male-run. The bar for women is just so much higher, and I think we have to understand how women are treated in the business in general. As you age you disappear."
Women disappear from the spotlight, yes (it's been established that far fewer roles go to women over 42 than men of the same age), but also they also have less time to recover from a scandal before being cast out of the industry. Yet as we speak, Mel Gibson—once infamous for his anti-semitic outburst—is staging a comeback at 60. Earning praise, multiple nominations, and a10-minute standing ovation at the Venice Film Festival for his nationalistic World War II movie Hacksaw Ridge, Gibson has officially sashayed his way back to work. And of course, it would be remiss of us not mention that 81-year-old Woody Allen continues to be at the helm of at least one project per year—despite Dylan Farrow's sexual-assault accusations against him. And, that even though 76-year-old Bernardo Bertolucci is currently facing the internet's wrath about the rape scene in Last Tango in Paris, he's still been given a platform to explain and defend himself.
The singular combination of talent, white skin, friends in high places, and male genitalia are tools in a toolbox that women simply don't have total access to, and—while privilege certainly comes into play among actresses—all women in Hollywood are at some level of disadvantage. "Women just know they have to behave in a certain way," says Silverstein. "We don't see female scandals because women's careers and women's actions don't escalate to that level because they know they won't survive."
There are rigid rules for women in any industry, but in film, the rules are simple and archaic: do what you're told, look pretty, sit down, don't be too opinionated, and leave most things to the men. When women (even women in the highest echelons of Hollywood) break these rules, they face consequences. Take Jennifer Lawrence, who's known for being a foil to the ditzy, diva stereotype. She created her own mini-scandal by criticizing the gender pay gap, received a gross amount of negative attention for it, and—ironically—not all women came to her defense. (When asked about the issue, Kate Winslet commented "I don't think that's a very nice conversation to have publicly at all.")
In contrast to the backlash generated by Lawrence's essay, let's take a look at this quote from Clint Eastwood, which surely should have been scandal-inducing: "We're really in a pussy generation," the actor told Esquire. "Everybody's walking on eggshells. We see people accusing people of being racist and all kinds of stuff. When I grew up, those things weren't called racist."
You're probably thinking, "it's just Clint being Clint!" but can you imagine what would have happened if a woman said the same thing? And Eastwood isn't the only man to get the "boys will be boys" shrug-off when it comes to would-be scandals. In 2013, Seth MacFarlane hosted the Oscars and started the ceremony with a number called "We Saw Your Boobs." Unfortunately, it was not a public denouncement of how 31 percent of the top films in 2012 featured partial female nudity compared to just 9.4 percent male nudity. MacFarlane was called upon him to issue a public apology, but never did. Meanwhile, he continues working in Hollywood, and everyone has moved happily on from the "We Saw Your Boobs" incident—including the internet. The only Google News search results you get for "Seth MacFarlane" and "Oscars" are about his role as a singing mouse in the new animated movie Sing.
Weirdly, while everyone was busy not hating on McFarlane, a strange trend of disliking Anne Hathaway emerged. Commentators likeAlex Williams of theNew York Times theorized that people were simply projecting their insecurities on someone who's actually done nothing wrong, or perhaps bonding over a shared resentment of perfection. But think about it: Anne Hathaway never did anything "wrong," yet she still suffered a scandal. The rampant Hatha-hating didn't destroy her career, but three years later, we're still talking about it. Eddie Redmayne even addressed "his controversial former co-star" while promoting Fantastic Beasts on Bravo's Watch What Happens Live.
"Women's scandals are so full of meanness," says Silverstein. "And I just feel like we have more important things to do than trash on Anne Hathaway. What are we as a culture getting out of this, by making this woman feel like shit? It's not cool, it's not good, it's not acceptable."
One could trace the origins of scandal in Hollywood back to the MGM parties of the 1930s, but we'll refrain from doing so in order to discuss Britney Spears' upcoming Lifetime docu-drama. Spears herself has been through rough time with the media, and still isn't fully taken seriously as a pop icon regardless of her efforts to redeem herself. She may have a residency in Vegas, but Lifetime's newest endeavor confirms that at least some portion of society still views Spears as a caricature, a joke, and a conveyer of camp. One can only imagine that the series will be a lesson in Schadenfreude, but only time will tell. As Dee Lockett of Vulture writes (in regards to recently released photos of Spears' Lifetime counterpart), "Is anyone truly deserving of this much insult?"
Of course, 2016 has delivered bountiful numbers of male scandals. But it's too early to tell what Amber Heard's domestic abuse case against Johnny Depp will do to his career (probably nothing considering he's starring in a Harry Potter franchise), what the resurgence of interest in Nate Parker's rape trial will mean for his future (and whether Mel Gibson's statement of support is going to make things better or worse), or what impact the sexual harassment claims against Casey Affleck will have on awards season (so far, he's been nominated for a Golden Globe and SAG). As of now, it seems like their careers will prevail, much like those of many males before them.
Oh, and for Exhibit B, we presentSean Young. Do you know who she is? Perhaps not, but it might be time to read up.
Follow Marie Claire on Facebook for the latest celeb news, beauty tips, fascinating reads, livestream video, and more.
Celebrity news, beauty, fashion advice, and fascinating features, delivered straight to your inbox!
Sonia Weiser is a Brooklyn-based journalist. She's previously written for The New York Times, The Boston Globe, TIME, New York Magazine, among others. Follow her at @weischoice and see her work at soniaweiser.wordpress.com.