How I Went from Working on a Farm to Starring in 'Wonder Woman'
"In this film, I was finally allowed to be who I am."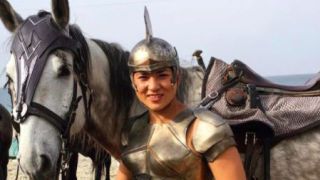 (Image credit: Clare Duncan)
If you are yet to watch Wonder Woman (seriously, stop what you're doing and head to your nearest theater), it's pretty much the most feminist and badass film of the year and, most certainly, of the superhero genre to date.
One of the most iconic scenes from the film is the battle war between the Amazonians and German soldiers, where a troop of women on horseback—armed with bows, arrows, and swords—storm down the coastline to attack the enemy.
It's one of those cinematographic moments that makes you proud to be a woman.
One said woman who was lucky enough to be a part of the unforgettable fight scene was 25-year-old farmer Clare Duncan, who—when she's not galloping down Italian beaches with a sword in her hand—sells limestone to farmers, tests soil, and works as a farmer and livery manager at home. Talk about a career change.
We caught up with the Amazonian goddess to find out what it was like being part of the number-one blockbuster, and what Wonder Woman means to her.
First things first, how did you nab a role in the film?
"I go to a gym in Hoylake, Wirral called the Underground Training Station, and my personal trainer Ailish McLaughlin approached me in January 2016, asking whether I wanted to go for a casting call for ethnic horse riders for a new film. Her sister Kate (co-founder of production organistion, We Got POP), finds extras for films such as James Bond and Star Wars, and was apparently looking for Amazonian horse riders. I've been riding since the age of four but properly got into it when I was about 15 years old.
The audition process was only a day and involved heading down to the Devil's Horseman in Milton Keynes (Europe's leading centre for horse masters, stuntmen and stunt coordinators) where they have over 100 horses and riders for films and television programmes such as Game of Thrones, Downton Abbey, King Arthur, and Justice League.
Each of the Amazonian auditionees were instructed to ride in pairs with swords so the casting directors could judge our riding ability and what we could each individually give to the film. I'm used to show jumping but auditioning with swords was very different. The film industry is totally new to me—I'm just a normal country girl!
I found out I'd got a part a few weeks after my audition via email, and went down to Milton Keynes for training soon after. We headed to Italy to start filming in the spring of 2016."
What exactly did the training involve?
"We learned a lot of sword fighting and archery. I'm pretty sporty, so I wasn't scared to crack on with it—you pick up skills and learn it all quite quickly. There were a lot of spears involved in training which aren't easy to hold while riding a horse.
Horses are flight animals so you have to be clever about using spears so not to scare them. Fortunately, they were so used to what we were doing anyway and were incredible."
"We had very early starts to give us enough time to eat breakfast and head to the costume department. The food on set was phenomenal. We ate a lot of fresh Italian produce which was cooked to perfection—we were very spoilt.
We filmed on a beach in Italy in a town called Marina di Camerota, and stayed in a type of holiday resort called Happy Village where we had our own bedrooms and bathrooms."
What was it like putting on the Amazonian costume every day?
"I loved it! I'd never worn a corset before shooting this film and lacing it up took a lot of time, hence the early mornings. I never really thought about the costume feeling uncomfortable because it looked so fantastic. When else do you get an opportunity to wear an Amazonian costume that's created by Oscar-winning costume designer Lindy Hemming? It was an honor to be able to put it on every day."
What were the other Amazonian women like?
"There were about 15–20 other Amazonians and 50 women fighting on foot, ranging in ethnicity. For someone who is half Hong Kong/Chinese, this was amazing to see. I was touched by the filmmakers wanting to champion diversity.
The Amazonians were the most inspirational, strong women I've ever met. They ranged from stunt doubles, and crossfitters–who are in unbelievable shape–to dancers and fighters. They were all athletes; they weren't just beautiful, they were talented."
RELATED STORY
Which scenes in the film are you in?
"I'm in the battle scene in a V-formation, where the horses come down on the beach and we charge to attack. It gives me goosebumps watching it."
Did you get to see Gal Gadot and model Doutzen Kroes much?
"Yeah, we were all on the beach filming together. Gal regularly came over to see the horses and she genuinely loved the interaction with them. She's the most beautiful person at heart and has such grace. The entire cast were all so down-to-earth. All the women were on the same level and formed such a tight tribe."
What's your favorite memory from filming?
"The whole experience! I kept pinching myself because there wasn't a day that went by when we weren't laughing. Practicing our war faces was hilarious—we'd pull out so many funny and horrific looks. There were a lot of funny moments.
Time flies when you're having fun—a long day could turn into a short one, very easily. We'd have a bit of time sitting around on set and then all of a sudden, we were on the horses and ready to go. That's what was so exciting."
Why did you want to be in the film?
"Growing up, I was always a strong little girl, but it was never cool to be strong. In this film, I was finally allowed to be who I am and was there because I am strong. Strong is the new skinny, after all."
Why do you think Wonder Woman is such an inspiration to young women?
"The film's director, Patty Jenkins, is an incredible and inspiring female filmmaker, but she's not just a female director—she's an incredibly talented director, full stop. Her energy was amazing.
When I watched the film, I wanted to be Wonder Woman. Just watching Gal made me want to be fierce, strong and just like her. That's very much what the film portrays."
What do you make of the sexist backlash the film has received?
"It's ridiculous but people will always have their own opinions. We're only human at the end of the day so, of course, when you put something out in the world that you think is great and put your heart, soul and 100 per cent into it to then get backlash, you think, 'What did I do wrong?'. But, someone else will always have a different opinion."
RELATED STORY
You attended the 'Wonder Woman' screening last weekend. What was it like catching up with the cast and crew?
It was phenomenal to see the Amazonians again—I didn't want the weekend to end. The entire cast and crew gathered in the cinema in Leicester Square to watch the film. Even arriving in London and seeing a bus stop or bus go by with a Wonder Woman poster made me think 'Oh my god, wow! The big city, here I am!'"
Would you like to be an extra in any more films?
"I'd love to do it again but, will this opportunity happen again? I doubt it. But you never know. You've just got to keep fit, keep riding, and stay strong."
Follow Marie Claire on Facebook for the latest celeb news, beauty tips, fascinating reads, livestream video, and more.
Katie O'Malley is the Deputy Digital Editor, at ELLE UK. On a daily basis you'll find her managing all digital workflow, editing site, video and social media content, liaising with commercial and sales teams on new partnerships and deals, implementing new digital strategies and compiling endless data traffic, SEO and ecomm reports. Since joining in 2016, Katie has written features on everything from sex addiction, and the use of tear gas during protests to virtual cuddling, 'friendship fade' and access to contraception post Brexit. Her list of interviewees over the years include those with Oprah Winfrey, Benedict Cumberbatch, Reese Witherspoon, Emma Stone, Zoe Kravitz etc.