Audrina Patridge and Justin Bobby's Relationship Will Go Down In Reality TV History
Plot twist: they NEVER dated.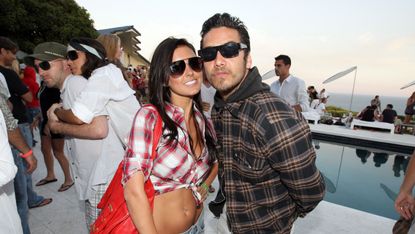 (Image credit: Getty Images)
The Hills is back! I grew up watching The OC and Laguna Beach, so The Hills was a natural progression for me. (I'll forever be Team Kristin, sorry LC.) As a teen, I lived for the drama. It was a simpler time—we hadn't really even heard of the Kardashians, and Obama was on the cusp of being elected. In honor of the return of The Hills: New Beginnings I'm taking a look at Audrina and Justin Bobby's insane relationship history. Grab some popcorn peeps, because this is about to get good.

Let's start at the real beginning. It turns out Audrina and Justin Bobby met in a super chill way considering all of the insanity of the show. According to a recent interview, Bobby can actually thank Madonna for his fame. Yes, Madonna.
Justin shared: "I was actually doing hair on a Madonna music video, and Audrina was reception at QA studios and she asked if she could maybe get her hair done." The two got to texting, and before he knew it they brought him in to film a haircut with Audrina...and the rest is reality TV history.

It wasn't until season 3 of The Hills that we were first introduced to JB. We first met Justin at Cobras and Matadors, where he and Audrina meet for a date. He's introduced as her ex-boyfriend and all we know at this point is that Justin is "bad" and Audrina is not sure if she wants to date him. It was August 13, 2007, for all of you diehards.
At this time we only know him as Bobby, no Justin. He made us all swoon with the line: "All my friends call me Bobby, you can call me whatever the hell you want." WOW. We should have all known right then and there that JB was nothing but heartbreak. Meanwhile, Justin explains that he sees Audrina for her and "doesn't let anybody interfere with that." Sweet?
But then...Audrina gets incredibly heartbroken. At this point the roller coaster that is Audrina and Justin is about to hit an insane low when JB gets caught kissing another girl. At a bar. In front of Audrina's face!
At this point, Audrina is done-ish. Watch the clip for yourself below.
Things got crazy in Cabo (the Vegas of MTV reality shows) and the pair was forced to reevaluate their relationship status. Again. Justin shares that "to be in a relationship you kind of have to be together" which, DUH, Justin. TL:DR Justin Bobby is being a total jerk, knows it, and isn't going to change it, but he wants to now be with Audrina. Side note: Audrina has another guy on the side, Corey, who didn't make the cut, apparently. Love is crazy, y'all.
As Audrina and Justin continue to be together, they experience the usual relationship hiccups, like Audrina's roomie Lauren hating Justin, Justin refusing to move in with Audrina, and more breakups. Remember the time they went to the party in Malibu and he left her with a helmet on the side of the hill?! Remember "homeboy wore combat boots to the beach"?
Even when Audrina is trying to be crazy, sexy, cool with Justin, he is a total douche and brings up using his "hall pass" in Cabo. Audrina is literally topless at this time, and he's thinking about hooking up with other girls. In retrospect, all the signs were there— we (and Audrina) just didn't want to see them!
We closed out The Hills with Audrina needing some major space. I mean, could you blame the poor girl??? I'm exhausted just remembering the craziness. In fairness, Justin throws out some truth bombs, as does Audrina, but in the end the two decide it's best to part ways. Justin even says, "Maybe you just weren't the one." OUCH.
In an insane plot twist, Justin Bobby told Complex in 2015 that he and Audrina never actually dated. "We were just supportive of each other at a time where something like that, you don't really have the most support. We could talk about it and you couldn't do that with most because it would be leaked. There was no trust, so we had trust. It never evolved into anything too heavy, but we definitely went through an experience of doing TV and filming and traveling and having laughs and she's still a dear friend to this day."
Take a moment to let that sink in! NEVER. DATED. Was the chemistry all a lie? Were the tears and drama all a lie?! I feel so betrayed, but as they say, the rest is still unwritten.
Well that, and "truth and time tells all."
"Truth and time tells all." ✨ Some #WednesdayWisdom from none other than Justin Bobby. #TheHills pic.twitter.com/ydnD8xije6November 7, 2018
See more
As for now, Patridge is happily raising her daughter, and Justin says he is "too quick for love." Guess we'll have to see what happens on The Hills: New Beginnings.

For more stories like this, including celebrity news, beauty and fashion advice, savvy political commentary, and fascinating features, sign up for the Marie Claire newsletter.
RELATED STORIES
Celebrity news, beauty, fashion advice, and fascinating features, delivered straight to your inbox!
Krystyna was the former Social Media Editor of Marie Claire where she oversaw all things social media and connected with MarieClaire.com readers. She came to Marie Claire from Racked.com, where she was the Community Manager. Before that, Krystyna was at Latina Mag and Cosmo for Latinas. She graduated with a Marketing major from Fordham University.