'Love Island USA' Has Left British Viewers Very Confused
"Why is America like this?"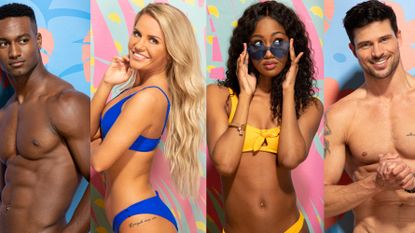 (Image credit: Getty Images)
The American edition of popular British dating show Love Island, referred to as Love Island USA,kicked off last night. The CBS series was met with mixed reviews, which was to be expected—the original Love Island has been on air for five years, and its current season has been one of the most controversial and highly watched since its premiere. To say that the stakes were high for the U.S. version would be an understatement, but when you have a group of seriously good-looking people (hi, Yamen!) stranded together on an island in a mansion, the drama kinda just...manifests itself. Pass the popcorn, please!
Having been with the original Love Island since its 2015 premiere, fans of the show across the pond were particularly skeptical of the American take because they weren't sure that the series, which is quintessentially UK in every way, would translate. Still, they tuned in anyway and had a lot to say.
Their expectations were low from the jump.
Student A: Did you do the homework?Student B: YesStudent A: Can I see?Student B: You can copy, but don't make it obvious Student A:#LoveIslandUK #LoveIslandUSA pic.twitter.com/ZpuXs2ciERJuly 4, 2019
See more
i just paused my uk love island binge for this so i hope it's worth it #loveislandUSA pic.twitter.com/2zp6IwDclfJuly 10, 2019
See more
I have a strong feeling #LoveIslandUSA will be trash🤷🏾‍♀️ but I'll give it chance...July 3, 2019
See more
It's gunna be a hot pile of garbage watching #LoveIslandUSA but I'm still gunna do it just see how boring Americans are #LoveIsland pic.twitter.com/98gjwK8c6IJuly 9, 2019
See more
They had a hard time dealing with the way we talk.
me waiting for someone to say "mugged off" or "pied off" or "crack on" on @loveislandusa #LoveIslandUSA pic.twitter.com/eR2rmmOPj0July 10, 2019
See more
Love island without the English accents #LoveIslandUSA #LoveIsland pic.twitter.com/1rMCu77ha2July 10, 2019
See more
And they couldn't help but to make some (spot on) comparisons.
Omg I just realized how censored #LoveIslandUSA is about to be compared to the UK 😳July 10, 2019
See more
If this isn't just a knock off version of Sherif, Amber, Tommy, Amy and Anton. American #loveisland you're not sleek 😂 pic.twitter.com/fAVHIAQu6DJuly 9, 2019
See more
Someone get Iain Sterling on the line...please.
Some next BTEC even more cringe Flack #LoveIsIand #LoveIslandUSA Nah but Fr why is America like this 😩😩 pic.twitter.com/6gw5oCfETQJuly 4, 2019
See more
Minor complaints aside, the American version of the show appears to have definitely made some surprising improvements to the OG formula, notably with its diverse cast. In the past, Love Island has been widely criticized for its lack of diversity as well as for limiting the airtime of its Islanders of color. Even as recently as its current season, viewers berated the series for discriminating against now-eliminated Irish-Nigerian fan favorite Yewande Biala by not giving her proper airtime and ultimately hindering her opportunity to find love.
The CBS iteration of the show, however, seems to have addressed its predecessor's anti-blackness; there are currently four (!!) Black cast members on the series, including one self-identifying bisexual woman. And fans are pleased, to say the least.
Two black girls? Is this real? Am I dreaming? #loveislandusa pic.twitter.com/O10nKO1D1pJuly 10, 2019
See more
BLACK LOVE.. EPISODE ONE?? the simulation is bugging, thank you jesus #loveislandusa pic.twitter.com/4997CaZi1ZJuly 10, 2019
See more
It may be a wee bit early to call it—we're only on day one in the villa, and there are 22 drama-filled episodes left—but I think it might be safe to say that Love Island will be a success. Go 'Merica!
For more stories like this, including celebrity news, beauty and fashion advice, savvy political commentary, and fascinating features, sign up for the Marie Claire newsletter.
RELATED STORY
Celebrity news, beauty, fashion advice, and fascinating features, delivered straight to your inbox!