What Happened During the 'Too Hot to Handle' Reunion
Here's where Harry and Francesca stand.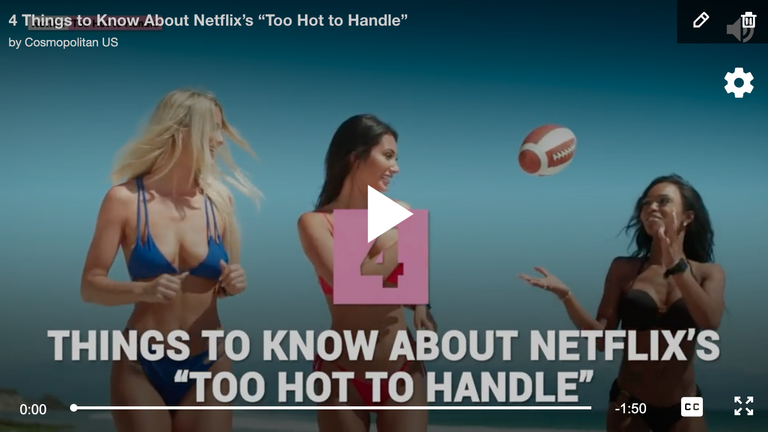 (Image credit: Marie Claire)
When you finished Netflix's Too Hot to Handle, you may have assumed you would never see the 10 singles again (save for your Instagram stalking). But lucky for you and your questionable tastes, Netflix reunited the cast for a special episode that aired Friday, cleverly titled "Extra Hot: The Reunion."
Yes, the world's "hottest" singles in the world came together again, via video chat, for a tell-all hosted by the show's narrator, Desiree Burch. And it was interesting. Harry Jowsey, Francesca Farago, Bryce Hirschberg, Chloe Veitch, David Birtwistle, Kelz Dyke, Lydia Clyma, Nicole O'Brien, Rhonda Paul, and Sharron Townsend—who all walked away with $7,500 in the final episode—spilled some major tea about where their friendships and relationships stand now.
So to save you an hour that you can instead use to try mastering the art of a TikTok dance or attempting to dye your hair at home, we watched the reunion special for you.
Here's what we learned.
Francesca and Harry did (or didn't) get engaged.
Over video chat, Harry held up a blue Ring Pop and proposed to Francesca, to which Francesca...sort of said nothing for a while, and finally replied: "Harry knows I want to marry him." (Is that confirmation of a engagement? Is it not? I can't tell!) Frankly, he and Francesca were the couple from THTH that didn't seem like they were going to make it, but boy was I wrong!
The couple is still together today despite suffering one eight-month breakup, and confirmed that they've discussed wedding bands. It's a normal thing to chat about when you've been dating for less than a year and live in different countries. The couples of The Bachelor do it all the time!
Nicole and Bryce made a connection when the cameras stopped rolling.
Bryce and Nicole previously revealed to OprahMag.com what happened between them after the show ended. Apparently, when the entire cast gathered at a hotel in Mexico post filming, the pair started to bond. Since April of last year, they've been in a long-distance relationship, traveling between L.A. and London to see each other.
"He wasn't really my cuppa tea at the start," Nicole said. "But getting to know him more and more, we formed a proper bond and connection."
Wonder what Nicole thinks of Bryce's houseboat?
Sharron and Rhonda confirmed they broke up after the show aired.
What seemed like the strongest couple in the Mexican villa actually never made it past the show. In an interview with Women's Health, Rhonda confirmed the sad news, "Unfortunately, we are not [together]. We are the best of friends; we still do talk, as far as helping each other out, talking to each other, and things like that."
I guess the silver lining is that they're still friends?
The best Twitter reactions to the reunion show.
As expected, the reunion show was full of memorable moments. And, also as expected, Twitter perfectly captured the best of them. Here are some of the best Twitter reactions and hot takes from the special:
There was, however, a segment of the tweeting fandom who thought the special was, well, a little snoozy:
Bianca Rodriguez is the Commerce Editor/Writer at Hearst Magazines Digital Media, where she covers fashion, beauty, home, and more. She likes long walks through shopping malls, a good book, and thinks a closet without platform sneakers is a travesty.