12 Movies by Black Female Directors That Are Essential Viewing
We got the movies. You bring the popcorn.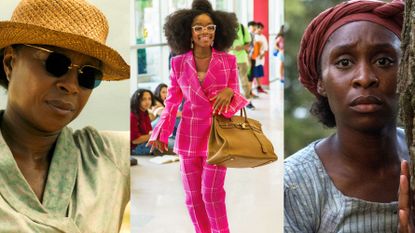 (Image credit: Netflix + Universal + Focus Features)
Marie Claire Newsletter
Celebrity news, beauty, fashion advice, and fascinating features, delivered straight to your inbox!
Thank you for signing up to Marie Claire. You will receive a verification email shortly.
There was a problem. Please refresh the page and try again.
Hollywood is known for its uncanny ability to greenlight a lot of projects helmed by white cis men. Enter this list, which features a dozen must-watch films brought to us by unbelievably talented Black female directors. These movies are Oscar-nominated, tear-jerking, sometimes laugh-out-loud stories told through the female gaze in a way that will make the inner film buff in you soar. So sit back, pop some popcorn, and get ready to discover your next favorite movie (or ten). And if you're looking for more women-directed movies to check out afterwards, we also put together a list of the most exciting films coming out in 2020 that boast female directors.
The Photograph (2020)
Directed by: Stella Meghie
What it's about: When famous photographer Christina Eames (Chanté Adams) dies, her daughter Mae (Issa Rae) is left to sort through all her stuff. So when Mae finds a photograph tucked away in a safe deposit box, she decides to investigate her mother's early life. As Mae looks to the past, she finds herself realizing she and her mother aren't so different after all when it comes to how they live their lives and fall in love.
Queen & Slim (2019)
Directed by: Melina Matsoukas
What it's about: On the way home from a first date, Queen (Jodie Turner-Smith) and Slim (Daniel Kaluuya) are pulled over by a cop for a minor traffic violation. The situation soon escalates, and Slim takes the officer's gun to shoot the cop in the act of self-defense. Trying to avoid prison, the pair sets out on the run as outlawed lovers.
Mudbound (2017)
Directed by: Dee Rees
What it's about: In this Oscar-nominated film, two men who have served in World War II find themselves working on a farm in rural Mississippi. They find themselves forming a bond as they work to overcome their PTSD and fight to stay above the poverty line. As their bond grows closer, the townspeople start to notice, and they soon find their safety threatened.
Little (2019)
Directed by: Tina Gordon
What it's about: Jordan (Regina Hall) may run one of the biggest tech companies, but that doesn't stop her directing her frustrations at her assistant April (Issa Rae.) One day, when Jordan lets loose on a young girl, the preteen walks away with some threatening final words. The next day, Jordan finds herself in the body of a middle schooler (Marsai Martin) and must rely on her assistant April to get things back to the way they were before her new lifestyle becomes permanent.
Selma (2014)
Directed by: Ava DuVernay
What it's about: You probably know DuVernay from her work in Netflix's When They See Us or Disney's A Wrinkle in Time. Here, she turns her focus to the life and death of Martin Luther King Jr. with a story that spans three months. Set in 1965, the powerful film portrays the famous march from Selma to Montgomery that ended up getting President Johnson to sign the Voting Rights Act of 1965 that prohibited racial discrimination in voting.
Daughters of the Dust (1991)
Directed by: Julie Dash
What it's about: Off the coast of South Carolina in 1902 live the Gullah community, a group of former West African slaves. Daughters of the Dust examines their way of life in a dreamlike state as they come into the new century and face a generational shift. Some members of the group want to move further into the mainlands, away from their heritage, and others want to stay. It asks the question so many people have asked themselves when faced at crossroads in their life: What will happen if I do it? And what will happen if I don't?
Little Woods (2018)
Directed by: Nia DaCosta
What it's about: When their mother unexpectedly dies, Ollie (Tessa Thompson ) and her estranged sister Deb (Lily James) have to come up with enough money to settle the mortgage on their mother's house or face foreclosure. Left with limited options, Ollie must decide if she should take a risk and do a quick illegal job or leave everything she knows behind.
Love & Basketball (2000)
Directed by: Gina Prince-Bythewood
What it's about: Quincy McCall (Omar Epps) and Monica Wright (Sanaa Lathan) have known each other all their lives as neighbors and occasional basketball opponents. As they grow older, they can't fight their feelings for each other, but find themselves having to choose which will carve a permanent space in their heart: The game they love, or the bond they share.
Harriet (2019)
Directed by: Kasi Lemmons
What it's about: Watching Cynthia Erivo as Harriet Tubman will give you goosebumps. She embodies the strength, courage, and compassion that we all associate with the historical figure who freed hundreds of slaves and changed the course of history. It's a tear-jerker, but as the credits roll, you'll feel empowered by Tubman's will to bring freedom so many.
Mississippi Damned (2009)
Directed by: Tina Mabry
What it's about: Three children from a rural Mississippi family find themselves slowly falling into patterns of abuse, addiction, and violence. To break free, the siblings will have to decide if they can face taking the plunge away from their family into a new life, or fall in line with their family's legacy.
Clemency (2019)
Directed by: Chinonye Chukwu
What it's about: Prison warden Bernadine Williams (Alfre Woodard) is used to carrying out death row executions; she's done so for years with few problems. That all changes when she prepares to execute another inmate. As she sets out on the task, she finds herself facing the psychological and emotional toll she's worked so hard to avoid and ends up in a situation she never expected.
A Dry White Season (1989)
Directed by: Euzhan Palcy
What it's about: Ben du Toit (Donald Sutherland), a teacher in South Africa during apartheid, ignores most of the things around him to avoid any trouble. But he decides to break that philosophy to help his gardener (Zakes Mokae) find his missing son, only to realize that the small favor has led him to become a target. At the time of its release, A Dry White Season was a big deal due to Marlon Brando's return to the big screen for the first time in nine years.
Celebrity news, beauty, fashion advice, and fascinating features, delivered straight to your inbox!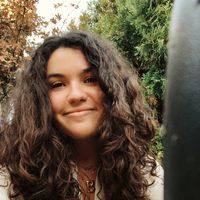 Bianca Rodriguez is the Fashion & Luxury Commerce Manager at Hearst Magazines, covering fashion, beauty, and more for Cosmopolitan, Elle, Esquire, Harper's BAZAAR, and Town & Country. She likes lounging about with a good book and thinks a closet without platform sneakers is a travesty.