Priyanka Chopra Jonas Unveils Her 'Unfinished' Book Cover
The actress is ready to share all in her upcoming memoir.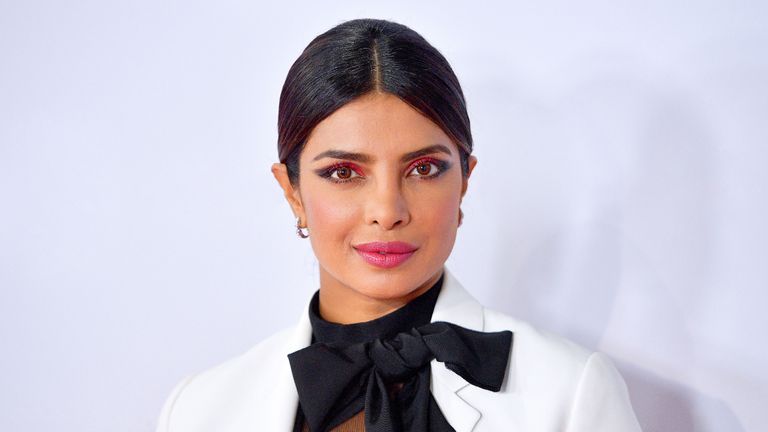 (Image credit: Matt Winkelmeyer)
While you swore you'd spend quarantine turning your teenage diaries into a cohesive memoir yet failed, Priyanka Chopra Jonas actually did it...and then some. On Friday, the actress gave fans a sneak peek at her upcoming memoir, Unfinished, by releasing the book's cover art.
The pensive shot clearly shows off Chopra Jonas's tattoo, which reads, "Daddy's lil girl," in honor of her late father. The actress, producer, and activist (opens in new tab) has promised fans and celebrity memoir aficionados (opens in new tab) that her book won't gloss over any of the details from her life, including losing her father to cancer and the highs and lows of her successful career—first in pageants, then as a beloved Bollywood star, and now as a Hollywood darling. And before you ask, yes, the actress reportedly also shares within the pages what life is like being married to a JoBro (and, more importantly, being one of the legendary J-Sisters (opens in new tab)).
"Writing this book has been one of the most cathartic experiences of my life," Chopra Jonas tells Marie Claire in a statement, adding that it was written in four months during COVID-19 lockdown. "I dove deep. I tried to understand how stories in my life shaped me, and explored the indelible moments that made me who I am."
According to the book's description (opens in new tab), the actress also shares experiences from her childhood bouncing between India and the U.S. and the racism she faced growing up.
"I have never really been someone who speaks about my feelings and emotions," the 38-year-old says, "that kind of exposure has always scared me (it's the Cancerian in me), which is why I have habitually swept difficult situations under the rug and forged forward. This book is a window into my soul, and it pinpoints so many moments of change in my life. It's vulnerable, honest, brazen...It is completely me, and I'm finally in a place where I am ready to share that part of who I am with the world."

The actress also gave Marie Claire a look behind-the-scenes at her book cover's photoshoot. (Prepare for the sweetest cameo from Chopra Jonas's dog, Diana.) She introduced the clip, saying, "It's been one hell of a rollercoaster ride, from a 17-year-old gawky teenager, who had no idea how her life would change, to me sitting here talking to you today. So I thought I should turn back the clock."
Chopra Jonas, who will next appear in 2022's Matrix 4, has been teasing her book on social media all week, sharing shots of her and husband Nick Jonas (opens in new tab)and several clips from old family photo albums.
If it's any sign of the revealing content that's sure to be found inside, you'll want to preorder the book now (opens in new tab). Unfinished is out on January 19, 2021.

Pre-order Now (opens in new tab)
RELATED STORIES
As Marie Claire's Entertainment Director, Neha oversees pop culture, celebrity, and current events features with a focus on elevating diverse voices and stories in film and television. She also oversees the brand's print and digital covers as well as book and produces MC's video franchises. She loves a hot-take, hates TV reboots, and is always happy to discuss reality television. Before joining Marie Claire, she held positions at Glamour, Brides, Condé Nast, and Mashable, and is a graduate of the Columbia School of Journalism.