The Best Memes of 2021 (So Far)
From Bridgerton to Bernie and beyond.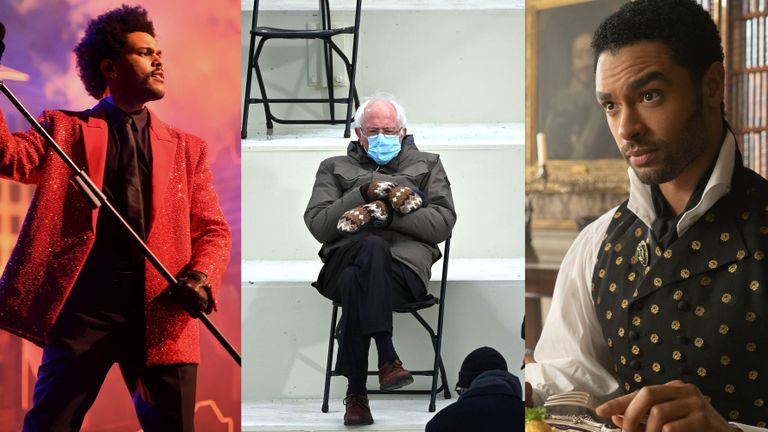 (Image credit: Netflix)
After only a few days of 2021, it quickly became extremely apparent that, despite a few big wins—a twice-impeached wannabe despot no longer in power, an acceleration in global COVID vaccinations—this year probably still won't be our year. It's expected take at least until the end of summer, if not longer, for us to reach herd immunity against the coronavirus and thus return to even a tiny bit of normalcy; national unemployment numbers are still way up and impacting women and BIPOC workers worst of all; and, of course, there was that far-right riot within the first week of the year.

If we learned anything from 2020, it's that in times as tough as these, perhaps the one thing we can all count on to bring a bit of joy and a sense of community into our lives is a steady stream of hilarious, ultra-relatable memes. In those terms, at least, 2021 has not disappointed so far. From the escapist TV shows (and their extremely attractive stars) that we've all fallen in love with to the live events that have shocked and delighted viewers around the world—I watched The Weeknd's Super Bowl performance live, AMA—our social media feeds overfloweth with memes. Here are the best ones of the year so far, in (mostly) chronological order.
"I burn for you."
Who knew the first major pop culture phenomenon of the year would be a period piece about the marriage market of Regency London? Technically, Bridgerton was released with one week left of 2020 to go, but the hype really hit a fever pitch in the early days of January, then refused to go away for many, many weeks, placing it firmly in 2021's clutches. Viewers of the Netflix series quickly fell in love with the frothy, pastel-colored empire-waist dresses, the headstrong and ahead-of-her-time Eloise, and, of course, the Duke of Hastings and his ridiculously chiseled jawline.
Bye, Don
It only took a decade of reliably offensive and unhinged tweets—with four years' worth sent from the literal Oval Office—for Twitter to realize that Donald Trump's feed was a violation of its community guidelines. Despite this tardiness, a win is a win, and many people took to—where else?—Twitter on January 8 to celebrate the former president's lifetime ban from his favorite place to stir up insurrections and lob insults at adversaries. Let's just hope none of those "John Barron" burner accounts are actually real.
Inauguration Bernie
In other presidential news, ICYMI, a new one took office on Jan. 20. Joe Biden's inauguration was filled with inspiring poetry from Amanda Gorman, a runway's worth of jaw-dropping outfits, and just enough cheesiness to give the nation the hopeful boost we needed. In a twist even more representative of this time in history, however, easily the most memorable moment of the whole day was and, with any luck, will always be Bernie Sanders' socially distanced grumpy-old-man vibe. I refuse to believe that there is any situation on Earth that cannot be improved by the insertion of a frowning, mitten-wearing Bernie; the proof is in the memes.
The Weeknd Bowl
If you heard that The Weeknd was headlining the 2021 Super Bowl halftime show and thought it would be a run-of-the-mill performance of his greatest hits...I just hope you've finally recovered from how much it was definitively not that. Instead, we got a football field's worth of dancers with bandaged faces and a truly disconcerting jaunt through a brightly lit hall of mirrors, all of which spawned countless memes (once we'd all recovered from the dizziness, obviously).
All things WandaVision
After a decade of nonstop Marvel Cinematic Universe content, 2020 was the first year without any new vehicles for the Avengers and their various superpowered hangers-on. It's almost as if 2020 snapped its fingers and made a whole bunch of our favorite things disappear...? To make up for it, Marvel and Disney+ are going full steam ahead in 2021, with plans to release four new movies and up to six new series, beginning with the undeniably incredible WandaVision. The series, which began by perfectly mimicking classic TV sitcoms, has given viewers a deeper dive into Wanda Maximoff's tragic story, brought back a ton of fan-favorite characters from elsewhere in the MCU, and contributed to the ongoing Kathryn Hahnaissance in a very big way. Memers, assemble!
Andrea Park is a Chicago-based writer and reporter with a near-encyclopedic knowledge of the extended Kardashian-Jenner kingdom, early 2000s rom-coms and celebrity book club selections. She graduated from the Columbia School of Journalism in 2017 and has also written for W, Brides, Glamour, Women's Health, People and more.