Who Will Be 'The Bachelor' in 2022?
Place your bets now.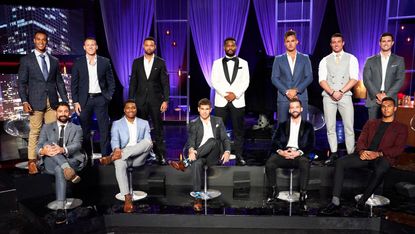 (Image credit: Craig Sjodin)
The first of two The Bachelorette seasons this year just wrapped, and fans have been wondering which of Katie Thurston's contestants could get picked to be the next Bachelor. While there's still Michelle Young's season of The Bachelorette and an entire Bachelor in Paradise run to go before we return to the franchise's flagship show, now's as good a time as any to go over the rumored frontrunners for The Bachelor Season 26.
The next season of The Bachelor is expected to air in early 2022. It'll be the first season since the off-screen drama in Matt James' season led to a franchise-wide shake-up, with longtime host Chris Harrison leaving the show. We don't know yet whether the Bachelor producers are looking to play it safe or chose a lead that fits the historic Bachelor mold (a.k.a. another white dude). Either way, fans are clamoring for another charismatic leading man to root for on his journey to love.
Fan input will play a sizable role in who gets chosen, according to ABC entertainment executive Rob Mills. Mills told Variety, "The silent producer on the show is the audience so we'll see on Twitter who people say they want to see. And then also, we'll look at people who went home too early and were great and didn't have enough time to shine. Sometimes the pond is really dry—this season will be the opposite case. The pond is overstocked."
So who has already risen up in the Bachelor race? Possibilities include:
Michael Allio
Single dad Allio quickly won Thurston's and the viewer's hearts on Season 17. Besides being handsome and charming, the 36-year-old widower movingly shared that he lost his wife, Laura, to breast cancer in early 2019. Allio and Thurston had a strong early connection, but Allio was concerned about spending time away from his four-year-old son, James. Allio ended up leaving the show to go home to his son, though he did return for a conversation with Katie during the "Men Tell All" episode.
A social media campaign supporting Allio as the next Bachelor popped up immediately after his self-elimination. Allio told People after the "Men Tell All" episode that he's a little hesitant about the job. "I literally just got my heart broken on TV, so I am trying to mend those wings. And I have to think about what it would be like to get engaged in and introduce someone to my son in such a quick timeframe. I'm not sold on the idea!" It's still early days, but it seems like Allio has a lot to consider, especially whether his son would be comfortable with him taking the role.
ButBachelor Nation's latest casting call has fans wondering whether Allio is a shoo-in for the Bachelor gig: The franchise's official Instagram page posted a casting call last Friday seeking "eligible bachelorettes, divorcees, and single mothers." The new emphasis on divorcees and single mothers suggests that the new Bachelor may be seeking contestants with more life experience, or who are open to becoming a mom very soon.
Andrew Spencer
The football player was a fan favorite throughout Thurston's season, where he was eliminated right before the hometown dates. Spencer also had one of the show's more dramatic exits, with Thurston asking him to rejoin the season the day after he was eliminated and Spencer turning her down.
Spencer opened up during "Men Tell All," sharing that he is a hopeless romantic who is now he's waiting for someone to "pick me for me." He also told host Tayshia Adams that he didn't want to shy away from discussing interracial relationships, which is a conversation that the Bachelor franchise can likely have in the near future.
When asked whether he would say yes to being the Bachelor, Spencer told E!, "I don't know. I definitely wouldn't jump into a yes right away. I am still looking for, you know, that supernatural walk into a grocery store love, or you know, go to a bar and see her and fall in love that way. And you have to understand, it's definitely a process doing this. It's a lot, so it's definitely something I would have to have conversations about and really think about it."
If it means anything, Spencer has Thurston's vote for the role. "My two votes are going to be Andrew and Michael for the next Bachelor," Thurston told Us Weekly. "I think they just both have a lot to offer and I think they are in a place where they are ready to really settle down and they've really grown a lot as men."
Greg Grippo
Grippo was the frontrunner for Thurston's whole season, winning over fans the very first night and winning Thurston's first impression rose. Up until the hometown episodes, fans loved Grippo for being caring and vulnerable during his dates with Thurston. And then... the Hometowns episode happened, and Grippo left the show with a dramatic self-elimination that divided Bachelorette Nation.
Though his fellow season 17 contestants have had Grippo's back, many Bachelor fans who were rooting for him have changed their tune, especially after his actor past was exposed. He redeemed himself a bit on After the Final Rose, taking Thruston's harsh comments on the chin and wishing her the best. Though his troubled exit from Thruston's season may be enough to lower his chances at being the next Bachelor, the Bachelor producers have made stranger choices.
To many fans' surprise, Reality Steve announced August 19 that multiple sources have told him that Grippo would be the next Bachelor. Though the choice is not set in stone until ABC announces it, Steve said that he would be "very surprised" if Grippo doesn't get the gig. Steve said of the polarizing choice, "By all accounts and everything I'm being told, he's your next Bachelor so, I guess let's get the hot take machine fired up."
Tyler Cameron
A notable Bachelor Nation alum and runner-up from Hannah Brown's season, Cameron made waves last week when he confirmed his breakup with model Camila Kendra. Some Bachelor fans have wondered whether now-single Cameron is in talks for the role, since he's remained in Bachelor orbit since he competed on The Bachelorette (not to mention, he's BFFs with Matt James). It wouldn't be the first time that the show went back several seasons to find their Bachelor or Bachelorette. Plus, Cameron, who's recently been promoting his new book You Deserve Better, included a cryptic caption on a recent IG post: "Time for a record year."
Ivan Hall
The aeronautical engineer made it to the final four of Clare Crowley and Tayshia Adams' Bachelorette season, and he won fans over with his dedication to his family. He and Adams also had deep conversations about race and the Black Lives Matter movement, with the pair connecting over being biracial. Fans have been promoting Hall as a great choice for Bachelor since December 2020, and he'll likely get another boost after he appears on Bachelor in Paradise.
Joe Amabile
Grocery Store Joe was an instant Bachelor Nation favorite, making it onto Bachelor in Paradise Season 5 after only lasting one episode on Becca Kurfin's Bachelorette season. The former grocery-store owner dated BiP cast member Kendall Long for several months after they met on the show, and the couple broke up in early 2020.
Amabile's currently having his own star turn on this season's Bachelor in Paradise, so much that some Bachelor Nation alums believe that he's getting a Bachelor edit, preparing us for when he possibly lands the gig. Wells Adams first hinted that a member of the BiP cast would become a fan favorite for the next Bachelor during an appearance on Nick Viall's podcast.
"I think there is one particular person that everyone is going to want to be the Bachelor, and whether or not they are even available to be the Bachelor at the end of it still remains to be seen," Adams said. After watching the premiere of BiP, Viall said he was "almost certain" that Amabile was the subject of Adams' hint. However, sources say that Amabile ends up leaving Paradise with Serena Pitt, so he may not be free to take the Bachelor gig.
Contributing Culture Editor
Quinci LeGardye is a Contributing Culture Editor who covers TV, movies, Korean entertainment, books, and pop culture. When she isn't writing or checking Twitter, she's probably watching the latest K-drama or giving a concert performance in her car.