Who Is Nick on 'The Circle' Season 3?
He's about to be your new favorite reality star.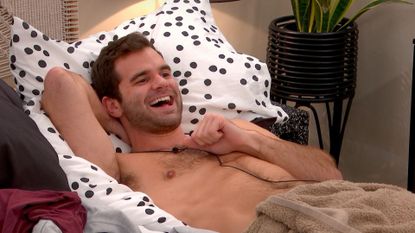 (Image credit: Netflix)
What do you get when you combine dogs, lacrosse, and tech? Big Nick Energy. Nick Uhlenhuth enters season 3 of The Circle with his own unique brand of charm and chutzpah that quickly makes him major competition on the the Netflix social media competition. Here's everything we know about The Circle contestant, and be warned: you may have just found your new favorite reality star.
Who is Nick?
Nick's a 27-year-old from Seattle, Washington, who is currently based in Austin, Texas. He's also clearly a brainiac, boasting a computer science from M.I.T. He works in the space space, has a twin brother, is an amateur musician (singing! guitar! drums), is obsessed with dogs, and played lacrosse in college.
How does Nick do on The Circle?
Nick enters the social media game largely as himself, with one significant difference: Circle Nick plays dumb, in hopes his friendly but clueless demeanor will help him be treated as an underdog so he can ride under the radar until the finale.
"I'm going to deemphasize everything that relates to brains or being smart or computers— that would make them see me as a threat," he explains in his episode 1 intro. Instead, Nick poses as a "completely harmless innocent drummer, who's just looking for a good time and good laughs." And let's not forget, Nick has no problem flirting his way to influencer status (or just for his real romantic prospects). Nick quickly aligns with the other bros of the Circle, but it's not long before he gets marked as a true mastermind in the game. You'll have to catch the next round of episodes, dropping September 15, to see how things play out for him.
How can you follow Nick on Instagram?
Keep up with Nick over at @nickuhlenhuth where he shares plenty of shirtless pics, videos of him singing and playing his guitar and drums, and adorable shots with the dogs in his life—all hashtagged, of course, with #BigNickEnergy.
Related Stories