Meghan and Archie Baked Prince Harry a Carrot Cake for His Birthday
The couple reportedly had a "low-key" dinner for the prince's 37th.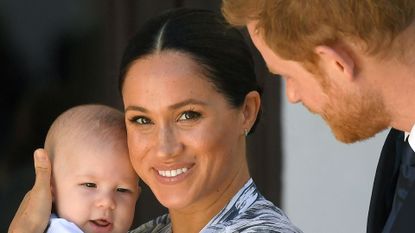 (Image credit: Pool/Getty Images)
The last week of celebrity filled, in-person events—The Met Gala! The MTV VMAs!—let us really catch up with the stars we saw too little of during the past year. But if you were wondering whether Harry and Meghan intended to make an appearance at any or all of the parties, especially since they're U.S. residents now and, arguably, two of the most famous people in the country, you may have been disappointed to see they were absent from the festivities.
But the reason why is pretty sweet: It was Harry's 37th birthday, and the couple reportedly wanted to keep things low-key! Instead, they reportedly opted for a small, family-focused birthday celebration—and the carrot cake for the event was baked by 2 year-old Archie himself (with, we're guessing, a pretty big help from Meghan too). How cute is that?
According to the Daily Mail, a source close to the couple explained their thinking around staying out of the limelight during the extravagant week:
In light of what's happening in the world - from Afghanistan to Covid - they both decided to keep it simple. Meghan said they she's making a carrot cake with the help of Archie, and that guests will include Doria and a few close friends...their focus right now is being of service, and that attending glitzy events like the MET Gala is wasted time and energy that could be put to good use towards those suffering and in need."
That's good reasoning, especially after Harry got into some hot water a few weeks ago for taking private jets to a polo match amidst his calls for addressing climate change. And we can't really blame them for not wanting to face whatever inevitable blowback their appearance at something like the Met Gala would probably get them in the UK press. The couple did the same for Meghan's 40th birthday last month, opting for a quiet time out of the public eye.
However, Harry did receive some sweet well wishes from Buckingham Palace:
Wishing The Duke of Sussex a happy birthday today! 🎈 pic.twitter.com/W1MJC9cGBnSeptember 15, 2021
See more
And William and Kate even put aside any of that rumored infighting to wish Harry a good 37th:
Of course, the couple wasn't totally absent this week, since they were named two of Time's Most Influential People, with a cover photo to match. Still, we'll see if Harry and Meghan snap out of their low-key vibes in time to accompany Oprah to the Emmys this weekend, as they're rumored to be planning.
Marie Claire is committed to celebrating the richness and scope of women's lives. We're known for our award-winning features, thoughtful essays and op-eds, deep commitment to sustainable fashion, and buzzy interviews and reviews. Reaching millions of women every month, MarieClaire.com is an internationally-recognized destination for celebrity news, fashion trends, beauty recommendations, and renowned investigative packages.