10 Things You Didn't Know About A Christmas Story (VIDEOS)
Your favorite holiday movie, in detail.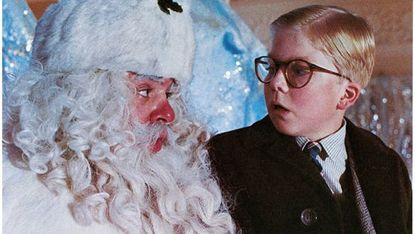 (Image credit: Getty)
This post originally appeared on Esquire.com.
This year the beloved holiday film A Christmas Story turned three decades old, and TBS will be running it on a 24-hour loop starting tonight. Whether you were alive when it came out, everybody at least remembers the first time they watched Ralphie Parker practically shoot his eye out. Conducting interviews with the cast, crew, and others involved with the film's history, New Jersey writer Caseen Gaines compiled a fascinating book entitled A Christmas Story: Behind the Scenes of a Holiday Classic, describing the film's growing cultdom over the years (it was only a moderate success at the box office). From the unexpected merchandising (bobbleheads!) to the hit Broadway musical, A Christmas Story has made everything right with the world. Here are a few things we learned from reading Gaines's book.
Most of the film was actually filmed in Canada, not Cleveland, Ohio (but it takes place in Indiana). Only two of the nine weeks of filming occurred in Ohio; the rest of the movie was filmed in Canada, where director Bob Clark received tax incentives for the production and also had a home. The Santa Claus visit inside Higbee's; the parade that opens the film; and exteriors of Ralphie's house were filmed in Cleveland, but the scenes at Warren G. Harding school (where Flick gets "triple-dog-dared") were shot at Victoria Public School in St. Catharines, Ontario. The children who appeared in those classroom scenes were actual students at the school and received a measly $1 each in return for donating time to the school district.
Much of the snow in the movie is artificial. It was a rather warm winter in Cleveland that year, so when production began the crew had to generate white stuff for the parade sequence. They used an admixture of potato flakes, shredded vinyl, firefighters' foam, and a wind machine to make it "snow." When production moved up north to Canada, the crew ran into a similar problem. A dearth of snow almost caused the flagpole scene to be delayed, when on the last day of filming at the school a cold front moved in and brought snow and subzero temperatures. So, it was literally cold enough for Flick to get his tongue stuck.
A Christmas Story only got made because Porky's was a smash hit. Before making the warm and fuzzy Christmas Story, Bob Clark directed horror film Black Christmas and puerile teen comedy Porky's. Clark and Shepherd wrote the script for Christmas Story(working title was In God We Trust after Shepherd's play), but back then the studios didn't think Clark had enough clout to direct a holiday film. But when Porky's was released in 1982 and became one of the highest-grossing films of the year, MGM gave Clark a $4.4 million budget to make his Red Ryder BB gun saga. Clark contributed an additional $150,000 of his own money to finance the film that went on to gross $19 million in the theaters.
Miss Shields was pregnant during production, but you can hardly tell. Actress Tedde Moore was seven months pregnant when she agreed to play the unsympathetic school teacher Miss Shields. Since the film was set in a time period when female educators weren't allowed to teach while impregnated, it wouldn't be kosher for her character to be pregnant in the movie. (There was the fear if a pregnant or married woman stood in front of a classroom, the students would imagine their teaching boning, and that was improper etiquette.) Moore added some padding to cover up her baby bump.
A Californian man bought the Christmas Story house sight unseen off eBay in 2004. Brian Jones was living in San Diego and encountered the house for sale on eBay. At that point, it was a duplex rented out to tenants and didn't have any amenities featured in the movie, including a staircase. The asking price was $99,900, but Jones paid $150,000 to ensure he'd get the house. Jones didn't know where Cleveland was, let alone what to do with the house. He decided to transform the house into a museum, replete with set pieces and details to look like the Parkers actually lived there (interiors of the house were filmed on a soundstage in Canada). After a six-figure renovation, A Christmas Story House and Museum opened to the public in 2006 and is now a year-round tourist attraction.
Ian Petrella, who played Ralphie's kid bro Randy, lived in the Christmas Story House for a few months. The child actor quit acting a few years after the film came out and transitioned into a graphic designing career. During a cast reunion at the Christmas Story House, Petrella befriended Brian Jones and kept in touch with him. In 2010 Petrella was living in San Francisco and felt wayward about his life, but after talking to Jones one day, Petrella decided it'd be a good change of pace to temporarily move into the Cleveland home and give tours. Petrella moved into the house's closed-to-the-public third-floor space and went to work performing meet-and-greets with the visitors.
The film has a couple of noteworthy cameos. The man who berates Ralphie while waiting in line to see Santa at Higbee's is none other than the film's narrator and co-writer, Jean Shepherd. Director Bob Clark also makes a Hitchcockian cameo: He's the nosy hillbilly neighbor who sees the leg lamp in the window and approaches the Old Man. "A major award? Shucks, I wouldn't have knowed [sic] that. It looks like a lamp," Swede says, thus drawing more attention from the neighborhood.
Zack Ward [Scut Farkus] sued Warner Bros. over merchandising.
It wasn't until a decade ago when Warner Bros., the studio that purchased the movie from MGM, pushed for companies to manufacture action figures, board games, and every other kind of memorabilia associated with the movie. When Ward signed his contract to play Scut "Yellow Teeth" Farkus in the '80s, he didn't receive merchandising rights because of a mishap with his contract. So when Ward discovered the studio had authorized a figurine resembling Ward without his permission, he sued Warner Bros. and another company called Enesco. Eventually, Ward settled that and another merchandising lawsuit.
Peter Billingsley, aka Ralphie, grew up to become a Hollywood big shot. As an adult,Billingsley segued from acting to producing big-budget films like Iron Man. He met an unknown actor named Vince Vaughn in 1990 and the two later would collaborate onCouples Retreat (Billingsley's directorial debut) and The Break-Up. With the exception of attending one Christmas Story reunion on 2003, Billingsley has pretty much severed his ties with cast members, although he produces A Christmas Story: The Musical on Broadway. Jean Shepherd's estate exclusively asked Billingsley to produce, because they knew his expertise would be beneficial for the adaptation.
Two subpar sequels have been made to A Christmas Story. Clark and Shepherd made a summer version of the film in 1994 called It Runs in the Family (not to be confused with the Michael Douglas film of the same name). It stars Charles Grodin as the Old Man, Mary Steenburgen as the mother, and Kieran Culkin as Ralphie; the only original cast member to reprise their role was Tedde Moore as Miss Shields. The film was originally called My Summer Story, but the studio changed the title at the last minute. Because of the name change and because the studio didn't do a good job marketing it as a sequel to the original, it bombed at the box office and hasn't been thought of much since. In 2012 a straight-to-DVD sequel called A Christmas Story 2 was made, which takes place during Christmastime five years after the first film. Needless to say, everyone who knew about this turkey pretended hell hadn't just frozen over.
Celebrity news, beauty, fashion advice, and fascinating features, delivered straight to your inbox!