The Ultimate Goody Bag
Michelle Trachtenberg isn't a mean girl--she just plays one on TV. In real life, she's designed a bag you can feel virtuous about buying.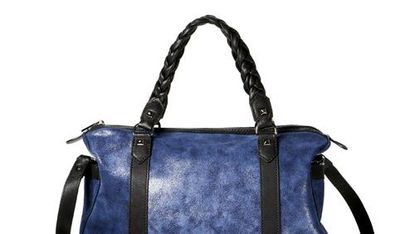 (Image credit: Ben Goldstein/Studio D)
Marie Claire newsletter
Celebrity news, beauty, fashion advice, and fascinating features, delivered straight to your inbox!
Thank you for signing up to . You will receive a verification email shortly.
There was a problem. Please refresh the page and try again.
Michelle Trachtenberg had plenty of practice for her current role as a backstabbing, boyfriend-stealing bully on Gossip Girl: She was once the target of bullying herself.
"When I was 13, we moved to L.A. from Brooklyn. Kids were pretty cruel to me," she says, sitting in the window of a West Village café on a fiercely rainy day in New York City. "I got ridiculed, ostracized, ganged-up on, you name it."
Trachtenberg has come a long way since high school. She stars in two buzzy fall TV shows—the new hospital drama Mercy and Gossip Girl—as well as in the Bruce Willis flick A Couple of Dicks, due out next year. Now she's also collaborating with designer Monica Botkier on a new handbag, with a chunk of the proceeds going to Oxfam International, the charity that fights poverty around the world.
"We're lucky in this country," says Trachtenberg. "I've never understood people who—for lack of a better word—crap all over their opportunity. I'm very grateful." She pauses to point and laugh at a rain-drenched rat darting for cover outside the window. "It's the way my mommy raised me," she continues, describing her Russian-born mother, a former puppeteer who worked hard to raise her two daughters as a single mom. "Yes," she adds with a wry smile, "I'm 24 and still say mommy."
Abigail Pesta is an award-winning investigative journalist who writes for major publications around the world. She is the author of The Girls: An All-American Town, a Predatory Doctor, and the Untold Story of the Gymnasts Who Brought Him Down.