Run With Red Laces
Take a step towards ending childhood obesity with Red Laces.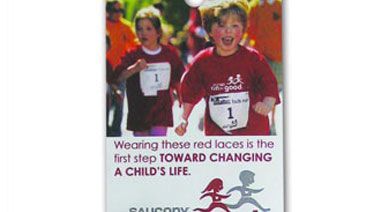 (Image credit: unknown)
Join the race against childhood obesity by lacing up your favorite pair of running shoes with Red Laces. For only 1$ you can support the Saucony Run For Good program, a foundation committed to supporting non-profit organizations that will help kids get fit and healthy.
According to the Center For Disease Control and Prevention, millions of children in the U.S. are overweight. An estimated 17% of kids are obese. Each quarter Run For Good will choose seven non-profit organizations to receive a grant for programs that will teach kids healthy eating and exercise tips.
On April 9, 2007 Governor Deval L. Patrick launched the Run For Good foundation with "Run For Good Day" in the Commonwealth of Massachussets. "We know we can't solve the epidemic that impacts children, both here in the Commonwealth and across the nation, on our own. The Saucony Run For Good Foundation hopes that our grants will make a difference for these programs and the children that they serve, and will help reverse the alarming trend of childhood obesity," said Richie Woodworth, president of Saucony and the Board of Directors for the foundation.
The American Heart Association found that 70% of children and teens will become overweight adults. If you have a community or non-profit organization dedicated to helping kids learn about healthy eating and fun fitness programs, please contact Run For Good.
Add a splash of red to your shoes and help America's kids get out, get active and get healthy by purchasing a pair of these heart-healthy laces.
For More Information On Red Laces:
Saucony Run For Good www.sauconyrunforgood.com
Saucony www.saucony.com
The Stride Rite Corporation www.strideritecorp.com