50 Famous Actors You Probably Forgot Were on 'Grey's Anatomy'
So much drama, so many cameos.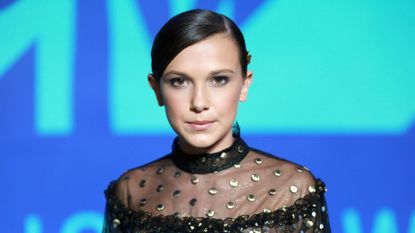 (Image credit: Getty )
Bet you didn't remember Millie Bobby Brown appeared in an episode.
1/50
Mandy Moore
As patient Mary Portman, Moore was present for one of the most dramatic episodes in Grey's history (and that's saying a lot): the Seattle Grace Mercy West shooting. She returned the following season for a surgical procedure; her character died after slipping into a coma. (Seasons 6 and 7.)
2/50
Faye Dunaway
She played the first female surgeon at Seattle Grace Hospital, Dr. Margaret Campbell. After botching a surgery—and then repairing it—she decided to retire. (Season 5.)
3/50
Jennifer Westfeldt
After accidentally running over her husband and bringing him to the hospital, a pregnant Jen (also the character's name) collapsed and later had a seizure due to an aneurysm. She went into surgery, during which she was given a blood transfusion that put her pregnancy at serious risk. Ultimately, she died and the baby lived. (Season 5.)
4/50
Constance Zimmer
The House of Cards and Entourage actress played Dr. Cahill, a physician brought in to make the hospital run more efficiently. (Season 9.)
5/50
Christina Ricci
She played a paramedic who had to keep her hand on a wound lest she detonate a bomb that was inside the patient. Yes, really. (Season 2.)
6/50
Jurnee Smollett-Bell
As Beth Monroe, she came to the hospital with an inoperable tumor and was the first patient to survive Derek and Meredith's clinical trial. Her boyfriend Jeremy was also part of the trial; he died. (Season 4.)
7/50
Kyle Chandler
He was the head of the bomb squad and died trying to carry the bomb out of the hospital. (Season 2.)
8/50
Abigail Breslin
The Little Miss Sunshine and Scream Queens star played a little girl who was immune to feeling any pain. (Season 3.)
9/50
Elisabeth Moss
The Mad Men and Handmaid's Tale star played an overprotective and slightly unhinged daughter whose mother suffered from a condition that caused bone to grow at the site of an injury. The mom died in surgery. (Season 3.)
10/50
Jesse Plemons
The Friday Night Lights alumnus played Jake Burton, a young man with craniodiaphyseal dysplasia. The bone disorder, "lionitus," causes calcium to build up in the skull, leading to facial disfiguration. In Jake's case, the growth moved inward as well, and Derek was tasked with removing the resulting brain tumor. Jake died in surgery. (Season 2.)
11/50
Zach Gilford
FNL star Gilford played a lieutenant in the U.S. Army who came to the hospital with terrible leg pain, asking for an amputation. Even though she could find nothing wrong with the leg, Callie Torres agreed to perform the surgery so he could return to active duty. (Season 5.)
12/50
Sarah Chalke
The Scrubs actress played the mother of a sick boy whom Jo Wilson wrongly diagnosed with strep throat. The kid in fact had a rare heart condition, Kawasaki disease, which Jo caught just in time to prevent permanent damage, mostly thanks to the boy's persistent mom. (Season 9.)
13/50
Michaela Watkins
She played Nikki, a woman who fell out of a tree, where she was stationed to spy on her ex-boyfriend, then refused to have surgery due to superstition. She died. (Season 2.)
14/50
Katie Lowes
She played a blood donor in the show's seventh season and went on to have a much bigger role in the Shondaverse as Quinn on Scandal.
15/50
Alexandra Billings
The Transparent star plays Donna Gibson, a trans woman who was diagnosed with breast cancer. (Season 3.)
16/50
Ken Marino
Marino played Brad, a man who literally dodged a bullet when a disgruntled ex-employee showed up at his restaurant with a gun. Brad was leaving the hospital when Petey appeared again—and this time killed him. (Season 2.)
17/50
Maggie Siff
The Sons of Anarchy star played Ruthie, a woman with severe osteoporosis caused by malnutrition. (She'd lost 40 pounds to meet her boyfriend's criteria for moving in together.) She died after vomiting up blood due to a bleeding ulcer. (Season 4.)
18/50
Danny Strong
The Buffy and Gilmore Girls star (and TV and movie writer) played Paul, a guy who thought he was meeting his girlfriend's cat—and it turned out that her cat was a lion. (Season 8.)
19/50
Leslie Odom Jr.
Before becoming a Broadway god as Aaron Burr in Hamilton, Odom played a young man who begrudgingly agreed to donate a kidney to his father. (Season 5.)
20/50
Rich Sommer
The Mad Men star played a driver's ed instructor who saved his girlfriend's son's life by getting him to the hospital in time. (Season 12.)
21/50
Doris Roberts
The late, great Everybody Loves Raymond matriarch played a patient with lung cancer who donated $200,000 to Alex Karev's African orphans projects. (Season 7.)
22/50
Bernadette Peters
As Sarabeth, Peters and her friends were on their way to the Fire and Ice Ball when their limo crashed. She found out her husband was cheating on her, but nobody died. (Season 5.)
23/50
Seth Green
Green's two-episode arc ended with his character dying; he had a tumor on his carotid artery. (Season 4.)
24/50
June Squibb
The veteran actress, who's recently blessed Girls and Shameless with her presence, played Elsie Clatch, a 95-year-old woman who undergoes surgery for a brain bleed and dies, leaving behind her husband of decades. (Season 13.)
25/50
Heather Matarazzo
The Welcome to the Dollhouse and Princess Diaries actress played a woman who survives a tunnel collapse. What makes it that much more intense was that she was in labor and on her way to the hospital when the accident happened. (Season 11.)
26/50
Laurie Metcalf
Metcalf played a woman with terminal cancer who had yet to tell her young daughter she was sick. (Season 2.)
27/50
Scott Foley
The Felicity and Scandal star had a recurring role as Teddy Altman's husband, whom she met in the hospital when he was her patient. (Season 7 and 8.)
28/50
Geena Davis
The A League of Their Own legend played Dr. Nicole Herman, a surgeon with only six months to live who chose to impart some of her rarest medical wisdom onto Arizona Robbins. (Season 11.)
29/50
Dylan Minnette
Before 13 Reasons Why, Minnette played a precocious kid named Ryan, who was born with only internal ear parts and showed up to Seattle Grace to ask Mark Sloan to build him ears for free. (Season 4.)
30/50
Frances Conroy
The Six Feet Under star played a woman who purposely ran her car into a laundromat after seeing her estranged husband's mistress through the window. She mistakenly admitted her crime to the doctors, thinking they couldn't tell the police due to confidentiality laws. (Season 7.)
31/50
Liza Weil
The Gilmore Girls and Scandal actress played a cancer patient who befriended Izzie Stevens. (Season 5.)
32/50
Jay Ellis
The Insecure star played a DJ at Callie and Arizona's wedding. He had just one line, asking everyone to clear the dance floor for the father-daughter dance. (Season 7.)
33/50
Wilmer Valderrama
As Kyle Diaz, Valderamma played a guitar player who sought brain surgery to stop a hand tremor. He entered into a romantic relationship with Stephanie Edwards, who was heartbroken when he died. (Season 12.)
34/50
John Cho
Cho played a surgical intern who fell asleep at the wheel after staying late to observe a procedure. (Season 2.)
35/50
Demi Lovato
Lovato played a young woman misdiagnosed with paranoid schizophrenia. She was going to be admitted into a psychiatric ward, but Alex Karev figured out she might have Superior Canal Dehiscence Syndrome, a rare condition of the inner ear, and performed a surgery that solved her problem. (Season 6.)
36/50
Sarah Paulson
The American Horror Story MVP played a young Ellis Grey in a season-6 flashback episode.
37/50
Sara Gilbert
The Roseanne star played a woman with terminal cancer who decided to end her life through assisted suicide. (Season 6.)
38/50
Aida Turturro
The Sopranos actress guested as a cancer patient who had a heart attack during a surgery to remove her tumor. She survived and, after a second surgery, became cancer free. (Season 13.)
39/50
Nia Vardalos
As Karen, the My Big Fat Greek Wedding actress played a woman receiving a liver transplant with the help of her sister. The two did *not* get along. (Season 8.)
40/50
Keke Palmer
The Scream star played Sheryll, a young woman who ran away from home after being diagnosed with hypoplastic left heart syndrome. She returned to the hospital pregnant and still needing a transplant, and asked to be put on Cristina Yang's trial. Cristina had to turn her away. (Season 10.)
41/50
Millie Bobby Brown
The Stranger Things star played a young girl whom Owen Hunt coached by phone to save her injured mother. (The mom had fallen and hit her head in an earthquake.) Owen encouraged Ruby to sing "Stayin' Alive" while doing CPR. Eventually, the hospital tracked Ruby's cell and sent a helicopter to rescue the girl and her mom. (Season 11.)
42/50
Casey Wilson
The Happy Endings actress played an accountant pregnant with quadruplets. When she went into labor early, Arizona Robbins had to deliver one of the babies, but stop the delivery of the other three to give them a fighting chance. (Season 12.)
43/50
Neve Campbell
The Party of Five and Scream actress played one of Derek's sisters, Liz. She came to Seattle Grace to convince Derek to get surgery on his nerve-damaged hand. (Season 9.)
44/50
Tessa Thompson
Richard Webber's niece was rushed to the hospital after losing consciousness during sex, on her prom night. She'd had ovarian cancer at 14, prompting her to get one of her ovaries removed, and didn't want to accept that she might be sick again. (Season 2. Note: The character returns in season 4 but is then played by Camille Winbush.)
45/50
Martha Plimpton
Plimpton played a mother who fought for her son to get treatment despite being repeatedly turned away for insurance reasons. (Season 6.)
46/50
Chris O'Donnell
O'Donnell played a vet and Meredith's love interest, Finn. You might remember that time he attended the hospital prom with Meredith, but she left him to go have sex with Derek. (Season 2 and 3.)
47/50
Mae Whitman
The Arrested Development and Parenthood actress played a young woman with a severely curved spine; she underwent risky surgery, and it was a success. (Season 3.)
48/50
Clea Duvall
She played Jennifer Robinson, the survivor of a bear attack. Her husband, whom she married after knowing him for only 10 days, turned out to have a brain tumor that caused him to behave impulsively; he died in surgery. (Season 4.)
49/50
Dean Norris
The Breaking Bad star played a survivor of the big ferry crash of season 3.
50/50
Bellamy Young
She was part of a Grey's Anatomy/Private Practice crossover episode, playing a woman whose husband didn't want to have sex with her; it turned out he had a tumor in his adrenal gland. (Season 3.)