Editors handpick every product that we feature. We may earn commission from the links on this page.
The 21 Best Serial Killer Movies to Creep Yourself Out With
I'll be sleeping with the lights on, thanks.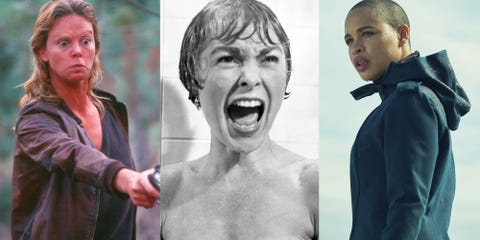 Shutterstock/Getty/Netflix
Sometimes, the horror in a horror film comes by way of paranormal activity or demons or clowns, but more often than not it's the evil that lives inside of humans that's the most frightening. That's exactly the kind of chilling terror that movies about serial killers elicits. Thankfully, if that's the kind of movie thrill you're looking for, the serial killer movie is a booming horror sub-genre, and there are plenty of incredible and terrifying movies about habitually murderous types out there. From movies about real-life bad guys, like the Zodiac killer and the Golden State Killer, to completely fictionalized accounts of the inner workings of the serial killer psyche—like any movie about famed fictional psychopath Hannibal Lecter—there are plenty of options. Whether you're in the mood to watch a psychologically thrilling drama or good old-fashioned, straight-up nightmare-inducing horror movie, there serial killer sub-genre has something to scratch your itch.
This content is created and maintained by a third party, and imported onto this page to help users provide their email addresses. You may be able to find more information about this and similar content at piano.io