The 21 Best Serial Killer Movies to Creep Yourself Out With
I'll be sleeping with the lights on, thanks.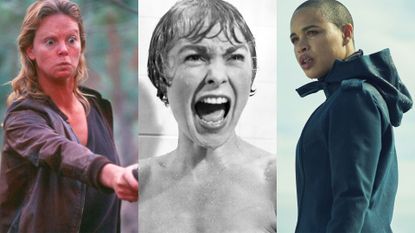 (Image credit: Shutterstock/Getty/Netflix)
Marie Claire Newsletter
Celebrity news, beauty, fashion advice, and fascinating features, delivered straight to your inbox!
Thank you for signing up to Marie Claire. You will receive a verification email shortly.
There was a problem. Please refresh the page and try again.
Sometimes, the horror in a horror film comes by way of paranormal activity or demons or clowns, but more often than not it's the evil that lives inside of humans that's the most frightening. That's exactly the kind of chilling terror that movies about serial killers elicits. Thankfully, if that's the kind of movie thrill you're looking for, the serial killer movie is a booming horror sub-genre, and there are plenty of incredible and terrifying movies about habitually murderous types out there. From movies about real-life bad guys, like the Zodiac killer and the Golden State Killer, to completely fictionalized accounts of the inner workings of the serial killer psyche—like any movie about famed fictional psychopath Hannibal Lecter—there are plenty of options. Whether you're in the mood to watch a psychologically thrilling drama or good old-fashioned, straight-up nightmare-inducing horror movie, there serial killer sub-genre has something to scratch your itch.
1. 'Extremely Wicked, Shockingly Evil and Vile'
Zac Efron is terrifyingly good in this biopic about Ted Bundy, which is based on Bundy's ex-girlfriend's book The Phantom Prince: My Life with Ted Bundy. Lily Collins plays Bundy's then-girlfriend, Elizabeth Kendall. The title refers to the words used by a judge while sentencing Bundy to death.
2. 'Summer of '84'
This '80s-era horror is reminiscent of Stranger Things, but even more terrifying. A kid believes his police officer neighbor might be a serial killer, and so he and his friends team up to investigate—and then things get real scary, real fast.
3. 'In the Shadow of the Moon'
This slow-burn Netflix hit centers on a police officer eager to get his big break as a detective. He becomes obsessed with a female killer who returns to kill every nine years—and finds himself caught in her web.
4. 'Untraceable'
In this tech thriller, an FBI agent races to identify a serial killer who live streams their murders for the world to watch. To add to the ick factor, the victims only die when the view count on the streaming video hits a certain threshold, which is pretty biting commentary on the internet's voyeuristic culture.
5. 'Disturbia'
This modern retelling of the Hitchcock classic Rear Window focuses on a teen stuck at home on house arrest who witnesses evidence that his neighbor is secretly a serial killer—but can't seem to convince anyone else of that fact.
6. 'Identity'
In this psychological thriller, a group of strangers stranded together in a roadside motel during a rainstorm start dying one-by-one and quickly realize there's a serial killer in their midst. The real killer though is the movie's twist ending.
7. 'American Psycho'
Endlessly quotable and still highly fascinating for its depiction of the high-rolling lifestyle of 1980s masters of the universe, the film adaptation of Bret Easton Ellis' novel shows toxic masculinity at its most deadly. Especially scary given how well—besides the trophy business cards—this portrayal of yuppie guys who work in finance holds up decades later.
8. 'Arsenic and Old Lace'
In contrast, this film dating back to 1944 is about nice old ladies mercy-poisoning dudes deemed "un-marriageable" to save them from lives of loneliness. A twist on the standard spinster storyline that's funny enough for scaredy cats—scaredy cats who like Cary Grant.
9. 'The Girl With the Dragon Tattoo'
David Fincher's 2011 adaptation of the best-selling book is bleeeeeak. But then, it's about a serial killer and features horrific scenes of torture and rape, so that's appropriate.
10. 'Kiss the Girls'
Morgan Freeman plays Alex Cross, the ace forensic psychologist created by James Patterson. Cross teams up with a woman (Ashley Judd) who narrowly escaped the clutches of a serial killer to bring the bad guy to justice.
11. 'Monster'
The one Charlize Theron gained weight and wore prosthetics for, but also the (really good) one about serial killer Aileen Wuornos and the painful circumstances that led to her murdering seven men.
12. 'I'll Be Gone in the Dark'
This six-part docuseries documents true crime writer Michelle McNamara's years-long search for the true identity of the Golden State Killer—a search that didn't conclude until after her own untimely death.
13. 'My Friend Dahmer'
Reason No. 1 to see it: It stars a Disney kid (Ross Lynch a.k.a. Austin Moon) acting against type, this time as Jeffrey Dahmer, who murdered at least 17 men and boys IRL. Reason No. 2: It's a disturbing, empathetic look at the early life of a serial killer, as told by his high school friend.
14. 'Natural Born Killers'
Story by Quentin Tarantino, so you know how it goes: loads of violence, some might say gratuitous, but tempered with satire and a cool, psychedelic style. You will have thoughts about why we, as a society, romanticize crime.
15. 'Peeping Tom'
Dude murders women and films their dying expressions, which sounds highly modern, actually, despite its 1960 release date. Also known as the first slasher flick, so would be good from an educational standpoint, ha.
16. 'Perfume: The Story of a Murderer'
How to make a movie about a serial killer so sinister but also so lush? Set it in France and cast Ben Whishaw as a murderer hell-bent on creating the ideal scent—one young woman's corpse at a time. Might persuade you to never wear deodorant again.
17. 'Psycho'
The foundation on which all other thrillers worth their salt were built. Alfred Hitchcock's classic about a murderous man with an Oedipus complex and the woman unlucky enough to stop at his motel.
18. 'Scream'
If we're must to include one of the more recent, less artsy horror movies, this is the one to pick. Reminder: The call is always coming from inside the house.
19. 'Se7en'
Brad Pitt and Morgan Freeman give ace performances as detectives tracking down a killer who seems to love a good theme (in this case murdering people who embody the seven deadly sins in rather gruesome ways). Also by David Fincher.
20. 'The Silence of the Lambs'
Is there a more classic movie murderer than Hannibal Lecter and his skin suits? Keep the remote nearby—you're going to want to watch 87 percent of it on mute.
21. 'Zodiac'
Another David Fincher flick. This one tells the true story of California's Zodiac Killer, a man who terrorized couples (and the police department, with his cryptic letters and ciphers) in the Bay Area in the 60s and 70s. The case is still unsolved.
Celebrity news, beauty, fashion advice, and fascinating features, delivered straight to your inbox!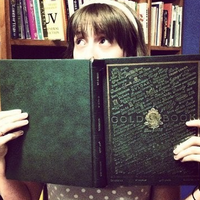 Kayleigh Roberts is a freelance writer and editor with more than 10 years of professional experience. Her byline has appeared in Marie Claire, Cosmopolitan, ELLE, Harper's Bazaar, The Atlantic, Allure, Entertainment Weekly, MTV, Bustle, Refinery29, Girls' Life Magazine, Just Jared, and Tiger Beat, among other publications. She's a graduate of the Medill School of Journalism at Northwestern University.