50 Space Movies That Are Out of This World
Can we talk about 'Thor: Ragnarok' for a sec?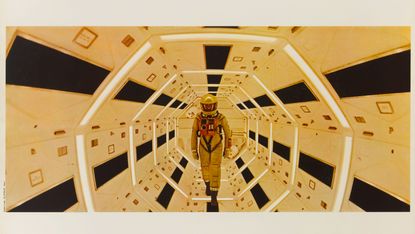 (Image credit: Getty Images ¦ Movie Poster Image Art)
Hollywood has long been obsessed with outer space—even before men walked on the moon. Whether they're inspired by true events or completely unrealistic (I'm looking at you, Gravity), space movies have shaped the way we Earthlings view life beyond our planet. While some viewers dream of becoming one of the first people on Mars, others are just in need of a little escape from the issues that plague our world. Either way, here are 50 films that will take you to a galaxy far, far away.
1/50
2001: A Space Odyssey (1968)
In 1968, Stanley Kubrik's 2001: A Space Odyssey debuted to underwhelming reviews. Years later, the film became a cult-classic for cinephiles and sci-fi fanatics. 2001 takes you on the ultimate trip. I'm not saying you should be stoned while watching this, but I'm not not saying that.
2/50
Interstellar (2014)
Christopher Nolan's Interstellar, which features a star-studded cast—Matthew McConaughey, Anne Hathaway, Jessica Chastain, Casey Affleck, Michael Caine, and a young Timothée Chalamet, to name a few—is easily one of the most successful space movies of the decade. The film follows Cooper (McConaughey) who's on a journey through the galaxy to find a potential new home for humankind.
3/50
The Hitchhiker's Guide to the Galaxy (2005)
Planning a trip that's out of this world? Don't panic. The Hitchhiker's Guide to the Galaxy (2005) has you covered. Martin Freeman, Mos Def, Zoey Deschanel, and Sam Rockwell make this hilariously dysfunctional cast heroes of the galaxy. This movie has everything: singing dolphins, a two-headed president, and the answer to the eternal question—what is the meaning of life?
4/50
WALL-E (2008)
WALL-E tells the story of the last robot left on an uninhabitable Earth filled with trash. Relatable, no? Though dialogue is limited, the film is visually stunning and a sentimental. Come for the Pixar animated cuteness, stay for the feels.
5/50
Zenon: Girl of the 21st Century (1999)
Zetus Lapetus! This Disney Channel Original Movie is a standout in the collection of space cinema. Zenon (Kristen Storm) has been grounded by her parents...to Earth. When trouble strikes on the space station, Zenon has to save her parents and best friend Nebula (Raven-Symoné) before it's too late. Let us not forget the special performance (opens in new tab) by intergalactic superstar Prota Zoa.
6/50
Space Jam (1996)
NBA legend and one of the greatest athletes of all time, Bugs Bunny, stars opposite Michael Jordan in this 1996 sports cinematic masterpiece. Bunny and his cartoon comrades take Jordan out of basketball retirement to defeat theme park owner, Swackhammer (Danny freakin' DiVito!).
7/50
Alien (1979)
From the space auteur Ridley Scott, this first film in the Alien franchise is as gripping as it is visually captivating. Ellen Ripley (Madame Sigourney Weaver) and her copilots attempt to escape an extraterrestrial who's boarded their spacecraft. The film's biggest takeaway? Always listen to a woman when she has a plan!
8/50
Guardians of the Galaxy (2014)
When this movie debuted, everyone thought Chris Pratt is...hot? In this Marvel film, Star-Lord (Pratt) joins fellow convicts Rocket the Raccoon (Bradley Cooper), Drax, Gamora (Zoe Saldana), and Groot (Vin Diesel) to return a stolen orb to safe hands and, well, save the galaxy.
9/50
The Star Wars Franchise
Jedis, Droids, Wookiees, oh my! The 9+ films in the Star Wars franchise are the most successful in the galaxy, so we are contractually obligated* to put them on this list. If you haven't seen any of them by now, what astroid have you been living under?
*Not obligated whatsoever
10/50
Hidden Figures (2016)
Hidden Figures tells the story of unsung NASA heroes Katherine Johnson (Taraji P. Henson), Dorothy Vaughan (Octavia Spencer) and Mary Jackson (Janelle Monáe)—three black women who fast-tracked the space race and helped launch man into orbit for the first time. Are we surprised women were behind one of NASA's most successful events? Absolutely not...but we love to see it!
11/50
Arrival (2016)
Amy Adams is a linguistics professor called to lead a team of scientists attempting to communicate with an alien spaceship that landed on Earth. Her performance is breathtaking (talk about Oscars robbery), especially considering her main co-star was...an alien.
12/50
Moon (2009)
If you love Sam Rockwell, Moon is a slow-burn movie you'll need to see. Did I fall asleep midway? Sure. But when I woke up and restarted, I was glad I did. Astronaut Sam Bell (Rockwell) is finishing up a three-year assignment when an accident causes him to see double. Trouble ensues when Rockwell faces a clone of himself onboard. I hate when that happens!
13/50
Men in Black (1997)
Will Smith and Tommy Lee Jones are the secret agents sworn to keep the Earth safe from all things extraterrestrial. Man vs. alien, what could possibly go wrong? A lot! Only thing this movie is missing? Sigourney Weaver!
14/50
Blade Runner (1982)
The original Blade Runner, another Ridley Scott classic, follows Deckard (Harrison Ford) who's sent to Earth on the hunt for escaped Replicants. When he falls in love with a Replicant woman, things will never be the same.
15/50
Blade Runner 2049 (2017)
Thirty-five years after the original, Ridley Scott returns with Blade Runner 2049. Officer K (Ryan Gosling) goes in search of the missing Blade Runner, Deckard (Harrison Ford) after 30 years of searching. The action-packed film is visually stunning and Ryan Gosling is visually sexy.
16/50
Ad Astra (2019)
Did I watch this movie just to see Brad Pitt look like a disgruntled hot zaddy in a space uniform? Maybe, what of it? Ad Astra follows Pitt's character as he searches for an answer for his missing astronaut father. It's gripping and beautiful. Brad Pitt's best performance? No, but what compares to Brad Burn After Reading Pitt?
17/50
Solaris (1972)
This Russian film in which Kris Kelvin starts seeing his late wife aboard the space craft is a cult-classic. This psychological thriller was later remade in 2002 staring George Clooney. I watched the remake; stick to the original.
18/50
The Brave Little Toaster Goes to Mars (1997)
A journey into space and cinematic excellence! These kitchen appliances jet to Mars on a rescue mission and save the planet from destruction. Can we expect to see a remake starring Ina Garten and Chrissy Teigen anytime soon? Fingers crossed.
19/50
Muppets from Space (1999)
Have you ever thought, I wish I knew what The Muppets would do in outerspace? Well, you're in luck! The Muppets From Spacedocuments Kermit, Miss Piggy, and Fozzy Bear as they rescue Rizzo and Gonzo from alien abduction. Modern day heroes!
20/50
Rogue One: A Star Wars Story (2016)
Rogue One could be grouped in with the Star Wars franchise, but Felicity Jones is just too badass in this movie to not recognize it on its own! Rogue One is set just before A New Hope and follows Jyn Erso (Jones) as she leads the rebel alliance to steal plans to the Death Star. We love to see galactic feminism!
21/50
Gravity (2013)
Director Alfonso Cuarón's cinematic masterpiece, Gravity, is awe-inspiring and completely unrealistic (opens in new tab). The film stars Sandra Bullock and George Clooney in my worst nightmare—alone and floating aimlessly in outer space. You'll be on the edge of your seat the whole time riding that anxiety high.
22/50
Cowboys & Aliens (2011)
The wild west meets outer space in Cowboys & Aliens. Daniel Craig, Olivia Wilde, and Harrison Ford go to battle for mankind.
23/50
E.T. the Extra-Terrestrial (1982)
Steven Spielberg's E.T. will make you laugh and cry. When Elliott befriends a lost alien hoping to return to his home planet, the two become caught in controversy. Young Drew Barrymore is everything.
24/50
First Man (2018)
First Man is the story of Neil Armstrong's (Ryan Gosling) journey to space with the support of his wife (Claire Foy). The film depicts Armstrong's spacewalk and the advancements of mankind. It's...slow, but Foy's performance is gripping and Gosling is not too bad to look at!
25/50
The Martian (2015)
If you thought the world was short on films about white male astronauts, think again! The Martian, based on the best-selling novel, follows an astronaut (Matt Damon) stranded on Mars as he attempts to stay alive. Think The Circle except its Damon talking to his webcam about his plants.
26/50
High Life (2018)
From director Claire Denis, High Life is trippy masterpiece. Robert Pattinson attempts to survive an endless mission in outer space. It's artistic and definitely not made for the faint of heart.
27/50
Star Trek (2009)
Based on the hit 1960s TV series, the first Star Trek movie in the 2000s trilogy follows James T. Kirk (Chris Pine) and Spock (Zachary Quinto) on a journey to the final frontier. If you watched the show, it's nostalgic glory. If not, sit back and watch sexy Pine take control.
28/50
Apollo 13 (1995)
Based on the true story of the Apollo 13 mission, Tom Hanks, Bill Paxton, and Kevin Bacon's characters fight to stay alive when malfunctions take place mid-mission.
29/50
Thor: Ragnarok (2017)
One of the best films in the Marvel franchise (@ me, I dare you!), Thor: Ragnarok finds Thor (Chris Hemsworth) on a junk planet, the name of which I honestly can't remember. He tries to save Asgard alongside Hulk (hot daddy Mark Ruffalo!), Loki, and Valkyrie. Directed by Taika Waititi (JoJo Rabbit, What We Do in the Shadows), this movie will make you laugh out loud.
30/50
Lucy in the Sky (2019)
Lucy in the Sky follows astronaut Lucy Cola (Natalie Portman) on her mission to space. The film is a slow-burn, but visually stimulating and a cult favorite.
31/50
Prometheus (2012)
Another Ridley Scott sci-fi thriller! Prometheus stars Charlize Theron and Michael Fassbender as they search for other sentient beings in the universe. What could possibly go wrong?
32/50
Passengers (2016)
Two passengers (Chris Pratt and Jennifer Lawerence) aboard a space craft wake out of their frozen states preemptively. What a concept! Would I say this movie is good? No. Is it worth an Amazon rental? Still, no. Would I watch it for free if it were streaming on Netflix? Sure.
33/50
Treasure Planet (2002)
Based on Treasure Island, this animated film is about a treasure hunt across the galaxy in a space ship. Sails included.
34/50
Spice World (1997)
Okay, hear me out: Spice World may take place on planet Earth, but have we forgotten the iconic scene where the most famous British group (yes, I said it!) has an extraterrestrial encounter? It counts.
35/50
The Man Who Fell to Earth (1976)
This indie-flick stars David Bowie as an extraterrestrial who's found his way to Earth and falls in love with a human while trying to save his home planet. The '70s weren't necessarily the prime decade for cinema, but Bowie is iconic in this film. It will make you think, What did I just watch?
36/50
Armageddon (1998)
When an asteroid is destined for Earth, who better to save the day than Billy Bob Thorton and Bruce Willis? Also starring Ben Affleck and Liv Tyler, Armageddon is one of sci-fi's favorite space movies. The best part of the film? Aerosmith's original song, "I Don't Want to Miss a Thing."
37/50
The Day the Earth Stood Still (1951)
One of the original space films, The Day the Earth Stood Still is an essential watch for sci-fi cinephiles. Chaos ensues when an alien, alongside his large robot, visits Earth to deliver a message that will change all of humankind. This movie was remade in 2008 with a young Keanu Reeves. Still, watch the original.
38/50
Galaxy Quest (1999)
Tim Allen, Alan Rickman, and yes, Madame Sigourney Weaver star in this 1999 space comedy about TV astronauts forced by aliens to help save their planet. It's funny in the "you had to see it in the '90s" sort of way.
39/50
I Am Mother (2019)
I Am Mother is the story of a young girl raised by a robot. When an outsider (Hilary Swank) arrives, the girl is forced to decide between who to believe: her robotic caretaker or a fellow human.
40/50
Jimmy Neutron: Boy Genius (2001)
Feeling nostalgic for early aughts cartoons? Tune in. Boy genius Jimmy Neutron must devise a plan to save his parents after being abducted by aliens. The writing is witty and the perfect nostalgia film to turn on with friends if you're, say, under the influence.
41/50
Avatar (2009)
When James Cameron's Avatar came out in 2009, did I see it in 3-D IMAX? Yes. Does it need five sequels and a Disney World Theme Park? Absolutely not. Let me sum up this film in a few words: war, blue, alien sex. If I could put this on a list of "movies to not waste your time on" I would. Still, it was nominated for Best Picture at the Oscars.
42/50
Plan 9 From Outer Space (1959)
Californians are under attack by flying saucers in this 1959 cult classic. Their plan? Resurrect corpses of a Hollywood cemetery in a Frankenstein-style fashion.
43/50
A Wrinkle in Time (2018)
In A Wrinkle in Time, based off the beloved Madeleine L'Engle novel, two young kids travel the universe in search of their missing father. Mindy Kaling, Reese Witherspoon, and Oprah help the children on their mission. The film itself is a visual marvel, hair and makeup are iconic to say the least, but the performances fall flat and it doesn't match the hype.
44/50
Spaceballs (1987)
For those who loved the '80s, Spaceballs, the famous parody of Star Wars, pokes fun at every sci-fi movie made. It's okay to love it—even not ironically.
45/50
Lilo & Stitch (2002)
Lilo & Stitch may start out in Hawaii, but the duo journey to outer space to finally free Stitch from his intergalactic arrest. Accompanied by an Elvis soundtrack, this movie tells the story of friendship and unconditional love. Ten out of 10 recommend.
46/50
Jupiter Ascending (2015)
If you haven't seen Jupiter Ascending, now is not the time. Mila Kunis is Jupiter Jones, an alien, opposite Channing Tatum, who is half canine, half human. (I wish I could make this up.)
47/50
Coneheads (1993)
From the SNL sketch to the big screen, Coneheads follows a family of aliens who've found a home in Jersey and try to live a normal life. Another film with a cult-following, this movie caters to lovers of old SNL and Dan Aykroyd.
48/50
It Came from Outer Space (1953)
The 1953 classic film depicts an alien invasion. Townspeople begin to disappear and are replaced by alien versions. Think: Invasion of the Body Snatchers meets The Twilight Zone. An essential watch for space cinephiles.
49/50
The Astronaut's Wife (1999)
A former astronaut (Johnny Depp) returns to Earth after a mission but isn't quite the same. His wife (Charlize Theron) begins to notice his strange behavior, and drama ensues.
50/50
LIFE (2017)
LIFE stars Jake Gyllenhaal and Ryan Renolds in this sci-fi thriller in which a new life form begins to develop aboard the International Space Station.
•••
For more celebrity news, beauty and fashion advice, savvy political commentary, and fascinating features, sign up for the Marie Claire newsletter.
subscribe here (opens in new tab)