The 11 Most Mind-Blowing Mystery Movies of All Time
PLOT TWIST.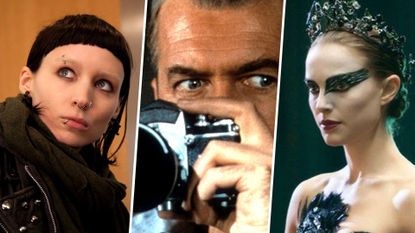 (Image credit: Columbia / Getty / Fox Searchlight)
Marie Claire newsletter
Celebrity news, beauty, fashion advice, and fascinating features, delivered straight to your inbox!
Thank you for signing up to . You will receive a verification email shortly.
There was a problem. Please refresh the page and try again.
There is no bigger mystery than "What is life, even?" but in case your own existential crisis isn't enough for you, you can always watch a mystery movie and indulge in some on-screen escapism. In an effort to find a film for everyone (do you like vintage noir? Cool. Camp? Cool cool, got that too), we've gathered 11 favorites that you simply can't go wrong with—and all of which have impressive plot twists so you can be all:
'Clue'
Released: 1985.
Starring: Tim Curry, Madeline Kahn, and Christopher Lloyd.
If you haven't seen Clue, loved Clue, and dressed up like one of the characters from Clue for Halloween, you aren't living. The movie is dated, campy, and completely perfect—and the gold standard in the very niche "movies based on board games" genre.
'Rear Window'
Released: 1954.
Starring: James Stewart and Grace Kelly.
This evocative and truly timeless Alfred Hitchcock staple stars James Stewart as a newspaper photographer who witnesses a murder in his neighbor's window. Naturally, because why not, he goes about trying to solve the crime with the help of the one, the only, the real actress-turned-royal MVP, Grace Kelly.
'The Girl with the Dragon Tattoo'
Released: 2011.
Starring: Mara.
Based on the massively popular novels by Stieg Larsson, this film put Rooney Mara on the map thanks to her role as Lisbeth Salander, a computer hacker who helps journalist Mikael Blomkvist find out what happened to a woman who disappeared 40 years before the events of the story take place. It's full of twists, turns, and good acting—though many people prefer the original film (also based on the book) staring Michael Nyqvist and Noomi Rapace in the title roles.
'The Maltese Falcon'
Released: 1941.
Starring: Humphrey Bogar, Mary Astor, Gladys George, Peter Lorre, and Sydney Greenstreet.
If you like your mystery movies with a side of Humphrey Bogart, look no further than The Maltese Falcon—the highly atmospheric classic about murder, detectives, and a mysterious bejeweled bird. The movie was nominated for three Academy Awards, so don't get it twisted.
'The Sixth Sense'
Released: 1999.
Starring: Bruce Willis, Haley Joel Osment, Toni Collette, Olivia Williams, and Donnie Wahlberg.
One part supernatural thriller, one part horror film, and one part mystery, The Sixth Sense is best known for starring Haley Joel Osment as a haunted little kid who's all "I see dead people." The twist at the end is absolutely massive, but if for some reason you've been living under a pop cultural rock since 1999, we won't spoil it for you.
'Black Swan'
Released: 2010.
Starring: Natalie Portman, Vincent Cassel, Mila Kunis, Barbara Hershey, and Winona Ryder.
This mystery/horror film won Natalie Portman an Oscar for good reason. She plays opposite Mila Kunis as a ballerina obsessed with landing the prima spot in Swan Lake, which leads her down a path of deeply creepy twists culminating in one especially creepy twist. (No spoilers, fear not, but just known that swans are forever ruined for us).
'Rebecca'
Released: 1940.
Starring: Laurence Olivier and Joan Fontaine
Romantic psychological noir at its best, Rebecca is a movie best viewed cuddled up on the couch with another human or maybe a dog (honestly, just find anything that wants to cuddle with you). The film—about a woman who marries a rich man only to find out that his ex-wife is a...um...presence—is all kinds of eerie, so be prepared.
'Inception'
Released: 2010.
Starring: Leonardo DiCaprio, Ken Watanabe, Joseph Gordon-Levitt, Marion Cotillard, Ellen Page, Tom Hardy, Dileep Rao, Cillian Murphy, Tom Berenger, and Michael Caine.
Leonardo DiCaprio, man who finally owns an Oscar, stars in this incredibly addictive and intelligent mystery/thriller about a man who has the ability to sneak into people's dreams and steal information. If you looked up "total mind f*ck" in the dictionary, a photo from this movie would probably show up.
'Gone Girl'
Released: 2012.
Starring: Ben Affleck, Rosamund Pike, Neil Patrick Harris, and Tyler Perry.
David Fincher's Gone Girl (based on the novel by Gillian Flynn) stars Ben Affleck as a man who becomes the primary suspect after his wife disappears. The thing is, there's way more to this story than meets the eye, cementing the phrase "she pulled a Gone Girl" in our pop culture lexicon for a reason.
'Memento'
Released: 2000.
Starring: Guy Pearce, Carrie-Anne Moss, and Joe Pantoliano.
Christopher Nolan's Memento is a contemporary classic, about a man who's obsessed with finding the person who killed his wife. The only issue is he has severe sort term memory loss, so he marks his body with tattoos in order to keep track of the mystery.
'The Others'
Released: 2001.
Starring: Nicole Kidman and Fionnula Flanagan.
Saving the most terrifying for last! The Others is about a family who moves to a creepy house in England during the war, which is naturally haunted by ghosts. Prepare for a massive Sixth Sense-style shock at the end.
Mehera Bonner is a celebrity and entertainment news writer who enjoys Bravo and Antiques Roadshow with equal enthusiasm. She was previously entertainment editor at Marie Claire and has covered pop culture for over a decade.