Michelle Young's 'Bachelorette' Cast: Every Detail We Know
So. Many. Athletes.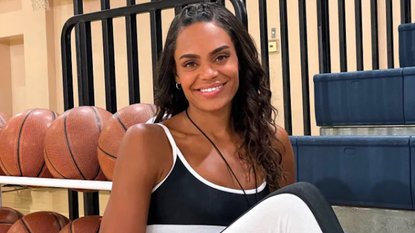 (Image credit: Twitter/ Mike Fleiss)
Marie Claire Newsletter
Celebrity news, beauty, fashion advice, and fascinating features, delivered straight to your inbox!
Thank you for signing up to Marie Claire. You will receive a verification email shortly.
There was a problem. Please refresh the page and try again.
Bachelor Nation received a spoil of riches this year. Mere months after Katie Thurston's Bachelorette season and hot on the heels of Bachelor in Paradise comes Michelle Young's Bachelorette season. Not only are we looking forward to following the teacher and runner-up from Matt James' season's journey, the season is also being filmed in multiple locations, in the franchise's first return to a new normal amid the pandemic. For Michelle's suitors, the Bachelorette producers found a bevy of former collegiate athletes looking to find love with the former basketball player. The below is a full list of Michelle's potential contestants, with her frontrunners up top (if you want more spoilers, check out our guide for updates).
1. Joe Coleman, 28
Joe is from Minneapolis, Michelle's hometown, and he was crowned 2011 Mr. Minnesota Basketball while playing for the University of Minnesota. He's already been tapped as an early frontrunner, and there are even rumors that he and Michelle already knew each other from playing ball.
2. Nayte Olukoya, 27
Canadian account executive Nayte is from Winnipeg and currently lives in Austin, TX, where he works at Indeed. His Instagram is reportedly full of pics of his family, including his puppy, Percy. Nayte's also one to watch, with Reality Steve spotting him on two dates with Michelle.
3. Alec Thompson, 29
A former football player turned civil engineer, Alec is from Forest, VA, but he currently works in South Carolina. He has also volunteered for the Special Olympics.
4. Brandon J., 26
Born and raised in Portland, OR, Brandon J. loves basketball, swimming, and playing with his puppy, Little Mac. The feature quote on his Instagram (since made private) was reportedly "I am running away from my responsibilities. And it feels good." Which is... an unfortunate choice for a Bachelorette contestant.
5. Brandon Kieffer, 29
Brandon K. grew up in Sulphur, LA, and currently lives in Austin. He's a grad student in management and works a brand manager for SkinnyPop popcorn.
6. Brett Parker, 29
Entreprenur Brett is a Houston, TX, native who currently lives in L.A. with his dog, Beckham. Animal lovers who have a spare moment can check out the pup's growth on Brett's Instagram. He's also a proponent of "good vibes only" and has a Buddha quote on his Instagram bio.
7. Bryan Witzmann, 30
A former professional football player from Houlton, WI, Bryan has played for nine different NFL teams, most notably the Kansas City Chiefs. He's currently getting a Master's degree, and he describes himself as a world traveler and amateur chef in his Instagram bio.
8. Casey Woods, 36
Casey is a music producer and songwriter born in Parkland, FL, and currently working in Miami.
9. Christopher Gallant, 27
Canadian Chris G. is a Ted Lasso fan from Halifax, Nova Scotia. He's also a former collegiate soccer player and an animal lover who's tried his hand at spoken word poetry.
10. Chris Sutton, 28
New Orleans native Chris S. keeps pretty private on social media. He's also exactly Michelle's age. His Bachelorette time could go either way.
11. Clayton Echard, 28
Orthopedic sales rep Clayton is a former collegiate football player and former freestyle rapper from Eureka, MO. He spends a lot of his free time outdoors and with his family.
12. Daniel Tully, 26
Austin, TX, native Daniel works as a firefighter and a realtor, even maintaining a separate Instagram for his listings.
13. Edward Naranjo, 27
Brownsville, TX, native Edward currently works as a personal trainer in L.A. He also models, and Reality Steve found that he has an acting background.
14. Eric Tai, 25
Eric grew up in Bridgewater, NJ, and currently works in private equity in NYC. He graduated from UNC Chapel Hill, and he plays tennis in his spare time.
15. Garrett Aida, 33
Salt Lake City, UT, native Garrett has a degree in mechanical engineering. He's also an entrepreneur who has founded two companies and runs his second, which makes custom mobile devices. He also reportedly has a sporty and outdoorsy side.
16. Jack Russell, 30
Jack is a veteran from Greensboro, NC, who served in the Army for five years. He's currently getting his MBA in Pennsylvania, and he has the excellent IG handle, @jackrussellnottheterrier.
17. Jamie Skaar
Entreprenur Jamie grew up in Tacoma, WA, and runs is own indoor air purification company. He also loves to travel and has spoken out about social justice on his Instagram.
18. Joel Wilkinson, 31
Joel is a physical therapist who grew up in Prescott, AZ.
19. Jomarri Gable, 26
Jomarri is a personal trainer from Portland, OR. His feed is mostly workout pics featuring him and his clients, and he's a huge fan of weightlifting.
20. Leroy Arthur, 27
Durham, NC, native and current Dallas resident Leroy is a grad student in biomedical engineering. He's also a part-time model.
21. LT Murray IV, 38
LT hails from Bellevue, WA, and he works as a personal trainer specializing in yoga and spin. Fun facts: he teaches alpaca yoga(!) and he's actor Clint Eastwood's grandson.
22. Martin Gelbspan, 28
Personal trainer Martin is from Cordoba, Argentina. He specializes in bodyweight workouts that people can do without a gym, and he reportedly has a fitness app coming out soon.
23. Michael Sambol, 30
Omaha, NE, native Michael works as a software engineer for Intuit. He graduated from Georgia Tech in 2014, and he spends a lot of time shirtless at beaches and lakes.
24. Mollique Johnson, 36
Mollique was born in Jameshill, Jamaica, and currently works at San Diego State University as assistant director of operations. He has a Master's in Education and used to play minor league basketball for the San Diego Guardians.
25. Olumide Onajide, 28
Another former college basketball player, Olumide grew up in Woodland Park, NJ, who went to Rutgers University for both undergrad and grad school. His main job is as a field systems analyst, and he also models and writes a fitness column.
26. Pardeep Singh, 30
Brooklyn native Pardeep has two neuroscience degrees and one in neurobiology. He hosts the science and social justice podcast Deep Thoughts, and his Instagram bio says he's a gamer.
27. Peter Izzo, 26
Pietro "Peter" Izzo, born in Bellmore, NY, has his own pizzeria in Port St. Joe, Florida. When not running Peter's Pizzeria, he likes a good party, a day at the beach, and hanging out with his family.
28. PJ Henderson, 30
Austin, TX, native PJ is a former college football player for Lamar University, who now works as a firefighter and EMT. He and his family also run the Bakari Foundation, created on behalf of his brother, Bakari, who was killed in Greece in 2017. The foundation provides travel experiences for family who have lost loved ones.
29. Rick Leach, 26
Born in Munroe Falls, OH, Rick currently lives in L.A. with his pup Nana. He's a big family guy, with many IG posts featuring his little cousins.
30. Rodney Mathews
Rodney was born in Rancho Cucamonga, CA, and currently works in LA as a sales representative. Another collegiate football player, he played for Fresno State University.
31. Romeo Alexander, 32
This IRL Romeo is a data scientist born and raised in NYC. He's studied at both New York University and Harvard, and currently works for a corporate card company called Ramp.
32. Ryan Fox, 30
Ryan is from Sanger, CA, and enjoys fitness and world travel. He also has already been a "Bachelor," playing the role for the franchise's "Bachelor Live on Stage" tour in February 2020, hosted by Becca Kurfin and Ben Higgins. No word on how long he sticks around, but the "right reasons" debate has already begun.
33. Spencer Williams, 25
Spencer is from Cleveland, OH, and is a dad to an adorable three-year-old boy named Bray. His IG is full of pics of the toddler, as well as travel pics. It also looks like Spencer played college ball, and professional basketball in Ireland.
34. Trevor Abrams, 26
Rocklin, CA, native Trevor is a former minor league baseball player who now works as a hitting instructor. He's also outdoorsy and enjoys snowboarding and hiking.
35. Will Urena, 29
Will is a fitness trainer who was born Santo Domingo in the Dominical Republic. He also has retweeted some pretty misogynistic tweets in the past, with Reality Steve posting the receipts as soon as Will was announced. Safe to say he probably won't stick around long.
Celebrity news, beauty, fashion advice, and fascinating features, delivered straight to your inbox!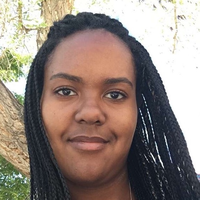 Contributing Culture Editor
Quinci LeGardye is a Contributing Culture Editor who covers TV, movies, Korean entertainment, books, and pop culture. When she isn't writing or checking Twitter, she's probably watching the latest K-drama or giving a concert performance in her car.