Gucci Creative Director, Frida Giannini, Makes Change Fashionable
Gucci Creative Director, Frida Giannini, Makes Change Fashionable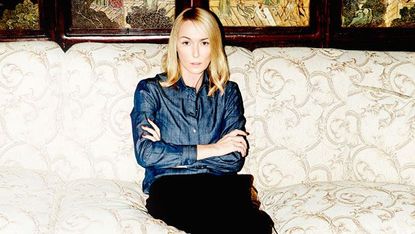 (Image credit: Peter Hapak)
Who: Frida Giannini, Cofounder, Chime for Change
Day Job: Gucci creative director.
Eureka Moment: Ever heard the best ideas come when you're in the shower? That's where Frida Giannini, 41, had one hell of a brainstorm. She was humming the 1984 song "Do They Know It's Christmas?"—whose proceeds went to famine relief in Africa—when she came up with Chime for Change, a global campaign to revolutionize women's education, justice, and health.
Driving Forces: "Discrimination and violence against women are not things that are happening in just, say, Afghanistan," Giannini says. "They are happening everywhere." And that's where Chime wants to be, from training teachers in gender equality in Northern Cyprus to conducting leadership training for female business owners in Mexico.

Friends With Benefits: She enlisted Gucci and recruited friends Beyoncé and Salma Hayek Pinault as cofounders. She also signed on with crowdfunding pioneer Catapult to fund 300-plus projects in 81 countries, making anyone a philanthropist with the click of a mouse. "These issues have always existed," she says. "But we are living in a moment [when] the Internet can play a role in bringing important attention to them."
Get Involved: chimeforchange.org
Related: 19 Other Women Who Are Changing the World
Photo via Peter Hapak
Celebrity news, beauty, fashion advice, and fascinating features, delivered straight to your inbox!