Marie Claire's Own Responds to Lena Dunham's Photo Retouching Drama with Great Cause
Marie Claire's Nicolette Mason responds to the Lena Dunham retouching controversy in an amazing way.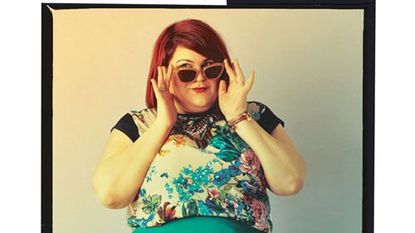 (Image credit: StyleCaster.com)
In light of the ridiculous $10,000 body shaming bounty that one woman's website put on Lena Dunham's unretouched magazine photos, there is some good that comes out of the situation — and it comes from one of Marie Claire's own.
Marie Claire contributing editor, Nicolette Mason, who gives amazing plus-size fashion advice in her column "Big Girl in a Skinny World," responded to the Lena Dunham retouching controversy by teaming up with musician Brad Walsh to launch an Indiegogo site to raise $10,000 for the organization Step Up. Step Up is aimed at empowering young woman by educating and inspiring them. The fundraiser has already drawn supporters like Lena Dunham herself.
"We set up this project to raise $10,000 to be donated to the promotion of women rather than the sensationalizing of their bodies," Mason and Walsh said in a joint statement. "We feel that a body-centric 'exposé' — like the one published by the feminist website in question — is distracting from real, positive, productive work and awareness. Sensationalizing bodies distracts from creating change. There is much else that can be done to promote women's leadership, education, and self esteem. We hope to help re-center the conversation on positive change and away from in-fighting among supporters of feminism."
They couldn't have said it better, and they are making a difference. Let's rally the troops and support the confidence of many young woman with the cause at Indiegogo.
More from Marie Claire:
The Warmest, Snuggliest Winter Accessories
5 Iconic Bobs That Have Made History
Celebrity news, beauty, fashion advice, and fascinating features, delivered straight to your inbox!