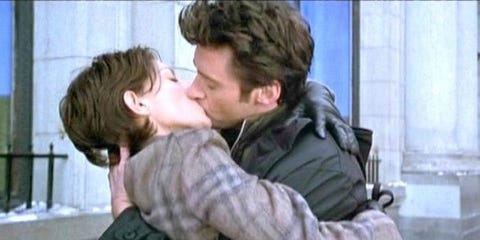 If you've found yourself without a Valentine this year, don't despair. You've got the rare chance to celebrate a holiday that is far superior: Galentine's Day! Instead of sitting across from some bozo in the dead of winter, wondering how long if you have to listen to him talk before you can finally break it off, you can be curled up at home with a (few dozen) bottles of wine watching Netflix with your best friends. And because there's an endless assortment of films to choose from, we're going to save you a couple of hours of scrolling by presenting just the right film for your mood.
What it's about: Ashley Judd gets dumped by Greg Kinnear and she just wants to know WHY. So she comes across an article about how bulls will never sleep with the same cow twice, and she develops this "Old Cow Theory" to why men can't be monogamous and becomes obsessed with it. All the meanwhile, she's living with Hugh Jackman who's in his sexy shirtless best.
Best line: "There are few things sadder in this life than watching someone walk away after they've left you, watching the distance between your bodies expand until there's nothing... but empty space and silence."
Watch if: You've been recently dumped and you have also been driving yourself nuts trying to figure out what went wrong.
What it's about: Kate Beckinsale and John Cusack meet on a chance encounter, then try to find each other years later despite being with other people, launching a comical meditation on whether or not fate exists.
Best line: "Maybe the absence of signs is a sign."
Watch if: You want to feel hopeful that the universe is looking out for you.
What it's about: Everywoman Renee Zellweger is frustrated, a little overweight, and alone. She navigates the affections of her womanizing boss Hugh Grant and her emotionally stunted childhood friend Colin Firth while hilariously detailing her adventures in her diary.
Best line: "It is a truth universally acknowledged that when one part of your life starts going okay, another falls spectacularly to pieces."
Watch if: You need a reminder that you are awesome and lovable just as you are.
What it's about: The movie follows the lives of university friends Anne Hathaway and Jim Sturgess on the same day every year–July 15.
Best line: "Whatever happens tomorrow, we had today."
Watch if: You want to remember how miraculous every moment feels when you meet someone that excites you.
What it's about: Bradley Cooper and Jennifer Lawrence dance their way to love. They're both totally nuts, but that's just what makes them right for each other.
Best line: "The only way you can beat my crazy was by doing something crazy yourself. Thank you. I love you. I knew it the minute I met you. I'm sorry it took so long for me to catch up. I just got stuck."
Watch if: You've had a rough time and you want to know that no matter how damaged and broken you feel, there's someone out there for you.
What it's about: Audrey Tatou is absolutely adorable in this surreal modern-day fairytale about a Parisian girl trying to help the people around her.
Best line: "We pass the time of day to forget how time passes."
Watch if: You love France and you want a watch a sweeping, vivid fairytale.
What it's about: Julia Roberts is a world-famous American actress. Hugh Grant is an ordinary bloke running a London book shop. But they're perfect for each other.
Best line: "I'm also just a girl, standing in front of a boy, asking him to love her."
Watch if: You love England and you're in the mood for romance.
What it's about: Amy Adams travels to Ireland to propose to her boyfriend on Leap Day–the one day a year she's apparently allowed to pop the question instead of waiting for him to do it. Disaster strikes, and she's forced to make the journey with the hunky emotionally stunted mess that is Matthew Goode.
Best line: "May you never steal, lie, or cheat, but if you must steal, then steal away my sorrows, and if you must lie, lie with me all the nights of my life, and if you must cheat, then please cheat death because I couldn't live a day without you."
Watch if: you want some light fare and travel porn.
What it's about: 13-year-old Jennifer Garner makes a wish to be an adult and wakes up as a thirty-year-old with a great apartment, amazing magazine job, and terrible personality. She must regain her childish innocence to further her career, reconnect with lost love Mark Ruffalo, and realize who she really is.
Best line: "I love you, Matt. You're my best friend."
Watch if: You want something that reminds you how fun dating in NYC can be.
What it's about: Jennifer Lopez is a hotel maid who is mistaken for a hotel guest by fancy politician Ralph Fiennes. They share a magical night together, but when the truth is revealed, they have to deal with the fact that they're from very different worlds.
Best line: "What we do, Miss Ventura, does not define who we are. What defines us is how well we rise after falling."
Watch if: You want to indulge in the fairytale, if only for a night.
What it's about: Reese Witherspoon gets dumped by some snob who thinks she's just a dumb blonde, so she does a law degree at Harvard to prove him and everyone else just how smart she really is.
Best line: "Exercise gives you endorphins. Endorphins make you happy. Happy people just don't shoot their husbands."
Watch if: Your ex is an idiot and you need a reminder of why you're awesome.
What it's about: Alicia Silverstone is the coolest girl in school, but she needs to look a little deeper within herself to become a better human being, and to realize she's in love with her step-brother Paul Rudd.
Best line: "As if."
Watch if: You want to feel like you're in high school again.
What it's about: Melissa Joan Hart just got dumped, and so she asks her goofy next-door neighbor, Adrian Grenier, to pretend to be her boyfriend to make her ex jealous. Along the way, they fall in love, until complications arise.
Best line: "Who are we making jealous?"
"Everyone Nicole... everyone."
Watch if: You want to feel like you're in middle school again.
What it's about: Julia Stiles is an uptight medical student. Luke Mably is a hot snob who is also secretly the Prince of Denmark. You know the rest.
Best line: "The chances of a relationship between yourself and Miss Paige are not promising. You two are of a completely different caliber."
"Soren, just cause she isn't royalty doesn't mean she's not important."
"The higher caliber I was referring to, sir, was hers."
Watch if: You've had several bottles of wine, in which case this film is highly amusing.