'Yellowjackets' Season 3: Every Detail We Know
After that finale, we have *so* many questions.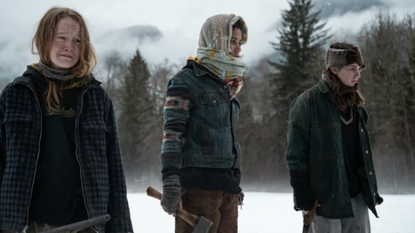 (Image credit: Kailey Schwerman/Showtime)
Marie Claire Newsletter
Celebrity news, beauty, fashion advice, and fascinating features, delivered straight to your inbox!
Thank you for signing up to Marie Claire. You will receive a verification email shortly.
There was a problem. Please refresh the page and try again.
The second season of Yellowjackets has come to a tragic, brutal conclusion. The season 2 finale aired over Memorial Day weekend, marking an end to a season that saw the team embrace their dark, primal instincts. Though several of the lingering questions for season 1 were answered as the fate of Javi, Jackie's body, and Shauna's baby were revealed, fans now have a new set of clues to prompt fan discussion and theories over a coming, likely-long hiatus. For everyone who's still reeling from the finale, here's what we know about the forthcoming third season of Yellowjackets so far. Warning: season 2 finale spoilers ahead.
Renewal
Showtime renewed the hit series for a third season before season 2 even arrived. The network announced the big news all the way back in December 2022, three months before the season 2 premiere.
"With Yellowjackets' runaway success in Season 1 and the pent-up anticipation for Season 2, we wanted to maximize the momentum by fast tracking Season 3 now," Chris McCarthy, president and CEO of Showtime and Paramount Media Networks, said at the time. "The show's ambition is only exceeded by its execution, and I thank the incredible creative team behind it, including Ashley [Lyle], Bart [Nickerson], Jonathan [Lisco], eOne and the Showtime team, for turning this into such a success."
The woods have a way of calling you back. #Yellowjackets is renewed for Season 3. pic.twitter.com/7e3LPzlBleDecember 15, 2022
See more
Pre-production on season 3 was set to start this May, which coincided with the start of the ongoing Writers' Guild of America strike on May 2, 2023. Co-creator Ashley Lyle tweeted an update that day, revealing that the writers' room for the forthcoming season was halted in solidarity with the strike. The strike is anticipated to continue for at least a couple of months (the last strike in 2007 went on for 100 days).
"Well, we had exactly one day in the #YellowJackets S3 writers' room," she wrote. "It was amazing, and creatively invigorating, and so much fun, and I'm very excited to get back to it as soon as the #WGA gets a fair deal. #1u #unionstrong"
Well, we had exactly one day in the #YellowJackets S3 writers' room. It was amazing, and creatively invigorating, and so much fun, and I'm very excited to get back to it as soon as the #WGA gets a fair deal. #1u #unionstrong ✊🐝May 2, 2023
See more
Bonus Episode
In a surprising twist, Yellowjackets fans have something to look forward to before season 3! Following the season 2 finale, many members of The Hive/Citizen Detectives/insert-your-favorite-YJ-fandom-name-here started to theorize that the May 26 finale wasn't the last episode of the season after all. The reason: Season 1 had 10 episodes, while the second only had nine. That could've just seemed like a hopeful hunch, but Lyle herself actually jumped into the conversation, upon seeing that several fans were planning to stay up and wait for the mystery episode to drop on June 1st.
"Go to bed! Get some rest!" the co-creator wrote. "There will be a bonus episode between seasons, but I love you guys and I don't want y'all to lose sleep thinking it's tonight."
Noooo. Go to bed! Get some rest! There will be a bonus episode between seasons, but I love you guys and I don't want y'all to lose sleep thinking it's tonight.June 2, 2023
See more
After confirming that a bonus episode is on the way(!), Lyle admitted that it will likely take a while to arrive, writing to another fan that the episode will come out "closer to S3," and adding, "I'm not being coy, there's a strike and things are complicated!" It's very hard to guess when the bonus will come out, but if it arrives at the (hopeful) halfway mark between seasons 2 and 3, it's best to keep an eye out around the late fall or winter.
Cast
Most of the adult and teen core cast is very likely to return, including Melanie Lynskey (Shauna), Christina Ricci (Misty), Tawny Cypress (Taissa), Sophie Nélisse (teen Shauna), Sophie Thatcher (teen Natalie), Samantha Hanratty (teen Misty), Jasmin Savoy Brown (teen Taissa), Courtney Eaton (teen Lottie), Liv Hewson (teen Van), and Kevin Alves (Travis). New additions Simone Kessel (Lottie) and Lauren Ambrose's (Van) returns have yet to be confirmed, but we're expecting them to have tons to do going forward now that their characters have reunited with the rest of their former team members.
One cast member whose return is in question is Juliette Lewis. The season 2 finale ended in tragedy, with Misty accidentally killing Natalie as she jumped in to save cult member Lisa. There's been no word on whether Lewis will continue on with the series in some capacity, including possibly appear in flashback or dream sequences in future episodes.
Other highly-anticipated returning cast include Steven Krueger (Coach Ben), Warren Kole (Jeff), Sarah Desjardins (Callie), John Reynolds (Detective Saracusa), and Elijah Wood (Walter).
Plot
The season 2 finale sets up several big questions for where the series can continue. In the final incendiary scene, the teen characters are still stranded in the woods, and though they're no longer starving (having made a meal out of Javi's corpse earlier in the episode), they're left without shelter when the log cabin is set on fire from the outside. It appears that Coach Ben had set the cabin ablaze, after learning of Javi's fate and seeing Natalie, the last remaining skeptic of the group, get crowned as the new leader. (After Javi died in the hunt and Natalie was spared, Lottie declared Natalie leader, arguing the wilderness chose her.) Whether or not Ben was the one who tried to kill the team, it's very likely that they'll believe he betrayed them, and go after him as the next hunting target.
Meanwhile in the present, Natalie's death will have a huge effect on the group (especially Misty, who has now killed two of her "best friends" over the course of her life). After the hunt, Lottie is taken away to a psychiatric hospital, but before she leaves she tells Tai and Van that the wilderness is now pleased with them. There's a big chance that the adult Yellowjackets will begin seeing positive things happen in their lives (Van's cancer goes into remission? Tai somehow keeps her state senate seat?), and they'll start re-considering the role the "wilderness" still plays in their lives. As for the show's crime elements, Shauna's family is free and clear after Walter framed Detective Kevyn (R.I.P.) for both Adam Martin and Jessica Roberts's deaths out of love for Misty. Even though the Sadeckis are no longer in danger of arrest, young Callie now knows all of her mother's troubled secrets. After that scene where Lottie was so fascinated by Shauna's daughter, there's a big chance that Callie will end up falling to her darker urges, either cause the "wilderness" wants her or cause she's grappling with being the daughter of a murderer.
In an interview with The Hollywood Reporter, director and executive producer Karyn Kusama discussed the fallout of the present-day storyline, and how the adult characters will likely have tons to face in the aftermath of the first two seasons.
"Certainly loss is going to be an initial kind of emotional glue, and the fallout from that. But I also suspect there's a lot to explore about the real-world ramifications of the past two seasons. I think that's going to get further addressed and further looked at. I think it's going to be a question about how to bring everyone back together when it's the right thing to do or makes sense narratively."
Are we gonna get weirder? Probably! Will the fallout of *redacted*'s death affect our (anti)heroes in massive ways? Will our girls' struggle to survive against the elements (and themselves) get even down and dirtier? Do we still have to tell the story of Pit Girl? You betcha!May 27, 2023
See more
What the Cast Says
In a Hollywood Reporter interview, Sophie Thatcher opened up about learning that teen Natalie would become the Antler Queen in the finale, saying that the new dynamic is "ultimately exciting."
"It was really exciting to see," she told the outlet. "...this is probably why she is the [adult] Natalie we see. She's gone through so much and now she's taking on more guilt. She's going to be carrying more guilt [as the group's leader] and she's going to continue this journey of self-destruction. But, I was happy to see such a shift. I think this is more juicy and more fun to play around with as an actor for future episodes."
She continued that Natalie likely won't have an easy transition to leadership, adding "I think it will mess up the group dynamic no matter what."
"I think the group is going to react terribly. I think there's going to be tension between her and Shauna, because Shauna obviously has endured so much and felt like she was the natural one to fall into that role. I think it's just going to start more conflict. Not that things were going well, but they had a leader that people agreed on and now everything is thrown out of sorts. People don't even like Natalie that much. They trust her, but she's not giving them what Lottie was giving them," she said.
Travis actor Kevin Alves also spoke to THR, sharing his thoughts on the finale and whether Coach Ben was really the one who set the cabin on fire.
"Well, he has the stuff. So, we'll see," Alves told the outlet. "I don't know if he has the stuff to mess with us, but he was there. We see him outside and then the cabin is on fire. As a viewer, that was my assumption. But they might have some tricks up their sleeves that I don't know about."
Future
As for how long the Yellowjackets mystery will continue, Lyle previously told Entertainment Weekly that the show was originally planned to last five seasons, adding that the creative team feels they're "still on track for that." Though she admitted that "there's always room for things," the co-creator clarified that Yellowjackets isn't the type of show that can stretch on indefinitely.
"We don't really see this as being more than a five-season show," she told the outlet. "I think that there are shows that can go forever, but I think that when you're telling such a deeply serialized story and it's about these characters' lives, you want to reach a satisfying conclusion and not just drag things out forever. This isn't really one of those setup shows where it can go anywhere. So far, we've been really on track. Season 2 is largely what we always planned, but you do make a lot of discoveries along the way and so it's always a little bit surprising."
Celebrity news, beauty, fashion advice, and fascinating features, delivered straight to your inbox!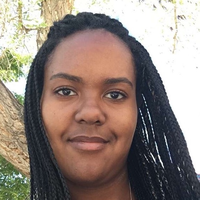 Contributing Culture Editor
Quinci LeGardye is a Contributing Culture Editor who covers TV, movies, Korean entertainment, books, and pop culture. When she isn't writing or checking Twitter, she's probably watching the latest K-drama or giving a concert performance in her car.