Jane Birkin Allows Hermès to Keep Her Name on Its Iconic Bag
Save the crocodiles.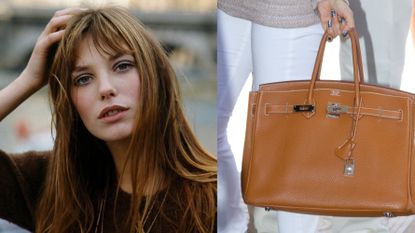 (Image credit: archive)
Marie Claire newsletter
Celebrity news, beauty, fashion advice, and fascinating features, delivered straight to your inbox!
Thank you for signing up to . You will receive a verification email shortly.
There was a problem. Please refresh the page and try again.
Update, 9/14: Jane Birkin, person for the ethical treatment of exotic animals, will continue to allow her name to be associated with a leather container that costs half a normal person's annual income. The actress, who had previously expressed concern over "the cruel practices endured by crocodiles during their slaughter for the production of Hermès [Birkin] bags," released a statement in conjunction with the brand in which she said she is satisfied with the measures taken.
"Following the heartfelt emotion expressed by Jane Birkin and her request for explanation, Hermès, in agreement with her, reiterates its firm commitment in the ethical treatment of crocodiles in its partner farms," the statement read.
The brand will guarantee "good practices for farming, procedures for slaughter, environmental management, social conditions of employees and the security of work conditions and infrastructures. "
Update, 8/1: Following the much-buzzed-about announcement that Jane Birkin wished to remove her name from the iconic Hermès bag for inhumane treatment of crocodiles, PETA is looking to influence change from the inside out. The animal rights group has acquired a single share in Hermès stock with the goal to "work from inside to demand a permanent ban on accessories made from exotic-animal skins, including crocodile-skin bags and alligator-skin watchbands."
The small stakeholding in the French fashion house will, if nothing else, "give them the possibility to attend and ask questions at the annual meeting," says a PETA spokesperson (opens in new tab).
Update, 7/29: Hermès has released the following statement:
Jane Birkin has expressed her concerns regarding practices for slaughtering crocodiles. Her comments do not in any way influence the friendship and confidence that we have shared for many years. Hermès respects and shares her emotions and was also shocked by the images recently broadcast.
An investigation is underway at the Texas farm which was implicated in the video. Any breach of rules will be rectified and sanctioned. Hermès specifies that this farm does not belong to them and that the crocodile skins supplied are not used for the fabrication of Birkin bags.
Hermès imposes on its partners the highest standards in the ethical treatment of crocodiles. For more than 10 years, we have organized monthly visits to our suppliers. We control their practices and their conformity with slaughter standards established by veterinary experts and by the Fish and Wildlife (a federal American organization for the protection of nature) and with the rules established under the aegis of the U.N.O, by the Washington Convention of 1973 which defines the protection of endangered species.
Hermès' Birkin bag is the ultimate status symbol. Created 31 years ago and named for model and muse Jane Birkin, it's become the timeless It bag—one that comes with a five-(or even six) figure price tag, years-long waitlist, and has inspired outrageous cultural moments, like that time Kanye West commissioned a then one-year-old North to draw on one for Kim Kardashian (opens in new tab).
But the bag's namesake wants out. According to a statement released by PETA, Birkin was moved to action when she learned how crocodiles and alligators were harmed in the process of the bag's production.
"Having been alerted to the cruel practices endured by crocodiles during their slaughter for the production of Hermès bags carrying my name … I have asked Hermès Group to rename the Birkin until better practices responding to international norms can be implemented for the production of this bag," she said. PETA notes that this comes in the wake of an investigation into alligator slaughter practices at the farms that supply the luxury label.