Kourtney Kardashian's Sexy Norma Kamali Swimsuit Has Too Many Cutouts to Count
She's not over her vacation to Italy. Neither am I.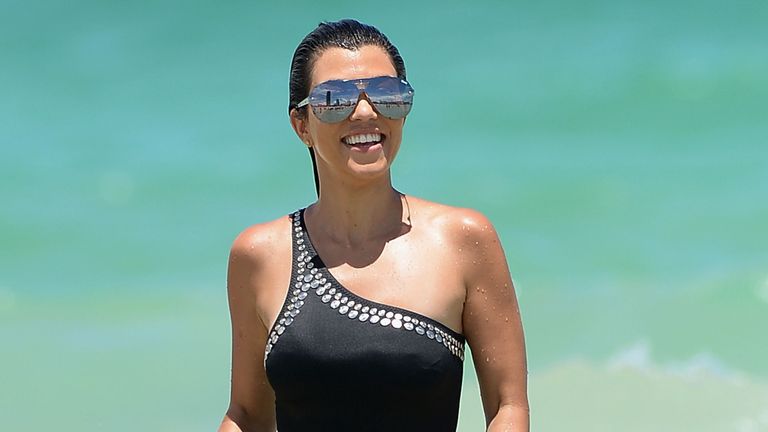 (Image credit: Gustavo Caballero)
Remember Kourtney Kardashian's Italian vacation earlier this month? She swooned around Instagram-worthy destinations such as Rome, Capri, and Portofino with boyfriend Younes Bendjima and her three children. During the trip, the 39-year-old star couldn't resist posting snaps from her trip, including some smoldering bikini selfies. It seems she isn't quite ready to let go of the vacation: Kourtney shared a stunning throwback swimsuit photo on Tuesday.
In the photo, Kourtney is standing on the seats of a boat while wearing a teal swimsuit. The cutout one-piece, designed by Norma Kamali, perfectly highlighted her chiseled abs and arms. Kourtney then seemingly stared into the abyss while wearing a pair of ski-goggle inspired shades. It seems the reality star has an affinity for cutout swimwear; she captioned the 'gram: "Cutout swimsuits, on my app."
While I tracked down her exact swimsuit—the style is called "Bernie"—the piece is sadly sold out. Not to fret, however, as we found similar styles below. This #throwback swimsuit photo comes a few weeks after her boyfriend Bendjima publicly shamed her for posting this sultry bikini pic. (No word yet if he called her out again, though I hope he has since learned better.)
Mikoh, $109 SHOP IT
OYE Swimwear, $350 SHOP IT
Adriana Degreas, $305 SHOP IT
Flagpole, $375 SHOP IT
RELATED STORIES