Harry Styles Snuggling Farm Animals for Gucci Is the News Cycle We Deserve
Your weekly dose of goat news.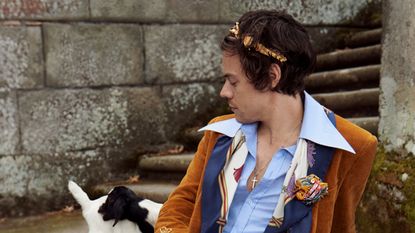 (Image credit: Courtesy of Gucci)
Tuesdays are tough even when they don't begin with the news that Stormy Daniels compared the president's junk to a Nintendo character, so let's take a palate cleanser: In a second set of photos for Gucci, Harry Styles—pop star, Adonis, Second Coming of Mick Jagger But Woker—has posed around an Italian villa in colorful jacquard while cuddling baby goats, lambs, and piglets. I feel like these photos are a beautiful helicopter, ready to airlift us out of incessant push notifications about the Supreme Court nomination, the flooding resulting from Hurricane Florence, and the president's cursèd Toad peen.
The photos are for Gucci's 2019 Cruise collection, and were taken in the 16th-century villa near Viterbo, Italy, according to a press release. You may recall that earlier this year, Styles appeared in his first Gucci campaign, for Fall Winter 2018, in a fish and chip shop accompanied by a pet chicken. But this go-round, it's even better because the goat actually licks Harry Styles in the face (so lucky).
This story has everything: Goats (for which MarieClaire.com has a proven affinity)! Harry Styles! Playful and well-tailored menswear!
See the photos below:
RELATED STORIES
Celebrity news, beauty, fashion advice, and fascinating features, delivered straight to your inbox!
Cady Drell is a writer, editor, researcher and pet enthusiast from Brooklyn.