8 Online Retailers You Should Never Order From
Even the savviest among us can be swindled from time to time.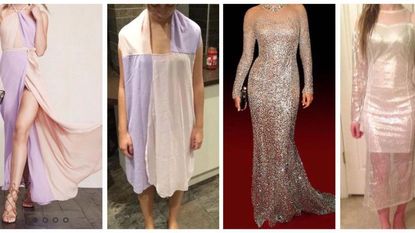 (Image credit: Facebook/Rosewholesale Scam)
Even those of us who consider ourselves savvy when it comes to online shopping may be susceptible to the latest round of compelling e-commerce scams flooding the Internet.
That's because an array of online retailers based abroad (frequently in China) are tempting our budget-minded style consciousness with deals that appear eye-poppingly good, on clothes that are right on trend and apparently super cute…according to the photos used to market them.
But it turns out—as many recent examples have shown—that those deals can simply be too good to be true, and those persuasive photos are merely ripoffs from legit retailers.
Burned shoppers report a range of problems like receiving items way off scale from the size they ordered, waiting months for items to arrive (when the event for which they'd wanted the wardrobe had long past), to discovering the item was unsatisfactory—but finding the return process expensive or impossible. Some even report having their credit card information stolen and used abroad after the purchase.
Even the pros aren't immune to the pull of these sites: Consumer and money-saving expert Andrea Woroch says she too fell victim: "I ordered a necklace that took almost three weeks before it arrived at my house and the cost to return ship these items made the return process nearly pointless!"
Justin Lavelle, the communications director for online background check platform BeenVerified, says buyers must beware. "There are many overseas clothing companies today offering [what they advertise as] gorgeous and trendy clothes for next to nothing," he says. "They show images of the clothes on models that look amazing. But what you see on their site and what you get are usually two different things—cheap fabrics, unrealistic sizing, and impossible returns and refunds."
Lavelle advises shoppers protect themselves by sticking to well-known U.S. companies—and companies with positive reviews. Then, he suggests, familiarize yourself with your chosen company's sizing chart, as well as its return policies, to make sure the window is adequately long to complete a transaction.
Jeremy Gin, who is the co-founder and CEO of the review tool SiteJabber, adds that consumers should use caution when entering credit card info. "We always recommend that if you do decide to buy from an online merchant, use a major credit card with strong fraud protection," he says. "Your credit card company can be an ally if something goes wrong. You can ask for a charge back and they can protect you from other unscrupulous charges."
Gin also suggests following your gut when small details seem off. "Check all unfamiliar sites for professionalism: Typos, bad grammar and poor design can all be indicators of an online business that will not offer its customers a good experience."
Overall, every one of the experts we interviewed echoed the same refrains: "You usually get what you pay for," and "If it seems too good to be true, it probably is."
With that being said, here are some companies to steer clear of no matter what. (Of note, several are owned by the same shady and shape-shifting company Shenzhen Globalegrow E-Commerce Co. Ltd., also known as Global Egrow.)
1. TwinkleDeals.com
Better Business Bureau cites nearly $15,000 in claimed losses from this retailer. On SiteJabber.com, 313 of 460 total reviewers give the company just one star. One reviewer noted, "I have ever before seen quality this poor. Garments were missing hems, sections of fabric were hanging out of seems, sizes were off by a great deal. The garments did not function as clothing on a basic level. Don't even try to return the stuff."
2. Wish.com
This is not a BBB-accredited company, though the bureau registered 235 complaints for it over the last three years. They call the company out for advertising and sales issues, billing and collection problems, delivery issues, warranty problems—but most of all for problems with products (with 177 of the reviewers registering such complaints).
3. FashionMia.com
Of nearly 1,600 reviews on SiteJabber, nearly 900 give it the lowest possible rating. Among the typical complaints is sizing that's way off scale. "Even though I ordered extra large, the clothes all looked like they were made for ten year old!" one reviewer noted.
4. SammyDress.com
Better Business Bureau has not accredited this China-based business, and gives it an F rating (yes, on a scale that goes up to A+). The bureau has in fact issued an alert against the company after the bureau tried to contact it in an attempt to develop a report, but the post office returned the mail.
5. Rosegal.com
SiteJabber reviewers slam this company, with more than 3,000 reviewers giving it a pathetic one-star rating out of five. On Reddit, people talking about the company complain of ill-fitting, poorly made merchandise, and call the whole thing a scam. "I honestly would not even donate these 'clothes' to Goodwill, as they are not only unfashionable, they are not even functional as real clothing," one Redditor wrote. "Paper thin and laughably assembled, their items are the equivalent of something you might win at a roadside carnival."
6. DressLily.com
A measly few hundred reviewers on SiteJabber give this company a satisfactory rating; more than 2,000 of 3,000 reviewers give it one star. Choice words from reviews include "trash," "fraud," "ugly," and "thieves."
7. BeckyDress.com
While SiteJabber contains far fewer reviews for this site—150 compared to several thousand for some of the other businesses on this list—most of those give the lowest rating possible. People cite receiving products that look nothing like the photos on the company's website, constructed shoddily enough to constitute fraud.
8. Zaful.com
This is not a BBB-accredited business, though it does receive an F rating from the bureau. Nearly 600 reviewers out of 830 on SiteJabber give it the lowest possible rating, citing issues like "cheap quality" and "refused to resolve an error." Seems like Zaful should be renamed "awful" based on customer experience.
Follow Marie Claire on Facebook for the latest celeb news, beauty tips, fascinating reads, livestream video, and more.
Celebrity news, beauty, fashion advice, and fascinating features, delivered straight to your inbox!
Alesandra is a veteran digital journalist based in Los Angeles, who has covered travel, food, events, fashion and beauty, entertainment, home, parenting, and viral content for more than 15 years. Her work has appeared in Good Housekeeping, Country Living, Cosmopolitan, Parents, E!, BravoTV.com, BuzzFeed, Business Insider, TODAY.com, and countless other online and print outlets. Alesandra has a masters degree in journalism with an emphasis on cultural reporting and criticism from NYU, and a bachelor's degree from UC Berkeley. An avid traveler, she trots the globe with her husband and their five-year-old twins. Website: https://www.alicedubin.com/