24 Fashion Films to Watch Straight From a Fashion Editor's Queue
When you're sick of The Devil Wears Prada.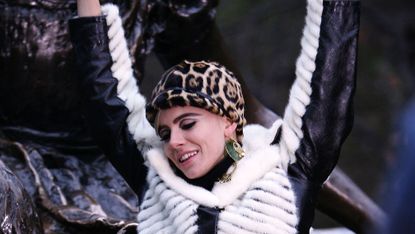 (Image credit: James Devaney)
Part of the job of a fashion editor is being keenly aware of cultural references, both past and present. At Marie Claire, we've had a ton of shoots inspired by old and current films: Pretty in Pink, Belle de Jour, Picnic at Hanging Rock—the list goes on and on. Fashion movies combine the best things in life: drama, romance, and beautiful clothes. They're why we love, and fear, the great Miranda Priestly (Meryl Streep's cinematic embodiment of Vogue editor-in-chief Anna Wintour) or why we bought our first pair of Manolo Blahniks (thanks, Carrie Bradshaw). While The Devil Wears Prada and Clueless will always be classics, there are so many equally enjoyable fashion films and documentaries out there.

Below, we hand-picked a list of not only our favorite fashion films and documentaries, but also the non-fashion flicks that have served to be such an inspiration for designers, it would be a disservice not to include them. Get ready to be inspired.
Marie Antoinette
Fantastical fashion at its finest. This 2006 film, directed by Sophia Coppola, gave us a whimsical and emotional look into the life of Marie Antoinette and high fashion in the 18th century. Costume designer Milena Canonero dressed countless extras and The Times (opens in new tab) reports that the pastel color palette was inspired by not only 18th-century fashion, but also by the color of macarons.
Grey Gardens
This quirky documentary, which quickly became a cult classic, follows two estranged relatives of Jackie Kennedy and their unkempt Long Island estate. The film shows their everyday lives, details stories of their past, and explores how they rarely leave the house. Most significantly, it made Little Edie a fashion icon. A staunch fashion icon, as she would say.

In the Mood For Love
This 2001 film is set in 1960s Hong Kong and tells the story of a doomed love affair. Costume designer William Chang (opens in new tab) custom-made 46 dresses for the film, although only two dozen were actually used. Actress Maggie Cheung wears a new qipao in every scene. All the dresses were silk and featured beautiful floral patterns.
Annie Hall
This 1977 Woody Allen film explores the romantic relationship between Allen and a struggling nightclub singer Annie Hall (played by Diane Keaton). This movie became synonymous with chic menswear dressing, from pantsuits and high-waisted trousers to ties. The iconic look of relaxed slacks, a white button-down, and vest and tie still provide some serious tailored dressing inspo.
Once Upon a Time In Hollywood
The movie gives a comedic take on Hollywood in the late '6os. The story follows Rick Dalton, played by Leonardo DiCaprio, who is struggling to find work in Hollywood while goofing off with Cliff Booth, Brad Pitt, his stunt double. (Pitt makes a serious case for moccasin boots in this Quentin Tarantino flick.) Dalton lives next to Roman Polanski and Sharon Tate, who are also featured in the film. Aside from the storylines, the fashion was on point. Costume designer Arianne Phillips, who was also Madonna's stylist, said that they made most of the characters' costumes, but also sourced from vintage meccas and flea markets in Los Angeles. She also tried to stay true to classic brands of the late '60s, mainly Levi's. In an interview with Esquire (opens in new tab), Phillips also noted that they "did have some fabulous sunglasses for Margot [Robbie] from Ray-Ban. And also Oliver Goldsmith. Both of which recreated 1960s styles for us."
Belle de Jour
In one of Catherine Deneuve's most iconic roles, this movie is the epitome of Parisian sex appeal. It's about a married woman who seeks outside sexual adventures and dabbles in prostitution. Not only does this film make a case for chic lingerie, but it also makes a serious case for both a military coat and patent trench.
Factory Girl
In this tale of Andy Warhol (played by Guy Pearce) and Edie Sedgwick (played by Sienna Miller), costume designer John Dunn transforms the cast into their mod '60s characters. Miller, who plays Sedgwick, sports thick black eyeliner, bold brows, and statement earrings in an effort to become the character. Fun fact: About 90 percent of the film's wardrobe were vintage pieces sourced from Los Angeles and New York to make the fashion feel authentic.
Almost Famous
Who doesn't want to be Penny Lane? A bright ray of light, Kate Hudson plays the role of a 16-year-old groupie to a rock band in the '70s. One of the most iconic looks to come out of this movie is Lane's fabulous shearling coat. Fun fact: Costume designer Betsy Heimann revealed in Dazed (opens in new tab) that the outerwear was actually made out of a rug and some upholstered fabric for the collar.
The Virgin Suicides
Set in the '70s in the Midwest, this movie tells the tale of five sisters living with very strict Catholic parents when a tragedy happens. One of the many highlights in this film are the outfits. Costume designer Nancy Steiner (opens in new tab) selected vintage pieces, from "'70s stripes and button-down skirts to virginal Catholic prom dresses" to paint a vivid picture of the styles back then. In an interview with Fashionista (opens in new tab), Steiner elaborated on the prom dresses, saying, that when planning the looks, she recognized that the "mom was very frugal, so there was hand-me-downs I thought about and, for instance, the girls' prom dresses, I made those with the thought that her mom bought a single pattern at the fabric store and made those four dresses out of the same pattern."
Blow Up
In case you somehow forgot why Veruschka is one of the greatest supermodels of all time, this movie will remind you. This Michelangelo Antonioni film chronicles a fashion photographer, who shoots models like Veruschka, and one day photographs something that he thinks could be part of a murder. This movie takes place in London and captures the essence of the swinging '60s.
The Great Gatsby
In the 2013 glitzy take on F. Scott Fitzgerald's classic novel, The Great Gastby, director Baz Luhrmann recreates 1920s flapper glamour. In an interview with The Hollywood Reporter (opens in new tab), costume designer Catherine Martin said that she was "in charge of creating 1,700 vintage designs for the cast. To depict the wealthy East Coast characters, [she] enlisted the help of designer Miuccia Prada, who reinterpreted 40 classic styles that were a mixture of European glamour and New York sophistication." Watch for the clothes, stay for Leonardo DiCaprio's spectacular performance.
A Single Man
This film, directed by Tom Ford, takes place in Santa Monica in the '60s and chronicles a man who's mourning the death of his long-time partner. Ford called upon costume designer Arianne Phillips and together they focused largely on men's tailoring. In an interview with AnOther magazine (opens in new tab), Ford stated the the importance of undergarments, saying that "a great deal is owed to period undergarments which many period films forget to employ. They give the actors the posture, stance, movement of the time and make period clothing look 'period.'"
The Cook, The Thief, His Wife & Her Lover
In this 1989 film, a mobster acquires an upscale restaurant and begins to dine there nightly, while scaring off all the customers. His wife begins an affair with a guest who dines there and the mobster focuses on revenge. The costumes, designed by none other than Jean Paul Gaultier, focus on fetishism, opulence, and are testaments to the fascinator.
Travels With My Aunt
This film, known for its over-the-top glamour and lavish outfits, won Best Costume Design at the Academy Awards in 1973. At his mother's funeral, a buttoned-up banker meets an eccentric woman claiming to be his aunt. Together, they go on an adventure to Europe and North Africa to rescue an old lover of hers. Featuring fabulous gowns, fur-trimmed frocks, and a mix of dramatic hats, this movie showcases flamboyant fashion at its finest.
Uptown Girls
In this 2002 coming-of-age story, Brittany Murphy plays an heiress to a rockstar who soon looses her fortune and is forced to become the nanny to a type-A eight year old, played by Dakota Fanning. Costume designer Sarah Edwards dresses Murphy in fabulous cocktail dresses, which she wears at 8 a.m. no less and there is never a flat shoe in sight. Murphy is extremely well dressed in this movie and her character becomes somewhat of a fashion icon.
Mon Oncle
This 1958 comedy by Jacques Tati is about a French family that lives in an ultra-modern home in a modest neighborhood. The home itself pokes fun at modernism and has been a source of inspiration for several fashion designers. Fashion shows like Jil Sander spring 2012 (opens in new tab) and Jacquemus fall 2019 (opens in new tab) both had the house's influence as part of their inspiration.
Blade Runner
This 1982 sci-fi cult classic has been an inspiration for designers for more than thirty years. From creating runway looks inspired by the movie to even beauty moments like the eye-mask makeup, we've seen the movie's influence at shows such as Dries Van Noten spring 2020 (opens in new tab), Raf Simons spring 2018 (opens in new tab), and Yohji Yamamoto's 2017 fall show (opens in new tab).
Funny Face
Instead of pressing play on Breakfast at Tiffany's again, dive into this other Audrey Hepburn classic. While on assignment, fashion photographer Dick Avery (Fred Astaire) meets Jo Stockton (Hepburn), a shy bookstore employee whom he takes a photo of by accident. Avery thinks she could become a model; the two travel to France and romance ensues, but it won't be long before they encounter obstacles. Get ready for some fashion in the city of love. This movie is best paired with macarons and coffee.
Sex and the City
By now, you've probably seen Sex and the City (the TV show) at least a handful of times thanks to the reruns on E! All I have to say is: Thank you Patricia Field, thank you. The legendary costume designer responsible for Carrie, Miranda, Samantha, and Charlotte's looks on the television series returned to outfit the ladies once more for the 2008 film. From the wedding dress photo shoot to the final scene when Carrie returns to the closet of every woman's dream to collect her blue Manolo Blahniks, there's more than enough glamorous fashion moments to enjoy in between the tears and laughter.
Crazy Rich Asians
The clothes in CRA aren't just fancy, they're outright opulent. The film's costume designer, Mary Vogt, worked with director Jon M. Chu to create some unforgettable looks, from Araminta's wedding gown (opens in new tab) (which was really a bodysuit with a skirt attachment) to Rachel's Cinderella moment in the pastel blue Marchesa. Featured designers include global brands like Ralph Lauren and Dior, as well as local Asian designers like Carven Ong (opens in new tab); accessories came from jewelry houses including Bulgari and Chopard, who brought their own security teams to set. The movie was history making—and not just for the costumes: It is the first to feature an all-Asian cast since the 1993 film The Joy Luck Club.
Confessions of a Shopaholic
From the title alone, you know this film is going to feature high amounts of fashion. This 2009 film, based off a book by Sophie Kinsella, is about journalist Rebecca Bloomwood (played by Isla Fisher), who's so addicted to shopping that she ends up drowning in debt. While trying to get her foot in the door at fashion magazines, Rebecca accepts a job at a financial publication as its advice columnist, and her writing turns into an instant hit. Meanwhile, Rebecca still has a mountain of bills to pay off—how will she do it?
Coco Before Chanel
This biographical drama focuses on the early life of French designer Coco Chanel, from her relationship with English businessman Arthur Capel to how she first launched her career as an exquisite hat maker. The designer reportedly closely guarded her private life (opens in new tab) from the press, and this movie attempts to reveal parts that not many know. Coco Before Chanel was nominated for four BAFTA Awards and the Academy Award for Best Costume Design, so you know the fashion here will take your breath away.
Dior and I
When you want to take a break from rom-coms, transport yourself into the atelier of Dior with the documentary Dior and I, which takes viewers behind-the-scenes to reveal what goes on inside the acclaimed fashion house. You get to see Raf Simons' first haute couture collection as the house's (then) artistic director, in addition to all the hardworking seamstresses and collaborators you don't hear enough about. Consider this documentary a mini history lesson.
The True Cost
Eco-conscious viewers interested in exploring fashion through the lens of sustainability will appreciate The True Cost. The documentary explores topics like who really makes our clothes and what environmental price is paid for that garment to end up in our closets. There are interviews featuring designer Stella McCartney, Italian film producer Livia Firth, and Indian activist Vandana Shiva. The movie might make you feel uncomfortable—even guilty—about shopping...and that's a good thing.

For more celebrity news, beauty and fashion advice, savvy political commentary, and fascinating features, sign up for the Marie Claire newsletter.
SUBSCRIBE HERE (opens in new tab)
RELATED STORIES
Katie Attardo is the Accessories Editor at Marie Claire, covering all things fashion and jewelry-related.