I Did a Virtual Consultation With Katie Holmes' Stylist, and It Revolutionized My Wardrobe
Now's the perfect time to do it—and it's only $150.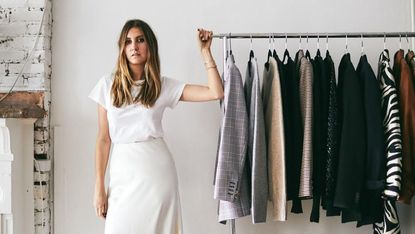 (Image credit: Sandra Semburg)
Marie Claire Newsletter
Celebrity news, beauty, fashion advice, and fascinating features, delivered straight to your inbox!
Thank you for signing up to Marie Claire. You will receive a verification email shortly.
There was a problem. Please refresh the page and try again.
I'm in my living room, desperately arguing to keep a petal pink bomber jacket—an item of clothing I've worn once, by the way. I hold it up for celebrity stylist Allison Bornstein, as we do an hour-long virtual styling session via FaceTime. Bornstein smiles at me in a chummy, conspiratorial way: I've known her for all of 40 minutes, but I feel like she gets me. "Pink is hard," she tells me gently. "I prefer the olive [bomber] you showed me. Do you need them both?" She's right, of course, and with a sigh I place the pink in my "Never/No" pile.
Bornstein, who's been featured in Vogue, The Real Real, and Who What Wear, is taking me through her styling edit system. She's worked with celebs including Katie Holmes, Gigi Hadid, and Isla Fisher, but you'd never know it: Free of pretension or judgment, she comes off merely as a kind friend who's willing to tell you the truth about your sartorial decisions. Collaborating with her is an absolute blast—and it revolutionized the way I approach my own style.
Back in mid-March, when we were all adjusting to the coronavirus quarantine, Bornstein opened herself up to virtual styling sessions. Since then, she's worked with more than 35 women like me. It's $150 an hour, $50 of which goes to the New York City Food Bank.
Bornstein explains that she'd never done remote consulting before, because she didn't feel like it'd be successful if she wasn't there in person. "Now I'm realizing, actually, it doesn't really matter at all—you get such a sense [of style] by seeing somebody's clothes." When I ask if she'll continue post-quarantine, she replies, "One million percent. I love it so much. I feel like it's the future."
Holmes is one of my favorite celebs and, as a result, Bornstein has been on my radar for a long time. (Holmes's current style-aissance is thanks in large part to Bornstein.) Upon following Bornstein, I quickly noticed she was doing something other celebrity stylists I followed weren't: going into painstaking detail about why the looks worked and how to replicate them yourself. When she's inspired by an outfit—one she styled or just one she loves—she highlights specific items at different price points and actively encourages women to use things they already own (a.k.a. shop their own closets). It's high-low fashion, radical transparency, and sustainable shopping all in one. Her style ethos is that the look should just be an elevated form of what you already have available—even when she's working with celebrities, including Holmes.
I've taken countless screenshots of looks Bornstein has put together. She's mindful of all her followers, not just the ones who are blessedly six feet tall and skinny. Whether you're an expert—"How do I style my new Bermuda shorts for work?"—or novice—"So, tell me about straight-leg jeans again?"—she's got something for you.
I've never had a strong sense of my own style, but I operate under the guiding principle: "If it's not nice enough to visit my Marie Claire coworkers, don't wear it." Thus, my wardrobe is a Tale of Two Closets—the old, bland wardrobe I wore when I worked in a corporate environment at 26, and the chic style I'm growing into as a 30-something writer for a fashion magazine. Growing out of an old wardrobe is a common problem, says Bornstein, and her five-step system is honestly one of the best things I've ever done for my closet.

In a nutshell:
Pull out the clothes you always wear.
Pull out the clothes you never wear. Whatever's left will be Neutrals.
Categorize your Nevers into three categories: No (I don't want to wear this anymore), Not Now (it's not the right season/I'll come back to it), and How? (I love it but don't know how to wear it). Put away the Never/Not Nows, give away/consign/sell the Never/Nos.
Using your Always items, see if you can make new outfits from your Never/Hows?.
Integrate everything back into your closet (the Always, the successful Never/Hows?, and the Neutrals). Organize by clothing type and color.
For my virtual session, I completed steps 1–3 and sent pics to Bornstein in advance so we'd be ready to talk. A huge chunk of the work was already done: Those first two steps are so much harder, and revelatory, than you think. No longer can I hide behind "But the pattern's so pretty!" or "What if I need it one day??" (I can't do the Marie Kondo method: All my clothes spark joy.) Bornstein's system got rid of a solid 40 percent of my closet—I tried to be strict with myself about what I actually wear and what fits me. It's so freeing. Completing step one means I now have a perfect capsule wardrobe, too.
As soon as our call begins, Bornstein identifies the "power items" (plaid blazer, vegan leather jacket) that make me look my very best. Then, we make outfits—I have a lot of pieces I love, but rarely do I feel like they gel. Bornstein talks about mixing textures, lengths, and shapes, tying them together with themes and color. She's a huge fan of layering, and shows me what makes me look most streamlined. She spots a number of duplicates and has me pick the one I like most, sports bracket style (goodbye, pink jacket), and warns against the "buy 20 of the same item if you love it" misconception. Too many clothes means you won't wear them all, and you'll have more than what you need.
Bornstein also helps me come to terms with styles that just aren't "me." Schoolboy blazers don't fit me in the shoulders, and that's okay. Oxford shirts, which never close over my chest, could be worn over a cami or dress instead of buttoned up. As I joke to Bornstein, it's like, Stop trying to make fetch happen. Fetch, in this case, being the styles I desperately wish I could pull off and cannot.
In essence, she's showing me how to be kinder to myself (my shoulders aren't THAT broad, she insists) and how to lean in on outfits that make me feel great—know what looks good, then tweak the formula. Focus less on your fashion weaknesses, and more on strengths.
After we mix and match, Bornstein has me take outfit pictures to save on my phone:
And she combines items I'd never consider putting together—a pretty polka dot peplum top with my plaid blazer, for example. I never thought I could pull off pattern-mixing—but Bornstein makes it look easy.
I still need to finish purging and organizing. But I'm already well on my way to experimenting with my own closet and honing my signature style—the mix and match opportunities are endless. Bornstein tells me excitedly, "I think you do have a style. I can already see it!"
I realize I'm in a privileged place: Having clothes to purge, money to spend on a styling session, the time to make an edit. I've already coordinated a virtual clothing swap with friends, and the rest are going straight to Goodwill—even if I think I might make money, I'd rather they have a good second life with someone who needs them. Plus, now I understand the true gaps in my wardrobe, so I'll wear what I have and only buy what I need.
I've already told Bornstein to pencil me in for another session soon. I feel cooler, more confident, and (for the first time) excited about getting dressed every day.
And to quote Carrie Bradshaw, "Well, that's just fabulous."
---
For more stories like this, including celebrity news, beauty and fashion advice, savvy political commentary, and fascinating features, sign up for the Marie Claire newsletter.
Related Stories
Celebrity news, beauty, fashion advice, and fascinating features, delivered straight to your inbox!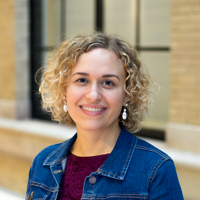 Katherine's a Boston-based contributor at Marie Claire who covers fashion, culture, and lifestyle—from "Clueless" to Everlane to news about Lizzo. She's been a freelancer for 11 years and has had roles with Cosmopolitan and Bustle, with bylines in Parents, Seventeen, and elsewhere. It's "I go to dinner," not "Her huge ego," but she responds to both.