What I Wear on Repeat: My Cartier Love Ring
I could stare at it all day.
In our biweekly series, editors share the item they wear on repeat, whether it be a basic white tee or a super-trendy jumpsuit. Prepare yourself (and your credit card) for some guilt-free shopping.
My first memory of being mesmerized by gemstones and diamonds is going to the jewelry stores that used to dominate the entire length of Canal Street in Chinatown, NYC. My mother would shop hop and inquire about the newest merchandise as I peered through the glass displays, captivated by the sparkly sapphire rings, jade bracelets, and glittering gold earrings encrusted with rubies.
Once for "show and tell" in Kindergarten, I snuck into my mom's jewelry drawer and borrowed a sapphire ring to present to my peers and teacher, proudly boasting that my mom had bought it for me. I don't remember what else I said or how it was received, though that's probably for the best—as an adult, I'm terribly embarrassed I did that as a child. I do recall wrapping the precious jewel up in a white envelope and sneaking the piece back into my mom's collection before she noticed it was missing. The anxiety of getting caught by my mom/potentially losing her very expensive jewelry/feeling like a fraud at six years old for lying to my teacher, kept me from touching my mom's precious baubles ever again.
For long after that experience, I had no interest in fine jewelry. The idea of losing or misplacing something worth hundreds, or possibly thousands, of dollars made me nauseous. So I stuck to $20 Forever 21 earrings as a teen, and, as I grew older, gravitated towards demi-fine jewelry from popular DTC brands.
It wasn't until I came across Cartier during one of my Tumblr re-blogging sessions (remember those days?) that my interest in luxury jewelry ignited again. I loved the little screwhead motifs that decorate the bracelets and rings (later, I learned what these signify and the full history of Cartier's LOVE collection). I thought they looked elegant and refined—not flashy like a brightly colored gemstone, but not boring like plain sterling silver. Plus, the fact that one can immediately identify the piece as Cartier spoke to my logo-obsessed high school self. My admiration for the LOVE collection, particularly the ring, remained just that, however, as a teenager with only lunch money to spare.
Fast forward to my 20s. With a secure job, the thought of buying a Cartier LOVE ring was more attainable. The idea of someone buying it for me, for a special occasion, seemed even better. After a year of dating, I jokingly said to my boyfriend that if we make it past "hump year," I deserve a Cartier ring for putting up with him. (In hindsight, I'm so glad he did not take offense to this!) I didn't think he would fulfill my wish/joke, but when our three year anniversary rolled around, he presented to me, on Christmas day, a LOVE ring. It was beautiful. I was both ecstatic and in disbelief.
I wore the ring on New Year's Eve 2019 and almost every day since. The LOVE ring makes me feel special, fancy, and dressed up even if I'm just in yoga leggings. Though the ring looks great when paired with other gold pieces from my jewelry collection, I learned that the LOVE ring makes even more of a statement when worn by itself. It even makes your fingers look pretty when you aren't wearing nail polish. I've worn my LOVE ring to weddings, to the office, to press dinners, and everywhere in between. This is an all-occasion ring that I know I will wear forever, without worrying it will drop out of style. (Cartier also offers a specific LOVE wedding band.)
If you're thinking about purchasing the LOVE ring for yourself or for someone special, I do have some tips. Figure out where you want the ring to sit and the color (it also comes in white gold), because the sizing of the ring is pretty precise. I wanted to wear the ring on my middle finger, so I had to size up. Keep in mind that 18k yellow gold does scratch easily. The first time I noticed scratches on mine—immediately after I wore it on NYE—I anxiously booked an appointment with Cartier specialists and was told this was normal. The luxury house also offers shining services, if you need it.
Because this ring is my most prized possession, I treat it as such. Every time I take it off, I wipe it down and put it back into its signature red Cartier pouch. I never leave this on the bathroom sink or haphazardly tossed into my jewelry box. Sometimes I open the pouch just to check it's still there. On nights I go to bars or parties (pre-COVID), I make sure not to drink too much for fear of losing my Cartier ring the way I have other jewelry. You could say this ring has saved me from a bad hangover several times now.
One might read all this and say I'm paranoid (I probably am!), but I take all these precautions because I hold the LOVE ring close to my heart. I will always keep a close eye on this timeless ring. And, my future child will certainly not be borrowing it for "show and tell."
Some of my favorite pieces to style with the LOVE ring:
RELATED STORIES
Celebrity news, beauty, fashion advice, and fascinating features, delivered straight to your inbox!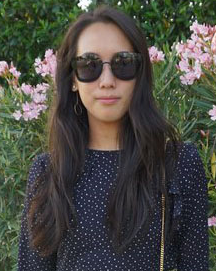 Marina Liao is the former fashion news editor at MarieClaire.com, where she covered celebrity style (from Meghan Markle to Katie Holmes), fashion trends, and shopping advice, plus conducted original interviews with industry insiders. She's also had many opportunities to write content in other areas such as beauty, food, tech, and even home. Her previous fashion stints include POPSUGAR and Cosmopolitan.