The Jumpsuit Is the Ultimate One-and-Done Look
It couldn't be easier.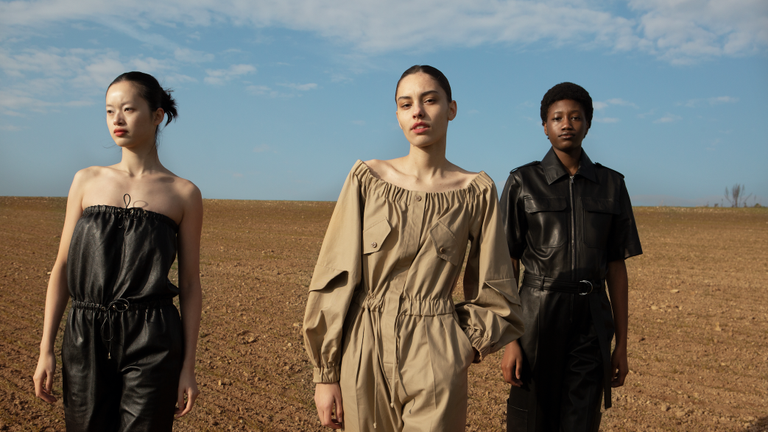 (Image credit: Betina Du Toit )
The jumpsuit is an effortlessly cool, one-and-done outfit that delivers a chic and finished look each time you throw it on. This must-have addition to your wardrobe has become a tried-and-true styling trick for when you just don't know what to wear.
From sleek renditions that can go up against any of your best date-night dresses to the relaxed and slightly slouchy silhouettes that give your current favorite off-duty look a run for its money, keep scrolling to discover our favorite no-fuss options for spring,
Utilitarian Jumpsuits
Deep pouch pockets lend these jumpsuits a utilitarian vibe. Opt for vibrant colors for a more feminine feel.
Strapless Jumpsuits
For a sophisticated alternative this spring, try a strapless jumpsuit with a wide-leg silhouette. Accessorize with an oversized scarf wrapped around your head or knotted around your neck for that perfect vintage touch.
Leather Jumpsuits
Make an entrance with an edgy rendition. The leather jumpsuit is the fashion-forward addition your wardrobe is missing.
Little Black Jumpsuits (LBJ)
The LBJ comes in a variety of shapes and silhouettes, assuring you perfect style no matter the season or occasion.
See Even More of Our Favorite Jumpsuits
FASHION EDITOR: GAELLE BON / HAIR: SADEKLARDJANE / MAKEUP: YVANE ROCHER / MODELS: GINETTE MENDES AT THE CLAW; WISSEM MOREL-OMARI AT ELITE; OPHÉLIE HIM AT MADEMOISELLE / SET DESIGN: JULIETTE ZAKOWETZ / PRODUCTION:LOUIS2
A version of this story appears in the Spring 2021 issue of Marie Claire.
RELATED STORY