The 24 Best Jumpsuits for A One-and-Done Look
It couldn't be easier.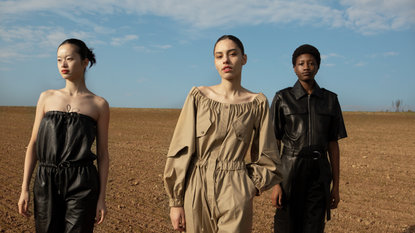 (Image credit: Betina Du Toit )
The humble jumpsuit is an effortlessly cool, one-and-done outfit that delivers a fresh and finished look each time you throw it on. It's become a bona fide wardrobe staple, with the best jumpsuits being a tried-and-true styling trick for when you crave simplicity, sans the fussiness of a dress, or straight-up don't know what to wear.
With your everyday favorite jumpsuits, like a cotton or linen design, simply accessorize with a great bag and your shoes of choice—like white sneakers, flats, ankle boots, or sandals. Maybe toss on a baseball cap with slouchier styles to up the cool factor. With dressier versions, like a leather or silk all-in-one, add polished jewelry to the mix, like modern pearl earrings or layered necklaces. And in cold weather, layer a fitted turtleneck underneath your warmest style, and finish with a puffer coat and cashmere scarf.
From sleek renditions that rival your best date-night dresses to the relaxed silhouettes guaranteed to give your go-to off-duty look a run for its money, keep scrolling to discover 24 no-fuss jumpsuits we're loving now.
Utilitarian Jumpsuits
Deep pouch pockets lend these jumpsuits a utilitarian vibe. For bolder moods, opt for a vibrant color.
Strapless Jumpsuits
Try a strapless jumpsuit for a sophisticated alternative to occasion dresses. Accessorize with sleek jewelry or a scarf wrapped around your head or knotted around your neck for that perfect vintage touch.
Leather Jumpsuits
Make an entrance with an edgy rendition. The leather jumpsuit is the fashion-forward addition your wardrobe is missing.
Little Black Jumpsuits
A black jumpsuit—aka the LBJ—comes in various fabrics and silhouettes, assuring you perfect style no matter the season or occasion.