5 Shoe Trends of 2021 You'll See Everywhere
Step in the right direction.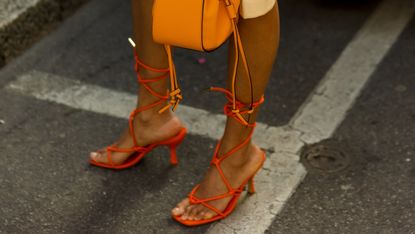 (Image credit: Darrel Hunter)
While 2020 was a year of fashion hibernation, footwear as a category changed dramatically. For many, it felt preposterous to put on a heel to the grocery store, so sneakers, flats, and slippers became the default go-tos. But with restrictions easing and vaccinations allowing for more freedom, it's time to step out again with our best feet forward. But don't stress about going from zero to 100 quite yet—these are the trends that will ease us back slowly into more fashionable footwear.
Lug-Sole Loafers
Rubber lug-sole loafers slowly have taken the place of the trend we love to hate: chunky-soled dad sneakers. Like their sporty counterpart, these heavy tread loafers have been seen paired with sweats, mini skirts, and floral midi dresses, for a more polished look that feels so right for right now.
Strappy But Sensible
Lower-heeled sandals still feel super sexy with strappy ankle-wrap details. Perfect for the return to boozy brunches and date nights without stressing your feet out in stilettos. Try one in a pop of color or a subtle metallic.
Sling It On Back
At Marie Claire, our love for slingbacks is no secret. Closed-toe but breezy for your heels, this style is the perfect transitional weather- and work-appropriate shoe. We've rounded up some flat versions which are a stylish break from the traditional ballerina flat.
Shocking Pink
The new Schiaparelli's growing popularity on the red carpet, and the influence of the iconic house and its codes such as Shocking Pink, has definitely trickled down into other parts of the fashion sphere, including footwear. A touch of this color has the "check me out" effect we're all looking for when getting dressed again.
Graphic Heels
While super-heels remain polarizing, we've seen much sturdier versions in graphic shapes. These funky silhouettes not only attract attention, but help keep the wearer more stable. Think of them as stiletto training wheels after a year out of practice.