The Most Comfortable Flats To Wear All Day
With these chic and comfy options, you'll be unstoppable.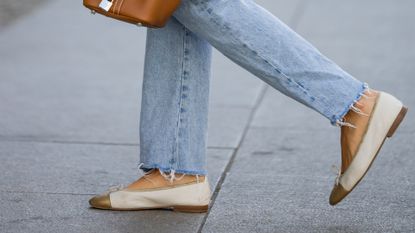 (Image credit: Getty Images)
Marie Claire Newsletter
Celebrity news, beauty, fashion advice, and fascinating features, delivered straight to your inbox!
Thank you for signing up to Marie Claire. You will receive a verification email shortly.
There was a problem. Please refresh the page and try again.
"Comfortable flats" may sound a little redundant—but just like feet, not every flat is the same. The shoe is held to pretty high standards, after all: As a slip-on that needs to be super walkable as well as work- and party-appropriate, flats can't always get away with comfort the same way a sneaker can. And you probably don't want to wear a sneaker to work for an important business meeting or on date night. But what's unacceptable is a flat that pinches your toes, rubs your ankles, or falls flat (hah!) when it comes to arch support. The best flats are comfortable and easy to wear because, otherwise, they contradict their purpose as a supposed-to-be-effortless shoe.
Marie Claire tapped Marion Parke, a podiatric surgeon turned footwear designer, for insight on what to keep in mind when looking for comfy and walkable flats (surprise, surprise: support is key). We also turned to our favorite comfortable shoe brands—think Rothy's, Allbirds, and Vionic—and rounded up the best flats in all categories to make sure you're supported in any situation. From ballet flats to slip-on clogs to Oxford loafers, click through to find the ones that will carry you here, there, and everywhere. Let's try to see your favorite sneakers do that!
What to Look For in Comfortable Flats
When it comes to the products Marie Claire recommends, we take your faith in us seriously. Every product that we feature comes recommended by a MC writer or editor, or by an expert we've spoken to. Learn more about how we review products.
Yes, it sounds counterintuitive to be thinking of height when shopping for flats, but hear us out: "Sometimes a flat is too flat and wearing it is effectively like going barefoot, which can aggravate the Achilles tendon or plantar fascia," explains Parke of the eponymous shoe brand. "Even just a half-inch heel can help reduce the tension on the Achilles tendon and plantar fascia. Anyone who has had plantar fasciitis knows what I'm talking about."
"Try doing what I call 'the shoe test,' where you hold the shoe from heel to toe, bend it, and then look closely at where the shoe bends," offers Parke. "The only place a shoe should bend is across the widest part of the toe box. Avoid wearing shoes that bend across the arch or midfoot for an extended period of time. When a shoe bends or folds across the midfoot, it isn't providing support to your arch, and that can lead to soreness and fatigue with weight-bearing over time."
1/14
Rothy's The Point Mary Jane
Rothy's has gained a cult following for its sustainable, not to mention washable (!), flats made from repurposed water bottles. The Point Mary Jane style has the same "no breaking in necessary" construction, plus it secures the top of your foot with a stretchy strap for extra support and cute factor. Try it in crisp white or jet black, and you can rest assured that they'll carry your size: The pointed-toe Mary Jane is offered in sizes 5 through 13.
Customer Review: "I LOVE these shoes and bought another pair. The knit makes it so comfortable. I forget I'm wearing shoes! The straps on the shoes make them even more comfortable and keep the shoes on without worrying about slippage."—Rothy's
2/14
Vionic Willa Loafer
Vionic does a great job with making shoes that your feet need and your heart wants—take, for instance, these sleek black loafers. This no-fuss, no-frills style is crafted using the podiatrist-approved shoe label's Orthaheel technology, which supports the foot's natural alignment. They have a pillow-soft cushioned footbed and removable orthotic insole with arch support (hello!). These loafers are chic for work, teamed with wide-leg trousers and a blazer, but you'll also find yourself grabbing them for weekend strolls because they're just that comfortable.
Customer Review: "Just what I was looking for and they fit without any break-in. I have hard-to-fit feet (narrow heel, high arches and insteps, and a bunion only on my right foot), and this style didn't slip off my heel or rub my bunion. Better fit on my feet than the avian brand."—Nordstrom
3/14
Tod's Gommini Driving Moccasin
Tod's Gommino loafer is one of the most classic loafer styles out there. The brand has perfected this style over decades to make it nearly break-in free. This particular iteration, crafted from buttery soft ivory leather, is a smart pick to invest in this season because its minimal, anti-flashy look guarantees it will always be on trend. This loafer is handmade in Italy and boasts Tod's most recognizable footwear code: the pebbled rubber sole that offers impressive traction, ensuring you don't slip or slide.
Customer Review: "The perfect classic shoe for every occasion. They are not only extremely comfortable, but they are also timelessly stylish. I am in love with them—I wear them almost every day!"—Nordstrom
4/14
Allbrids Tree Breezers
You likely are familiar with Allbirds for its walking-on-a-cloud sneakers, but have you seen their selection of uber-comfy flats? If not, its beloved Tree Breezers are absolutely worth having on your radar—especially if you're someone who's on their feet all day or walks all around town. Reminiscent of the hand-knit crochet slippers you might have received for Christmas (thanks, Grandma), these breathable slip-ons are super soft and breathable due to being woven from eucalyptus tree fibers. Oh, and they come in 15 (!) different colorways.
Customer Review: "Best ballet slipper for all-day comfort. This beautiful shoe provides enough support to keep you on your toes the whole day while looking pretty sharp along the way!"—Allbirds
5/14
Tory Burch Bow Logo Cap Toe Ballet Flat
Ask any Parisian woman and they'll tell you that a ballet flat is a crucial component of low-effort French fashion. But beyond the connotations of an effortless, je ne sais quoi aesthetic, the shoe is, in simple terms, a wardrobe workhorse. A neutral flat is endlessly versatile—Tory Burch's khaki and black cap-toe option is the perfect example. Try this bow-adorned style with jeans and a white T-shirt as a weekend-ready look, or dress them up with a wrap dress and head into the office.
Customer Review: "These shoes are so chic! They add the perfect feminine touch to every outfit. I recently wore them on a week-long trip and broke into them super nicely. Not only are they extremely cute, but they are also my most comfortable and go-to flats!"—Nordstrom
6/14
Naturalizer Samantha Half d'Orsay Flat
Naturalizer is an old standby for comfortable shoes. This pointed-toe ballet flat in a soft taupe is a no-brainer to add to your work outfit rotation—can't you already envision these babies teamed with your favorite collared shirt dress or white button-down shirt and trousers combo? Equipped with the brand's signature contour technology, this half-upper design features a cushioned footbed with arch and heal support, dual-density padding, and flexible mobility that ensures this pair will definitely pass Parke's aforementioned 'shoe test.'
Customer Review: "LOVE these shoes. They took a couple of wears to break in, but after they were broken in, they became my go-to black flats that I wear multiple times per week. They're very comfortable and stand up to lots of city walking and running around the office at work. They can be dressed up or down. For me, they ran spot-on, true to size. Will definitely be ordering these in other colors."
7/14
Everlane The Day Glove
Everlane's Day Glove was designed to be a wear-all-day work shoe. It's crafted out of buttery soft leather that gives and molds over time, naturally creating a special, one-of-a-kind fit for your foot. The pair features back pull tabs that make them easy to slip on, side vents that ensure your feet stay cool and dry, and a cloud-like cushioned insole. This sleek flat shoe is offered in 11 colors, ranging from cocoa brown to crisp cream to mulled maroon.
Customer Review: "This pair is my fourth Day Glove Flats. It fits snugly but never pinches. Its so comfortable I can wear them on my first day without any problems. As they get older, the buttery soft leather stretches with a bit more ease and it feels like slippers. I can't live without them."
8/14
Gucci Brixton Collapsible Apron Toe Loafers
What's there to say about a good pair of Gucci loafers that some other fashion editor hasn't already covered? Crafted in Italy out of fine leather and touting the luxury label's signature horse-bit hardware—the prepster shoe ranks high on fashion's list of all-time iconic silhouettes. But here, we're highlighting its collapsible model that allows for customization per the wearer's preference. With a simple fold, this hybrid shoe transforms into a mule, allowing the ankle to be unencumbered, free, and—you guessed it—comfortable.
Customer Review: "They're very soft and comfortable. I swallowed hard before spending this much on a pair of shoes, but I'm going to be enjoying these for years."—Bloomingdale's
9/14
Cole Haan Ballet Flat
As discussed, a supportive ballet flat is hard to come by, especially if you have a high arch. This Cole Haan pair comes with the label's signature Cloudfeel cushioned footbed to offer support, making this one of the most comfortable versions of the style. They also feature a micro-micro heel, offering just enough lift so your feet aren't firmly on the ground. Notice the squishy elastic at the ankle, too, which ensures the back of your foot flexes freely with minor irritation.
Customer Review: "These ballet slipper shoes are one of my favorite things I have discovered in recent years. Loved my first pair so much I bought a second because I want to wear them so much. They sculpt to your feet and I was worried that they would be rigid and narrow and they are absolutely not and in fact I recommend for average and even those with wider feet. Great product—Nordstrom
10/14
Ferragamo Varina Patent Leather Ballet Flats
It's hard to keep up with fashion's front-running, buzzy brands, both up-and-coming and legacy. But take it from MC's Fashion Team: Ferragamo is the label to keep taps on. Creative director Maximilian Davis masterfully toes the fine line of paying homage to historic house codes while ushering the brand in a contemporary direction. Case in point: its patent-leather bow flats. They tie into the fresh-feeling red color trend (which, coincidentally, Ferragamo helped kick off), while calling on a timeless, feminine ballet silhouette.
Customer Review: "I have always admired these simple shoes and because of an orthopedic problem, needed to find a flat, attractive shoe. These shoes are beautiful on the foot and probably the MOST comfortable shoe I own! I love these shoes."—Saks Fifth Avenue
11/14
Marion Parke Chase Loafer
Parke knows a thing or two about foot comfort. All of her shoes are made with this in mind but with excellent-looking design at the forefront, too. "My favorite comfortable flat this season is our Chase Loafer," she tells Marie Claire. "The new hardware detail and the elongated toe shape are a feminine approach to a traditionally more masculine style. I have mine on repeat with denim and knits!" These sleek loafers can easily replace any work pumps you'd normally grab first.
Customer Review: N/A
12/14
Birkenstock Boston Clogs
Yes, Birkenstocks. Admittedly, they're a different vibe than the other flats on this list. One could even go so far as to call them controversial or, as their haters might dare, even ugly. But no one can deny their comfort level. With the shoe's contoured and cradling footbeds, they're engineered to support your foot's arches and heels. Also to note: clogs are trending this fall, which makes Birkenstocks' Boston slip-on a strategic buy this season. Choose between the mossy taupe pictured here or try a bolder hue, like ballet slipper pink or salted caramel.
Customer Review: "Happy feet. Very comfortable and easy to walk in with excellent arch support."—Bloomingdale's
13/14
Madewell The Greta Ballet Flat
Another breakaway fall 2023 shoe trend worth having on your radar? Mary Jane flats—like this cheetah-spotted pair offered by Madewell. It is made from textured calf hair, which adds to the wild nature of the animal-printed shoe and is an easy solution when you want to add a bit more flair to your outfits. This Mary Jane is also fitted with Madewell's Cloudlift Lite padding that feels exactly like what you'd expect (hint: those pillowy white things in the sky). The strappy shoe is also offered in silver, black, and brown solid leather for a smoother look.
Customer review: These are the most comfortable shoes I've bought from Madewell. Zero breaking in period, and I've worn them to walk around city sidewalks at lunch and all day in the office. The slightly larger fit is probably what makes them so comfy, and the elastic Mary-Jane strap means that they don't slip at all.
14/14
Birdies Goldfinch Ballet Flat
Birdies has grown in popularity for offering slipper-like comfort with shoes that don't look like slippers. This ballet flat is an excellent example of the footwear brand's philosophy of offering supportive styles that don't compromise on style. Its trendy woven leather exudes Bottega Veneta vibes (the luxury labels' It Andiamo bag in its iconic intreccio weave comes to mind) but with the easy feel of your favorite boudoir slip-ons. Offered in dark black or deep caramel, this flat can be just as chic with jeans and a leather jacket on Saturday night.
Customer Review: "These shoes fit just right to me at my usual size. The cushioned bed inside of the shoe makes this shoe by far the most comfortable flat that I have ever worn. This shoe is like wearing a slipper literally. I will be ordering more of these shoes in different colors."
Celebrity news, beauty, fashion advice, and fascinating features, delivered straight to your inbox!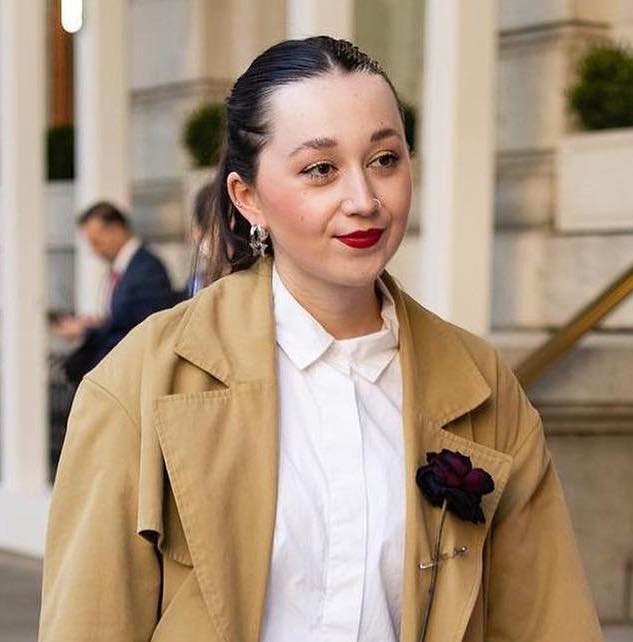 Emma Childs is the Style Editor at Marie Claire, where she researches up-and-coming trends, curates shopping guides, and gushes about the must-buy items she can't stop thinking about. She previously wrote for TZR, Editorialist, Elite Daily, and Mission Magazine and studied Fashion Studies and New Media at Fordham University. When she's not writing up fashion deep-dives or finding the season's best pieces, you'll find her fiddling around in Photoshop and perusing HBO Max for the next show to base her personality on (currently, it's "Succession").