All Hail Kate Moss: A Happy Birthday Ode to the Icon
A cut-out stuck on the lockers of bony girls in the suburbs to an inspiration to John Galliano in his couture heydays, Kate was the waify, underdog Venus of the '90s. With a lazy eye at only 5'7, the skinny 14-year-old from Croydon, England became a huge presence in fashion, cigarette usually in tow. For her 40th birthday today, we noted our favorite Miss Moss moments (Johnny included).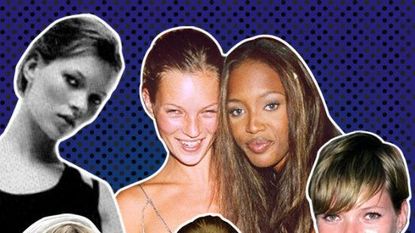 (Image credit: Archives)
1. Baby Kate, 1988

At age 14, Kate Moss is discovered by agent Sarah Doukas at JFK Airport coming back from vacation. She soon lands the cover of the British magazine, The Face.
2. Naomi + Kate, 1992
Moss joins the ranks of the Amazon supermodels of the '90s: Naomi Campbell, Linda Evangelista, and Christy Turlington. Naomi took Kate under her wing, and even 25 years later, their friendship is still going strong.
3. Classic Kate, 1993

The waify Moss begins to gain popularity and lands an epic ad campaign with Calvin Klein. She stirs controversy when she poses topless next to a shirtless Mark Wahlberg. In regards to the controversial photos, Moss told PEOPLE, ''It's just because I look 12,'' One thing we love about the model (aside from her bedhead 'do) are her nonchalant answers. You go girl.
4. Johnny's Kate, 1994

Donning a leather jacket along with long, tousled hair, the equally stunning pair met at Café Tabac in New York City. The brooding couple had a passionate yet tumultuous four year relationship, and were usually seen fighting. Despite the trashed hotel rooms and screaming matches, their relationship remains one of the most nostalgic in all of fashion history.
5. Short Hair Kate, 2001
With almond eyes and razor cheekbones, Moss' post-millennial pixie cut was perfect on her and made the rest of us run for a pair of scissors.
6. Married Kate, 2011
Say goodbye to bad beaus like Pete Doherty and Johnny Depp — Kate Moss married The Kills' frontman, Jamie Hince. We're sure she steals from his rock n' roll closet.
Related:
25 Most Memorable Fashion Moments of the '90s