The Best Coats and Jackets in the Amazon Prime Day Early Access Sale
Bring on the cold (and the savings).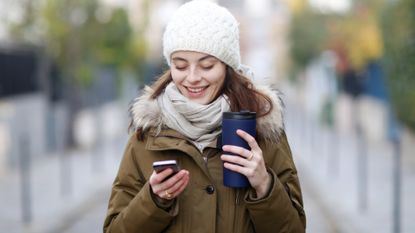 (Image credit: Catharine Delahaye/Getty)
In case you didn't know, winter is coming—and, no, we don't mean the Game of Thrones version. Soon, temps will dip into teeth-chattering cold, at least in most parts of the country, and it'll be time to bust out those winter coats. And luckily for you, there's no better time to be on the hunt for a new coat or jacket. You can find the best coats right from the comfort of your own couch, because the Amazon Prime Early Access Sale is here and the deals are seriously good.
On October 11 and October 12, you can find (literally) thousands of items on the e-commerce giant on sale including home goods, curling irons, and yes, coats and jackets. Whether you're in the market for a trendy new trench coat or a warm puffer jacket, Amazon has a deal for you. To narrow down your search, we've rounded up the best coats and jackets on the Amazon Prime Early Access Sale. In this list, you'll find waterproof jackets to hit the slopes in, maxi parkas for braving the cold, the viral "Amazon Coat," and more. Happy shopping!
Brooke Knappenberger is the Editorial Fellow at Marie Claire, where she writes across the board from fashion and beauty to books and celebrities. As a pop culture junkie, Brooke obsessively consumes and writes about the latest movie releases, streaming TV shows, and celebrity scandals. She has over three years of experience writing on fashion, beauty, and entertainment and her work has appeared on Looper, NickiSwift, The Sun US, and Vox Magazine of Columbia, Missouri. Brooke obtained her Bachelor's Degree in Journalism from the University of Missouri's School of Journalism with an emphasis on Magazine Editing and has a minor in Textile and Apparel Management.