Black Sneakers Are the Underrated Hero of My Closet
Our favorite options from brands like Vans, Converse, and more.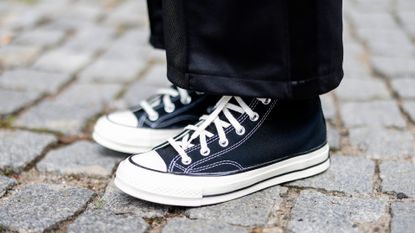 (Image credit: Streetstyleshooters/Getty Images)
While I'm by no means a sneakerhead, I do boast an extensive sneaker collection. And while I love shopping for the trendiest sneakers of 2023, I also have a penchant for shopping for the best, wear-everywhere sneakers that don't fall under any single trend—which is why I tend to keep a pair of black sneakers in my wardrobe at all times. They're the little black dresses of my sneaker collection.
Let's be clear: I'm shopping for black sneakers this summer because I've already found all my favorite white sneakers, which I wear on a near-constant basis. I've also discussed at length the best slip-on sneakers and best chunky sneakers that the fashion crowd can't get enough of right now. But, despite my best efforts to expand beyond my monochromatic footwear comfort zone, I keep returning to black sneakers as a failsafe option when I'm running out the door.
And I'm not alone: Celebrities like Kendall Jenner and Bella Hadid have been spotted in matching pairs of black Adidas Samba sneakers over the last few months. The sleek silhouette, available in black and white, has been near-constantly sold out ever since, proving that even fashion's most elite insiders are opting for something different for the new year. Ahead, I've rounded up the best black sneakers for you to shop right now from classic brands like Nike, Vans, and New Balance, plus a few designer options from Maison Margiela, VINCE, and Cariuma.
Deals on Black Sneakers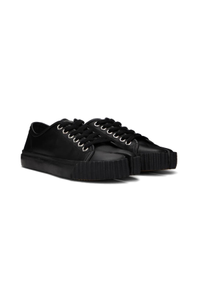 Maison Margiela Black Leather Tabi Low-Top Sneakers, $600 $260 at SSENSE
These cult-favorite leather Tabi sneakers from Maison Margiela are on sale for more than half-off right now. Almost every size is still in stock, but act fast—I doubt this will last for long.
The Best Black Sneakers
Best Top-Rated Black Sneaker
Cariuma All Black Canvas Sneaker
This pair of black low-top sneakers from Cariuma has nearly 5,000 five-star reviews. "Literally like I imagine walking on a cloud would feel, and they go with everything," said one glowing reviewer. While I love the black color, it comes in 17 other options and women's shoe sizes 5 through 13. The sole is made from raw, natural rubber, and the insole is made from vegan cork memory foam. Plus, if canvas sneakers are too casual for your style, you can shop them in more luxe fabrications like suede or leather.
Pros: Fits true to size; Comes in 10+ colors; comes in a wide size range; Sustainably made.
Cons: Some customers say there is a slight break-in period.
Customer Review: "Love the fit and the comfort and the look. The perfect shoe for wearing with dresses or shorts, or linen pants. Highly recommended!" — Cariuma
Best Comfortable Black Sneakers
New Balance 574 Core Sneakers
New Balance sneakers have earned a reputation for being supremely comfortable, so prepare never to want to take this pair off. The squishy-yet-supportive sole make them great work sneakers if you're commuting into the office again or will be on your feet for hours at a time. Plus, they're effortlessly stylish. Shop them in women's sizes 5 through 12 (they run true-to-size) and in four other neutral colors. The upper is also made from 50 percent recycled materials, a major bonus.
Pros: Comes in several colors; Comes in an inclusive size range.
Cons: Some reviewers say they run a bit small.
Customer Review: "These are the best every day sneakers. They go with everything, they're comfy, and elevate every outfit." — New Balance
Best Platform Black Sneakers
Chloé Nama Mixed Media Platform Sneakers
This chunky-yet-lightweight pair of black sneakers by Chloé is beloved across the internet for their woven look and subtle branding. The thicker rubber sole adds contrast while still keeping them wearable in just about any circumstance, from the office to a night out. Plus, 40 percent of this shoe is made from 100 percent recycled debris. Moreover, the mesh panels are handstitched and are made from recycled polyester yarns. Marie Claire's Style Director, Sara Holzman, even wrote an entire review about how these Chloé sneakers are worth the investment.
Pros: Sustainably made; Editor-approved; Comfortable.
Cons: Runs a little large; Doesn't come in half-sizes.
Best Classic Black Shoes
Converse Chuck Taylor All Star Classic
Whether you've never owned a pair of black high-tops from Converse or are just looking to buy a new replacement pair, this unisex canvas sneaker never goes out of style. They're available in lightweight canvas material, easy to break in, and come in tons of colors other than this classic black option—10, to be exact. They also come in two widths (standard and wide) for maximum comfort and in women's shoe sizes 5 through 20.
Pros: Comes in two widths; Comes in an extensive size range; comes in 10+ colors.
Cons: Some reviewers say they run a little large.
Customer Review: "These are my favorite shoes of all time. Whether I go to the gym or to work, I can always count on these to be comfortable and stylish." — Converse.
Best Black Sneaker for Walking
If you're looking for a pair of running sneakers that a) don't look like running sneakers and b) are low-profile enough to wear all day long, these are the ones for you. Top-rated for comfort, they combine the support of a traditional running shoe with the sleek, fashionable silhouette of a trendier sneaker. Reviewers love them because they're lightweight, and super supportive thanks to the built-in arch support. However, some reviewers noted that there is a break-in period with these shoes.
Pros: Comfortable; Lightweight; Top-rated; Come in half-sizes; Fits true-to-size.
Cons: Some reviewers found the tongue to be longer than most, causing it to rub on their ankle.
Best Celeb-Adored Black Sneakers
Adidas Vegan Samba Sneaker
"Behold, the pair of shoes that Hollywood can't stop wearing. Along with Kendall and Bella, models like Kaia Gerber and Kate Moss have been spotted in this $100 shoe. I own these in this black colorway and have found them to be one of, if not the most comfortable pair of sneakers I own. They're low profile, casual enough to wear with baggy jeans, and easy enough to dress up with a maxi or mini skirt. I could not recommend them more. My only con? They run big, so my size 5 foot has to wear a child's size four-and-a-half." — Julia Marzovilla, E-Commerce Editor
Pros: No break-in time; Lightweight; Come in sizes 5 through 15.
Cons: Runs big.
Customer Reviews: "Clean and timeless Can be narrow for wider feet like myself would recommend a size up or half a size up but overall worth it" — Adidas
Best Iconic Black Sneakers
You probably wore these Vans Old Skool low-top sneakers back in high school. You probably repurchased them when they made a fashionable resurgence all over the internet in 2019. This sturdy shoe (once meant only for skateboarding) is made to be lived in, so don't be afraid to wear them down. Shop them in women's shoe sizes 5 through 11 and in three colors.
Pros: Great for wide feet; Comfortable; Run-true-to-size.
Cons: Some reviewers say there's a break-in period.
Customer Review: "Classic, cute, and comfortable. They fit true to size and are accommodating for wide feet. These shoes last a long time and clean pretty well, too." — Nordstrom
Best LLow-Top Canvas Black Sneakers
"Italian shoe brand Superga has been one of my longtime favorites for its no-fuss, comfortable silhouettes. I'm exchanging my dirty white pair for a fresh new pair of black ones this winter. They're comfortable, run true to size so that my smaller foot fits perfectly, and come in a ton of colors. Plus, at $65, they're so affordable." — J.M
Pros: Easy to clean; Affordably priced; Comes in tons of other colors; Lightweight; Editor-approved; Comes in half-sizes.
Cons: Runs large.
Customer Review: "Love these sneakers! They go great with so many outfits. That's why I had to get a second pair. The quality is good too. I've washed them several times and they go through the wash well. As for size, they were true to size for me." — Superga
Best Black Sneakers for the Gym
APL Athletic Propulsion Labs TechLoom Tracer Mesh and Neoprene Sneakers
These sleek athletic sneakers from APL Athletic Propulsion Labs are made with mesh and neoprene for the ideal balance between support and comfort. The rubber sole keeps the shoe lightweight. They're great for high-intensity workouts because they're so sturdy; pick these if you're looking for a worthwhile investment.
Pros: Runs true-to-size; Lightweight.
Cons: Costs over $100; Some reviewers say they have a break-in period.
Customer Review: "Love the aesthetic of this shoe. It rubbed my heels a little bit in the beginning, but it's getting better, and the shoe is forming to my feet more. They are lightweight and easy to slip on and off. I have been running in them and also doing strength training. Can't recommend them enough!" — APL
Best Designer Sneakers
Maison Margiela Black Leather Tabi Low-Top Sneakers
Maison Margiela's Tabi range of shoes is some of the most divisive on the market, but I love this pair of sneakers. The separated toe design is instantly recognizable and supremely comfortable, despite how it might look! They're made in Italy and are available in sizes 35 through 41. They're the shoe that your fashionable friend will wear all winter long.
Pros: Lightweight; Made from genuine leather.
Cons: Costs over $100.