The 20 Best Black Sneakers of 2022
These picks are effortlessly cool and easy to style.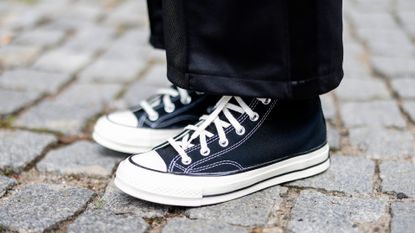 (Image credit: Streetstyleshooters/Getty Images)
While I'm by no means a sneakerhead, I do have an extensive collection. And while yes, I do love to shop the best sneakers of 2022 , I also have a penchant for shopping for essential sneakers that don't fall under any single trend. That's why I tend to keep a pair of black sneakers in my wardrobe at all times. They're basically the little black dresses of my sneaker collection.
Let's be clear about something: I'm shopping for black sneakers this summer because I've already found all of my personal favorite white sneakers, which I wear on a near-constant basis. I've also discussed at length the best slip-on sneakers as well as the best chunky sneakers that the fashion crowd can't get enough of this season. Despite my best efforts to expand beyond my monochromatic footwear comfort zone, I keep coming back to black sneakers as a failsafe option when I'm running out the door.
And I'm not alone: Celebrities like Kendall Jenner and Bella Hadid have both been spotted in matching pairs of black Adidas Samba sneakers over the last few weeks. The sleek silhouette, available in both black and white, has been practically sold out ever since, proving that even fashion's most elite insiders are opting for a little something different for summer 2022.
Ahead, I've rounded up the best black sneakers for you to shop right now, from classic brands like Nike, Vans, and New Balance plus a few designer options from Maison Margiela, VINCE, and KOIO.