The 15 Best Work Sneakers to Wear All Day Long
Professional, comfortable, *and* cute.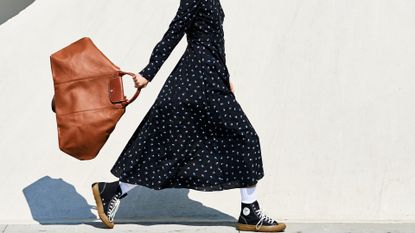 (Image credit: Tyler Joe)
In an ironic twist of fate, change has become the only reliable constant of late—look to your work life, for instance. Three years ago, you were googling "What is a 'Zoom?'" but now you're adept at leading a meeting from the comfort of your couch. And in terms of going into the office, wardrobe guidelines have become more laidback, too. Case in point: Wearing your favorite sneakers to work is not only accepted but encouraged—especially if you opt for one of our picks for 2023's best sneakers, which masterfully merge comfort and polish.
Stylist and fashion commentator Heather Newberger offers insight into the recent flux of in-office dressing and sneakers becoming work-appropriate. "We've witnessed a massive shift in how we think about workwear over the last three years," she says over email. "Gone are the days of your boss taking you aside to tell you your outfit doesn't cut the mustard. Instead, [the office has] become a place where personal style can reign supreme." Thus, if you're fond of a sporty-meets-polished aesthetic, you can safely swap your slingback heels and neutral ballet flats for trainers and high tops.
However, this isn't the go-ahead to wear your once-white, now-gray, and decrepit tennis sneakers to your next team touch base. "Sneakers are now widely accepted on corporate floors, [but] there are still some basic guidelines one needs to abide by," explains Newberger. Ahead, the stylist details the rules of wearing sneakers to the office, and you'll find insight from a podiatrist on how to find the best comfortable shoes to wear to work, too. Oh, and as always, there's also an edit of our favorite pairs to shop.
Overall
What to Look for in Work Sneakers
"For the office, you want to choose smart sneakers that reflect minimal flair," says Newberger. "Premium materials like vegan leather always signify status, while metallics, platform silhouettes, and hints of color bring in more personal style." The stylist adds, "The soles of your sneakers are important too, whether a platform or close to the ground. You do want to avoid shoes with strong tread, as they signify you're ready for a more athletic experience than a work-oriented one. A chic pair of faux leather kicks are a no-brainer. But sporty shoes for a workout? Leave those at home."
How to Find Comfortable Work Shoes
"Of course, style is up to you," New York City-based podiatric surgeon Dr. Jacqueline Sutera details, "but when looking for sneakers to wear to work, make sure they have foot-loving features." Keep the following in mind when shopping for sneakers to wear to work.
"Sneakers should be wide enough so the toes are not jammed or crammed and must fit your foot well without having to be 'broken in," she explains. "They should also be able to accommodate any corn, callous, hammertoe, especially in the toe box."
"Everyday shoes that are worn a lot and for long periods of standing and walking should have a thicker sole," says Dr. Sutera. "The sole should also, preferably, have a heel-to-toe drop, meaning that the heel and back part of the shoe are thicker than the front. Chunky sneakers, especially with a flat insole, should be worn for short periods of walking and standing."
"I cannot stress enough how important arch support is! It can help set a more neutral foot, keep you from overpronating, and stabilize the foundation for the entire skeleton," details the podiatrist. "And if the arch is abnormally flat or pronated, many problems—such as bunions, hammertoes, tendonitis, back, hip, knee pain, etc.—can occur or be made worse."
How to Keep Sneakers Clean
Newberger says proper upkeep of your work sneakers is also paramount. "It's important that your work sneakers stay clean and clever. Invest in sneaker wipes; don't be afraid to use them." She implores you also to keep your in-office styles separate from your" 'play sneakers,' as those can get as dirty as you want, but your work sneakers should stay in tip-top shape." Another tip she has for you: "Invest in shoe boxes that will always keep dust away from your favorite sneakers."
The Best Work Sneakers
Best Black Work Sneaker
Cariuma All Black Canvas Sneaker
This pair of low-tops from Cariuma has—drumroll, please—over 7,000 five-star reviews, ranking them as one of the best black sneakers on the market. "These sneakers feel like I am walking on a cloud," writes one enthused shopper. "They are soft but supportive, true to size, stylish, and well made. I will be ordering other colors." Speaking of the other colorways offered, you can choose between 17 other hues, including bright orange, trendy hot pink, and misty grey. Oh, and if canvas reads as too casual for your place of work, you can shop this style in more luxe fabrications like suede or leather.
Best White Work Sneakers
Sam Edelman Ethyl Low Top Sneaker
Put simply; these are some of the best white sneakers you'll find on the market. Take it from this Nordstrom shopper who is, quite frankly, over the moon with the leather lace-up shoe. "I have been researching all leather white sneakers for months. I had a vision in my head and these fit that vision perfectly! I wear them every chance I get and with everything," they write. The sneaker's insole is removable, too, which means you can wash and clean it as needed.
Best Platform Work Sneaker
Vince Warren Platform Sneaker
You like the height that heels offer but, for the sake of your feet, just can't endure the discomfort and pain caused by the lofty contraptions. The solution? A luxe and understated platform sneaker like Vince's will provide a few inches without cutting off the circulation in your toes or being an ankle-breaking hazard. "Super comfortable with surprisingly decent support," raves a Nordstrom customer. "I use a stand-up desk at work and my feet feel fine by the end of the day. [They're] perfect for work, play, and going out."
Best Metallic Work Sneakers
Naturalizer Morrison 2.0 Sneaker
If, like a crow, you're drawn to all things shiny, add Naturalizer's silver sneakers to your online cart. Statement in look yet classic in silhouette, they're the ideal pair to infuse a bit of personality into your in-office footwear collection. "And to make your silver metallic sneakers pop, try wearing silver jewelry," offers Newberger, inviting you to go full-tilt high-shine with 2023's metallic trend. And the design aside, these platform lace-ups are an easy wear. "These are the perfect go-with-everything sneaker, and they're crazy comfortable with a cushiony insole and excellent arch support," writes a reviewer.
Best Leather Work Sneaker
Tory Burch Howell Court Sneaker
There's nothing quite like a pair of crisp white sneakers. But how about a pair done in the clean shade but with a pop of color—like Tory Burch's Ladybug Sneaker in white leather with punches of navy? With a reliably crisp and clean look—that is, if you take care of them properly (see: Newberger's above tips)—they're absolutely a shoe to add to your workwear rotation. "Great sneaker," describes one Nordstrom shopper. "The gold Tory logo adds just the right touch of design to an otherwise classic, simple white tennis shoe."
Best Sneakers for Standing All Day
Chloé Nama Mixed Media Platform Sneakers
"[Sneakers] made of mesh or softer fabric usually are fan favorites for people with sensitive areas," says Dr. Sutera. So, if you're prone to foot discomfort even when wearing easy sneaks, consider trying Chloé's Nama pair, which are crafted from a gentle-to-the-foot recycled mesh. Admittedly, they're a splurge (your eyeballs don't deceive you: they're just under $800). However, the sustainable sneakers are unique in that they combine high fashion with comfort. They offer orthopedic-style comfort but done in a Parisian, boho-chic type of way.
Most Comfortable Work Sneaker
Vionic Kimmie Slip On Shoe
This slip-on sneaker from Vionic is Dr. Sutera's favorite pick. The podiatrist, a member of Vionic's Innovation Lab, shouts out this shoe for offering built-in comfort features like a removable cushioned insole and soft leather upper, "which makes them ideal for an active and working lifestyle." And customer reviewers emphasize Sutera's point. "Vionic has been my only shoe of choice for many years," writes one shopper. "It is wonderful to have orthotic comfort with plenty of great-looking fashionable styles for reasonable pricing….Win, Win, Win!"
Best Tan Work Sneaker
Rothy's The Lace Up Sneaker
Marie Claire's Director of Content Strategy, Jenny Hollander, is a huge fan of the direct-to-consumer shoes and accessories brand, Rothy's. Previously, she described the label's Lace Up Sneaker as one of her all-time favorite footwear finds: "Unlike some stiff sneakers that never really relax into the shape of your foot—you know the kind I'm talking about—the Lace Up Sneaker feels like a slipper, albeit a structured one. These sneakers are versatile, machine-washable, and feature subtle, classic detailing—the Rothy's blue stripe on the lace and heel is such a cute touch."
Best Fall Sneakers
Madewell Kickoff Trainer Sneakers
Yes, you're now a grown-up and no longer need to nurture your young, eager brain with homework and buy bulk supplies at Staples. But that doesn't mean you can't get into the back-to-school spirit of fall via your clothes! These Kickoff Trasiners by Madewell tap into that bookish academia feel inherent to the season but without feeling overt with their themes. Take it from this pleased shopper: "These are the perfect balance of a chunky sneaker without being a full-on dad sneaker. And they are SO comfy! I wore them all day walking through the city and my feet never hurt."
Best Designer Work Sneaker
What more is there to say about Prada that hasn't already been said? The Italian luxury fashion house is one of the best in the business for everything ranging from luxury formalwear to everyday basics—like these sleek and simple leather sneakers. Crafted out of stark white leather with a pop of yellow in Prada's signature triangle logo, these are some of the best designer sneakers on the market to splurge on. One Nordstrom shopper describes them as "beautiful and writes that "this shoe has a padded insole that makes it comfortable to walk in. And you can't go wrong with Prada's understated cool white sneaker."
The Celebrity Favorite
For the uninitiated, Adidas' Sambas are the It sneaker of 2023. Beloved by Bella Hadid, Kendall Jenner, and other folks of their A-list ilk, there's a great case as to why they should be in your workwear shoe collection. In addition to being one of the best trend-driven black sneakers on today's market, this particular style is made without any animal products, so it's also an ethical option. "Very fashionable, on trend, and looks great with everything," says an Adidas customer who's "very pleased" with their pair of vegan Sambdas.
Best Colorful Work Sneakers
"My rule of thumb is that you always need to make sure your work outfit feels fully resolved," details Newberger. The stylist says an excellent tactic for achieving a wholly realized and put-together look is to rely on color coordination. "As an example, if your sneakers have a hint of blue in them try wearing a blue top of the same hue to bring it out." Try the tip with this Veja style by inviting a pop of yellow and orange into your outfit. This will yield a polished effect, which is essential when styling a colorful piece that could skew juvenile if you're not mindful.