The 12 Best Work Sneakers for Women to Wear All Day
We're in a new era of business casual.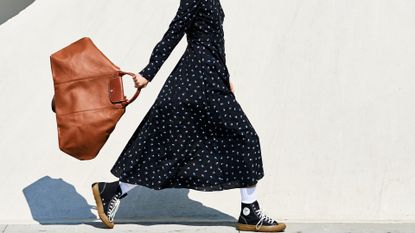 (Image credit: Tyler Joe)
In an ironic twist of fate, change has become the only reliable constant of late—look to your work life, for instance. Two years ago, you were googling "What is a 'Zoom?'" but now you're adept at leading a meeting from the comfort of your couch. And in terms of going into the office, wardrobe guidelines have evolved to become more laidback, too. Case in point: Wearing your favorite sneakers to work is not only accepted but encouraged—especially if you opt for one of our picks for 2023's best sneakers, which masterfully merge comfort and polish.
Stylist and fashion commentator Heather Newberger offers insight into the recent flux of in-office dressing and sneakers becoming work-appropriate. "We've witnessed a massive shift in the way we think about workwear over the last three years," she says over email. "Gone are the days of your boss taking you aside to tell you your outfit doesn't cut the mustard. Instead, [the office has] become a place where personal style can reign supreme." Thus, if you're fond of a sporty-meets-polished aesthetic, you can safely swap your slingback heels and neutral ballet flats for trainers and high tops.
However, this isn't the go-ahead to wear your once-white, now-gray, and decrepit tennis sneakers to your next team touch base. "Sneakers are now widely accepted on corporate floors, [but] there are still some basic guidelines one needs to abide by," explains Newberger. Ahead, the stylist details the rules of wearing sneakers to the office, and you'll find insight from a podiatrist on how to find the best comfortable shoes to wear to work, too. Oh, and as always, there's also an edit of our favorite pairs to shop.
Overall
What to Look for in Work Sneakers
"For the office, you want to choose sneakers that are smart and reflect minimal flair," says Newberger. "Premium materials like vegan leather always signify status, while metallics, platform silhouettes, and hints of color bring in more personal style." The stylist adds, "the soles of your sneakers are important too, whether a platform or close to the ground. You do want to avoid shoes with strong tread, as they will signify you're ready for a more athletic experience than a work-oriented one. A chic pair of faux leather kicks are a no-brainer. But sporty shoes for a workout? Leave those at home."
How to Find Comfortable Work Shoes
"Of course, style is up to you," New York City-based podiatric surgeon Dr. Jacqueline Sutera details, "but when looking for sneakers to wear to work, make sure they have foot-loving features." Keep the following in mind when shopping for sneakers to wear to work.
"Sneakers should be wide enough so the toes are not jammed or crammed and must fit your foot well without having to be 'broken in," she explains. "They should also be able to accommodate any corn, callous, hammertoe, especially in the toe box."
"Everyday shoes that are worn a lot and for long periods of standing and walking should have a thicker sole," says Dr. Sutera. "The sole should also, preferably, have a heel-to-toe drop, meaning that the heel and back part of the shoe is thicker than the front. Chunky sneakers, especially if they have a flat insole, should really be worn for short periods of walking and standing."
"I cannot stress enough how important arch support is! It can help set a more neutral foot, keep you from overpronating, and stabilize the foundation for the entire skeleton," details the podiatrist. "And if the arch is abnormally flat or pronated, many problems—such as bunions, hammertoes, tendonitis, back, hip, knee pain, etc.—can occur or be made worse."
How to Keep Sneakers Clean
Newberger says proper upkeep of your work sneakers is also paramount. "It's important that your work sneakers stay clean and clever. Make sure to invest in sneaker wipes and don't be afraid to use them." She implores you to also keep your in-office styles separate from your "'play sneakers,' as those can get as dirty as you want, but your work sneakers should stay in tip-top shape." Another tip she has for you: "Invest in shoe boxes that will always keep dust away from your favorite sneakers."
The Best Work Sneakers
Meet the Experts
Emma Childs is the Style Editor at Marie Claire, where she researches up-and-coming trends, curates shopping guides, and gushes about the must-buy items she can't stop thinking about. She previously wrote for TZR, Editorialist, Elite Daily, and Mission Magazine and studied Fashion Studies and New Media at Fordham University. When she's not writing up fashion deep-dives or finding the season's best pieces, you'll find her fiddling around in Photoshop and perusing HBO Max for the next show to base her personality on (currently, it's "Succession").