How to Wear Your Denim Overalls 15 Different Ways
They'll replace your favorite jeans.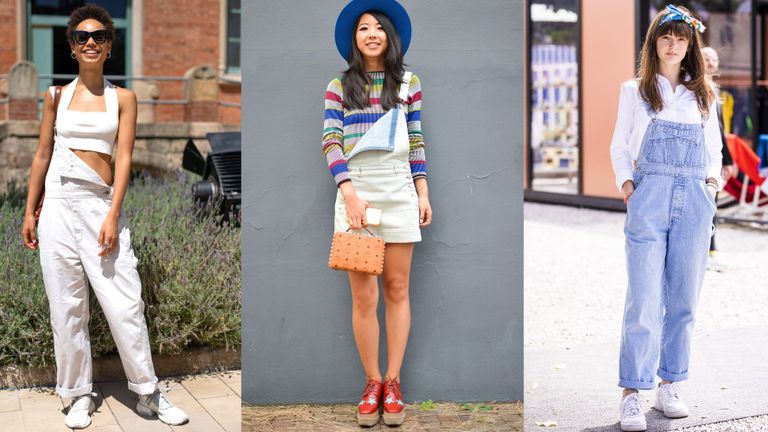 (Image credit: Getty)
Denim overalls are easy to wear—they're like jeans in that way, but a little trickier to style. Pair 'em with the wrong shirt or shoes and you end up feeling like the 11-year-old version of yourself. But overalls are always on-trend, and if you want to wear your very first pair of (adult) overalls, don't let that small obstacle stand in your way. I found 15 different street style denim overall outfits to show you how to actually wear the one-piece, whether you're in spring, summer, fall, or something in between. The major takeaway? There's an art to layering when it comes to denim overalls, whether that's choosing between a plain tee or peasant blouse, a pair of sandals or a pair of heels. (I'm going with sandals for comfort obvs.) Enough chit-chat—read on to see how to wear your denim overalls, from an original blue option to a wild animal printed one-piece. And for even more styling inspiration, be sure to bookmark our street style round ups.
•••

For more stories like this, including celebrity news, beauty and fashion advice, savvy political commentary, and fascinating features, sign up for the Marie Claire newsletter (subscribe here).
1/15
Style With a Button-Down
Denim overalls have a casual feel that offset the professional vibes of workwear pieces like a button-down shirt. Together, the two pieces will provide a relaxed yet put-together weekend look. Style with sneakers and a printed headband for some color.
2/15
Wear a Crop Top Underneath
For summer, go with lighter colored denim overalls like white or a vintage blue wash. Since layering heavy pieces will cause you to sweat and possibly overheat, opt for a skin-baring crop top instead.
3/15
Embrace Animal Prints
Denim overalls don't have to fall into a specific blue/black/white mold. If you're seeking a one-piece that's bolder and dramatic, give animal prints like this one from Ganni a try. You can easily tone it down like Claire Rose Cliteur did with a black top and accessories too.
4/15
Rock Denim on Denim
Repeat after me: You can never wear too much denim. Go for the ultimate denim-on-denim look with overalls and a jacket on top. The trick is to keep the two denim colors similar and break up the blue tones with a bright accessory through your footwear or jewelry.
5/15
Opt for Two-Toned Denim
Street style star Sara Reverberi went for an artsy European vibe in her denim overalls. She styled the one-piece with a newsboy cap, an abstract printed top, and clog-inspired footwear. She attached her Prada bag to a loop on her two-toned overalls.
6/15
Layer Over a Loose Turtleneck
You don't have to go for a body-constricting pair of overalls. Take notes from model Liu Wen, who chose a loose-fitting pair that she wore over a slouchy beige turtleneck. This is your fall and winter combo to try.
7/15
Wear a Crop Pair of Show Off Your Shoes
Ankle-skimming denim overalls allow you to show off your favorite pair of shoes. Plus, you won't have to worry about altering the hem length. This street style star chose to highlight her velvet booties, though that wasn't the only star in her outfit—her plaid coat and hat gave the look some more fashionable elements.
8/15
Don't Neglect Your Brights
For a darker pair of blue denim overalls, go lighter with your layering pieces. A yellow top like this one will brighten up your outfit. Don't worry if your top won't fully tuck into your denim one-piece either—a little bit of skin feels carefree.
9/15
Rock With Heels
Just like you can wear your favorite pair of skinny jeans with heels, you can style heels with denim overalls. This is an easy way to dress up your look and feel more confident in your one-piece. You're not a little kid anymore!
10/15
Leave One Strap Hanging
A purposefully undone look, like leaving one strap of your overalls hanging, gives your outfit a laidback attitude. This is a good styling hack to try if you're wearing a graphic shirt underneath that you'd like to show off.
11/15
Style With Socks and Sandals
Your denim overalls provide a good base for you to experiment with some trickier fashion styles like wearing socks with sandals. If you're going for color, match your socks to a color present in your top and then style with a neutral pair of sandals.
12/15
Keep It Simple With a Tee
On days you don't feel like overthinking your outfit, slip a tee underneath your overalls and call it a day. This will likely be your go-to look when wearing the one-piece because the ensemble is convenient and versatile.
13/15
Top Off With a Beanie and Shearling Jacket
Take your summer overalls into fall or even winter by layering on cold-weather accessories like a beanie and lace-up booties. Keep warm with a shearling jacket.
14/15
Wear With a Lightweight Sweater
Weather permitting, you'll be able to wear your denim overall shorts with a light sweater like Yuwei Zhangzou did. This is what we like to call an early spring or fall look, a.k.a. when the temperature is not too hot nor too cold.
15/15
Style With an Off-the-Shoulder Top
Don't worry too much about whether the neckline of your top will go with your overalls. Fashion blogger Helena Bordon proves that even off-the-shoulder tops can work with the one-piece. Now go forth and explore all your layering options!