Anthro's Sale on Sale Is the Monday Motivation I Needed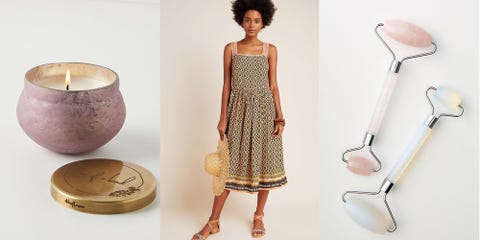 Fresh off the heels of a relatively uneventful weekend, Monday kicks off yet another week of staying at home, and ultimately forgetting what day it is. However, if you want to start the week on the right foot, Anthropologie is taking an extra 50 percent off its sale section right now, including candles and accessories. I know, buying new clothes seems slightly counterintuitive, but trust me: Putting real clothes on each day can help you feel a little better. (Plus, if you buy them on sale now, you'll have a bunch of brand-new clothes waiting for you later.) Sizes and colors are already selling out, so take a look at these top styles, below.
1
Lisa Cropped Wide-Leg Pants
Saturday/Sunday
Anthropologie
$68
$24.98
If wearing jeans is out of the question, you'll love this option from Saturday/Sunday. Between its ankle-grazing length and wide-legged silhouette, these wide-leg pants is equal parts comfortable and chic.
2
Blood Orange Pearl Drop Earrings
$108
$34.98
These pearl drop earrings will get a lot of compliments during your next virtual happy hour. Trust.
3
Sierra Smocked Linen Jumpsuit
$158
$49.98
A stretchy, smocked jumpsuit is a happy medium between sweats and, you know, real clothes. Plus, the cheery colors basically scream summer.
$28
$9.98
Give your space some serious spa vibes by picking up Well Done's facial roller. In addition to boosting collagen production and reducing the appearance of wrinkles and fine lines, this jade roller will help put you at ease.
5
Darla Poplin Swing Blouse
$88
$29.98
If you want to bring some style to your next video conference, throw on this pretty blouse. With a slight peplum silhouette, this top will go with everything from skinny jeans to sweats.
6
Treasure Mini Glass Candle
Anthropologie
Anthropologie
$18
$6.48
Light up Anthropologie's Just Love candle, which features floral notes like peony, water lotus, white mimosa and pink sage, to relax and unwind.
Roller Rabbit
Anthropologie
$118
$39.98
If you're going to spend the entire day wearing pajamas, they might as well look cute! This matching set from Roller Rabbit will make watching Netflix feel glamorous.
Anthropologie
Anthropologie
$248.00
$248
$99.98
Want to enjoy summer from the comfort of your home? You can pick up this stylish hammock for under $100.
9
Katya Shimmer Midi Dress
Conditions Apply
Anthropologie
$168
$58.98
Just because summer looks different this year doesn't mean you can't stock up on breezy sundresses. This printed style from Conditions Apply will transport you to a tropical island.
10
Karyn Knotted Headband
Eugenia Kim
Anthropologie
$148
$49.98
Pro tip: Slipping on a headband, like this colorblocked style from Eugenia Kim, will create the illusion that you put effort into your WFH outfit today.
11
Paolina Tasseled Blouse
$148
$49.98
This bold blouse is bound to put a smile on your face. I mean, the subtle embellishments and fringe sleeves are unapologetically joyful.
•••
For more stories like this, including celebrity news, beauty and fashion advice, savvy political commentary, and fascinating features, sign up for the Marie Claire newsletter.
This content is created and maintained by a third party, and imported onto this page to help users provide their email addresses. You may be able to find more information about this and similar content at piano.io