How to Style Sweaters, According to a Fashion Insider
Eight looks to add to your winter outfit Rolodex.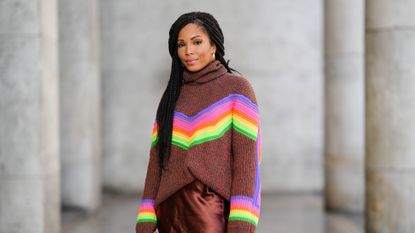 (Image credit: Edward Berthelot/Getty Images)
Summer styling is easy in that all you need to do, really, is abide by a less-is-best mentality: Throw on the easiest and breeziest pieces in your closet, whether that be a billowing sundress or a tee and denim cut-offs, and head out the door. But during the cold-weather season, when keeping cozy is vital and strategic layering gets thrown into the mix, assembling outfits becomes trickier. To save you the stress, we're tackling winter fashion head-on by offering styling insight on the seasonal essential you're likely reaching for the most: sweaters.
With insight from Liisa Jokinen, founder of the vintage search engine Gem and a street style photographer with a keen eye for fashion, you'll master how to wear sweaters in no time. From lightweight turtlenecks teamed with button-down shirts to chunky winter sweaters tucked into baggy jeans, scroll onward to find eight sweaters outfits you should try in the 2023 season.
How to Style Sweaters
A Peek-a-Boo Mini
"I would style an oversized sweater with a tiny mini skirt so that the skirt would just peek out a little bit underneath the hem," Jokinen shares with Maire Claire over email, explaining that the trending momentum of the flirty, '60s-era style continues into the winter season. She adds that this combo would pair well with high leather boots but considering she's not a boots person—"at the moment," she stresses!—also consider a "pair of sturdy platform shoes."
Let's Get Knotty
Take a cardigan or knit pullover and tie the sleeves around your shoulders for an outfit hack that exudes editor-off-duty energy without fail. The slung just-so look strikes a perfect balance: yes, you're trying but not trying too hard. It's a fashion-aware look but done with the insouciance of a downtown-bound Mary-Kate Olsen. And now your sweater has become so much more than just a sweater: It's a scarf! It's a security blanket; It's a winter morning spent scrambling and angsting that you have nothing to wear, simplified.
Pull Inspo From a Prepster
"For a more formal outfit," offers Jokinen, "choose a sweater that is not so bulky, a lightweight cashmere sweater, for instance, and layer it with a button-up dress shirt and a blazer. It's a timeless, chic look!" As far as footwear goes, go full-tilt prep school dropout with a pair of chunky leather loafers and visible socks.
Knits on Knits
Go double duty on sweater weather with a coordinating knit set. In addition to being a dually cozy ensemble, the knit-on-knit combination delivers a polished impact with little sartorial brain power required on your part. In other words, this is a sweater outfit ideal for lazy dressers who want a put-together persona but don't have the capacity to spearhead wholly original looks themselves.
Strategic Layering
"I love layering sheer or thin turtlenecks underneath a sweater. Nothing too thick or bulky, though," cautions the street style expert, "because you don't want to look and feel like a snowman in your layers!" Team your layered sweaters with a skirt suit for a modernized yet retro-reminiscent look for in-office work days when you're in charge of leading the morning meeting.
It's Electric!
Amongst all the possible sweater outfits, Jokinen's personal favorite is her "neon green 15-year-old Acne Studios sweater with my secondhand painted Eckhaus Latta jeans." Yield a similar head-turning effect by pairing an electric lime sweater with worn-in denim trousers or, for a more dressed-up take, a printed slip skirt.